Tesla targets new highs as it grapples with April peak
---
A steady recovery since May for Tesla has been bolstered by the recent solid earnings update, putting the shares on course for more gains.
Source: Bloomberg
Tesla stock has continued to make gains since May, although it has continued to lag the S&P 500 and the Nasdaq 100 over the past six months.
Its latest set of earnings showed it recorded its eighth consecutive quarter of profits, although only the second in which net income was positive when the sale of regulatory credits is stripped out.
On the production front, it has pushed its semi-truck into next year, due to the requirement for the next generation battery. While it plans to launch its cybertruck later this year, it seems Ford will steal its thunder with the F-150, which is planned to enter the market before the Tesla model.
Operating margins rose for the quarter - to 11% - and the group has managed to clock up free cashflow in five of the past quarters. Growth stocks such as Amazon and Apple are loved for their remarkable powers of cash generation, and while Tesla is far from their giddying heights in this regard, signs of regular and solid cash generation are certainly welcome.
Investors will welcome the steady recovery in the stock price over the past few months, but it is the trader side of the equation that will be really delighted with the renewed upward move. Late June and early July saw the price push above the trendline resistance that had capped upside since early February.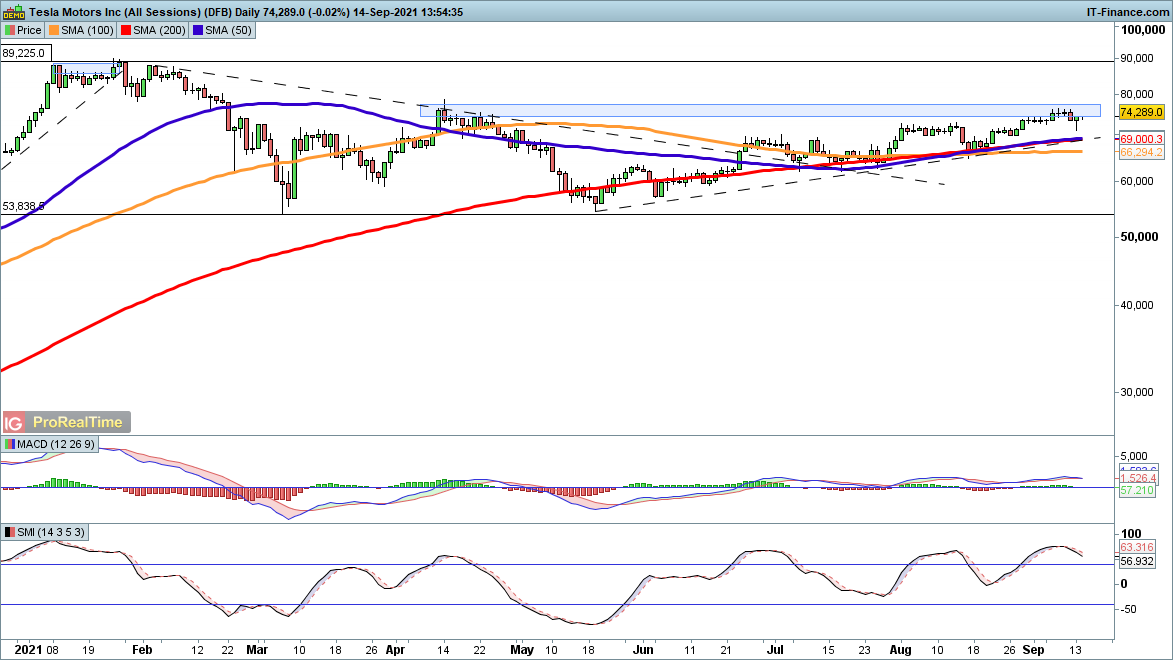 Source: ProRealTime
Gains have reached the $763 zone that marked the high from early April, and if this can be breached to the upside then the February high just below $900 comes into view. Arguably the current bullish view would fade if the price drops below $660.