US dollar declines on softer US CPI inflation data
---
Softer CPI inflation data eases short-term sentiment pertaining to monetary tightening and has equated to an initial weakening of the US dollar.
Source: Bloomberg
Shaun Murison
|
Senior Market Analyst
,
Johannesburg
| Publication date:
Tuesday 14 September 2021. IG
Consumer Price Index (CPI) data out of the US was a slight miss on consenus and dropped from the previous month's reading.
The CPI and Core CPI data show that inflation, while continuing to be high in the world's largest economy, is starting to show some signs of easing, albeit marginally.
A summary of the CPI data is as follows:
CPI +0.3% month on month (m/m), previous +0.5%

CPI +5.3% year on year (y/y), previous 5.4%

Core CPI +0.1% m/m, previous +0.3%

Core CPI +4.3% y/y, previous +4.3%

 
The stabilisation of prices (along with employment) remains a key focal point of the Federal Reserve's mandate. The central bank has suggested that the current (and still) high levels of inflation are transitory in the wake of a 'post' pandemic recovery.
The slight easing of inflation being reported has been met with an initial softening of the US dollar as it lowers the level of pressure towards the tightening of monetary policy.
US Dollar Basket – technical analysis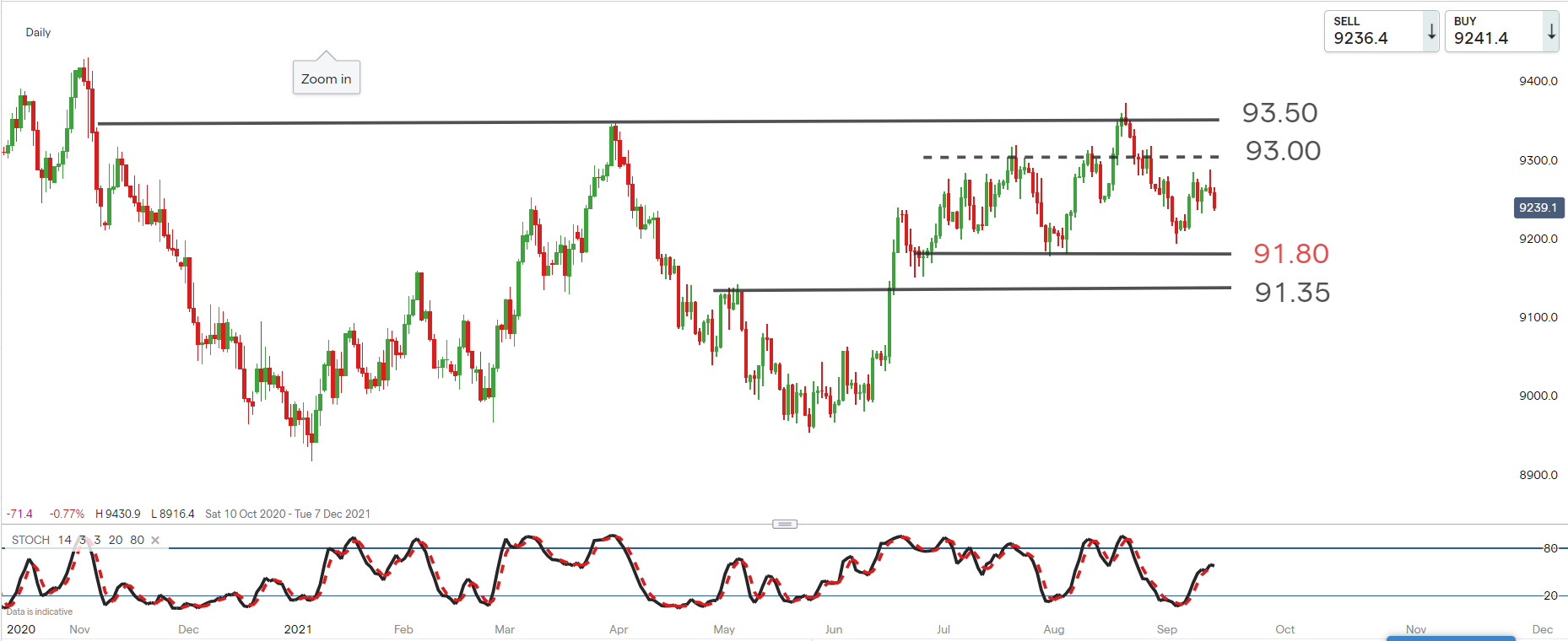 Source: IG charts
The US Dollar Basket looks to have reversed off resistance of range support at 93.00. Should the downside momentum hold, 91.80 becomes the initial support target from the move.
Source: IG charts
After an intraday break of the 1.1795 support level, the EUR/USD has posted a sharp reversal off this level.
Traders who are long might target a move towards 1.1895, while using a close below the 1.1795 level as a stop-loss indication for the trade.
In summary
CPI and Core CPI data on a m/m and y/y basis was weaker than expected
CPI and Core CPI data on a m/m and y/y basis declined from the previous month's reading
Inflation in the US remains elevated although the Federal Reserve believes it to be transitory at the early stages of the economic recovery
The dollar has weakened on the news