Value stocks and USDJPY expected to dominate as treasury yields break higher
---
US 10-year treasury yields break higher, with USD/JPY and value stocks expected to gain in prominence as a result.
Fed tightening expectations lift treasury yields
Treasury yields have finally taken flight over the past week, with the latest Federal Reserve (Fed) meeting highlighting the pathway towards lower asset purchases and higher interest rates.
That economic confidence from the Fed does invariably feed into yields, with the expectation of rising rates in 2022 giving ground for optimism around yields. The chart below highlights how the effective Fed Funds rate typically moves in lockstep with the 10-year yield, particularly when rates are rising or falling.
With the Federal Reserve moving towards a phase of tightening, it is perhaps unsurprising to see yields start to rise. The uncertainty around whether we will see the Fed growing in confidence over their next move appears to be fading after last week's meeting, and that brings optimism around yields.

Source: TradingView
Value stocks could gain prominence over growth
The upward trajectory expected for yields does provide a number of different potential plays in other markets.
For one thing, rising yields also often go hand-in-hand with outperformance for value or pro-cyclical stocks. Growth and momentum stocks have enjoyed a bountiful 2020 and 2021 thus far, yet the potential rise in yields could bring some concerns around the possibility that those valuations could be somewhat inflated.
Instead, traders will look towards those value and pro-cyclical stocks as potential benefactors. Notably, we have seen small-cap stocks suffer of late, and thus there is a chance we could see traders shift funds towards such companies as the economy continues to recover.
The image below highlights this fact, with the ratio between the Russell 2000 and Nasdaq clearly starting to rebound as yields break higher.

Source: TradingView
USD/JPY likely to push higher as yields rise
Another area to watch when yields rise is the USD/JPY currency pair.
While both represent havens, the growth in expectations around a Fed rate hike provides the basis for upside in USD/JPY. The chart below highlights how rising US 10-year yields should bring gains for the pair.

Source: TradingView
With yields pushing higher last week, we have seen USD/JPY break through the key 110.44 resistance level. Coming off the back of a triangle formation, this break brings expectations of further upside from here.
A break below 109.11 brings a more bearish outlook, with further upside expected until that occurs.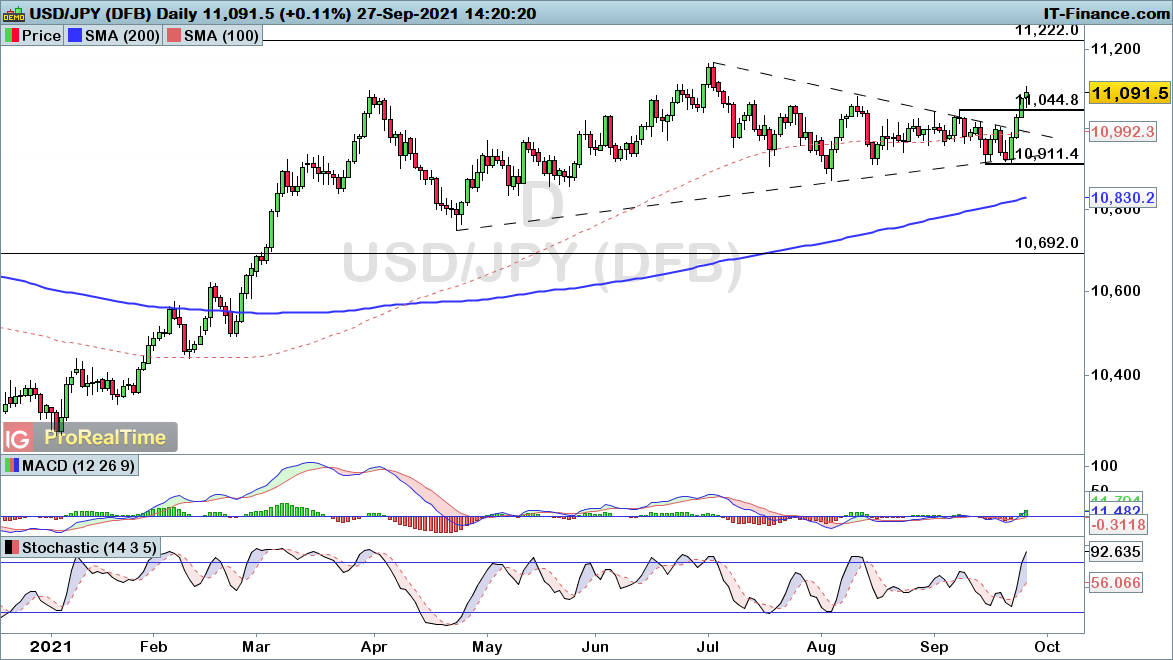 Source: ProRealTime