American Airlines Q3 earnings: business and international travel key in the path back to profitability
---
American Airlines Q3 earnings expected to improve, but the road back to profitability appears to be a slow one.
Source: Bloomberg
When will American Airlines report their latest earnings?
American Airlines report their earnings for the third quarter (Q3) pre-market open on Friday 22 October 2021.
American Airlines recovery under the microscope
American Airlines have been hit hard over the course of the past two years, with global lockdowns serving to ground their entire fleet for the first time in the history of the company. The global Covid-19 pandemic has hit few sectors harder than the travel sector, yet there is optimism that things are on the mend. Unfortunately, American Airlines are one of the hardest-hit US carriers, with few signs that their crucial business class revenue stream is about to rebound swiftly.
Nonetheless, the White House decision to allow travel for all fully vaccinated visitors from 8 November does provide hopes that we will soon see the company's international service resume. The relative reliability of domestic travel has helped their competitors stage a relatively stable recovery, yet international and business travel will need to improve markedly before American Airlines investors can look ahead with confidence. Unfortunately, rising fuel costs will provide another major hurdle to overcome, with investors keeping a close eye out for projections of how much this energy crisis could cost the firm.
American Airlines earnings – what to expect
Markets expect to see revenues continue their upward trajectory in Q3, with forecasts of $8.9 billion representing the best performance since first quarter (Q1) 2020. Primarily that improvement (from $7.5 billion) comes from rising passenger business as cargo revenues are expected to decline.
Despite expectations of higher revenues, the company is still expected to post a loss for the quarter. Coming off the back of a second quarter (Q2) loss of $1.4 billion, we are expecting to see a loss of $890 million. That helps drive expectations of a loss per share of $1.07. However, that does represent an improvement from the $1.69 loss per share seen in the second quarter.
American Airlines earnings – valuation and broker ratings
The uncertain outlook for American Airlines translates into a mixed set of forecasts from analysts. Out of 21 analysts, there are just five 'buy' recommendations, eight 'holds' and eight 'sell' recommendations.
American Airlines shares – technical analysis
Shares in American Airlines have been on the back foot over the course of the past fortnight, with the price falling back into the 76.4% Fibonacci support level of $19.48. Given the wider 76.4% Fibonacci retracement into the $18.46 level, there is a good chance we could be on the cusp of a bullish turn from here. A break below the $18.64 level would raise a warning that the price could break lower once again. However, until that happens there is a good chance we see the bulls come back into play in the near future.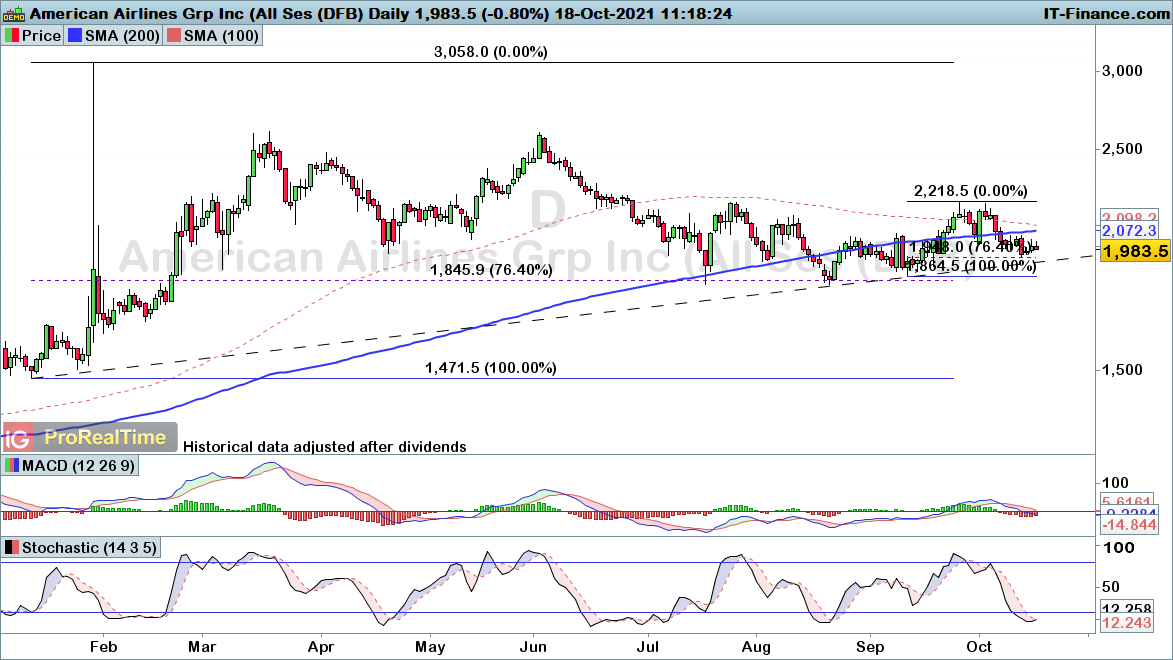 Source: ProRealTime