Tesla joins the trillion-dollar club: what can we expect?
---
With Tesla's share price surging more than 17% over the past week, what may be on watch?
Source: Bloomberg
What is propelling Tesla's share price this week
Tesla has seen a surge as high as 19% over the past two trading days, supported by positive news flow with Hertz's order of 100,000 Tesla cars to be delivered by the end of 2022. This may potentially bring about $4.2 billion of revenue for Tesla, which translates to 8.97% of its last-twelve-months (LTM) revenue and 12.4% of its LTM total vehicle deliveries. Therefore, it seems that the deal may aid to cement Tesla's growth in the upcoming year. Positive sentiments were also riding on expectations that the massive order could possibly drive a further shift into electric vehicle (EV) adoption for the automobile industry.
What else to watch?
The upcoming Conference of the Parties 26 (COP26) summit will kick off towards the end of the week, where several world leaders will discuss tackling climate change. As per previous summits, the pressure for countries to do more will continue to be emphasised. That may bring about headlines regarding several environmental commitments or calls-to-action for countries. With more mitigation pledges to achieve net-zero targets by countries, such as China's aim to be carbon-neutral by 2060, some near-term traction for clean energy stocks could emerge.
Its recent third quarter (Q3) results also saw a beat on both unit sales and net profit, although lower average selling prices (ASPs) are putting a cap on revenue. Automotive margins continue to trend higher, suggesting that cost control measures are aiding to keep inflationary pressures under control for now. That said, supply chain issues are expected to linger for longer, and rising costs will continue to be a key risk to watch ahead. The pocket for optimism is that Tesla's margins are higher than the industry average, which suggests that it may be better able to cope with rising cost pressures than its automobile peers.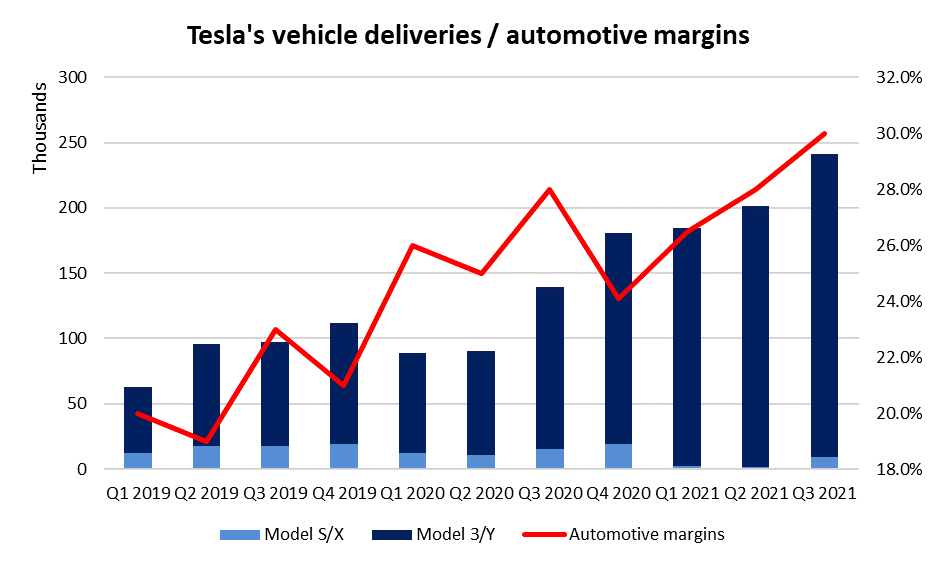 Source: Tesla Inc
Tesla's valuation
Tesla's forward EV/sales currently stand at 15.1, commanding a significant premium over the automobiles industry average of 7.8. This may come as markets have been pricing in for higher growth to continue for the years ahead, with its five-year historical revenue growth of 50.8% towering above the automobiles industry of 13.4%. Markets are also pricing in several competitive advantages, such as being the first-mover in the EV space, along with a wide addressable market to ride on for future growth.
Tesla shares – technical analysis
Tesla's share price has registered a new record high this week, after breaking out of an ascending channel pattern back in May 2021. That said, overnight movement seems to form a bearish shooting star candlestick, as initial gains were pared back throughout yesterday's trading session. The key $1,000 psychological level will be a near-term support level to watch. A subsequent close below this level may potentially bring about a near-term retracement to retest the key $900 level next. In terms of resistance, the Fibonacci 161.8% extension level suggests that the $1,120 level may be one to watch.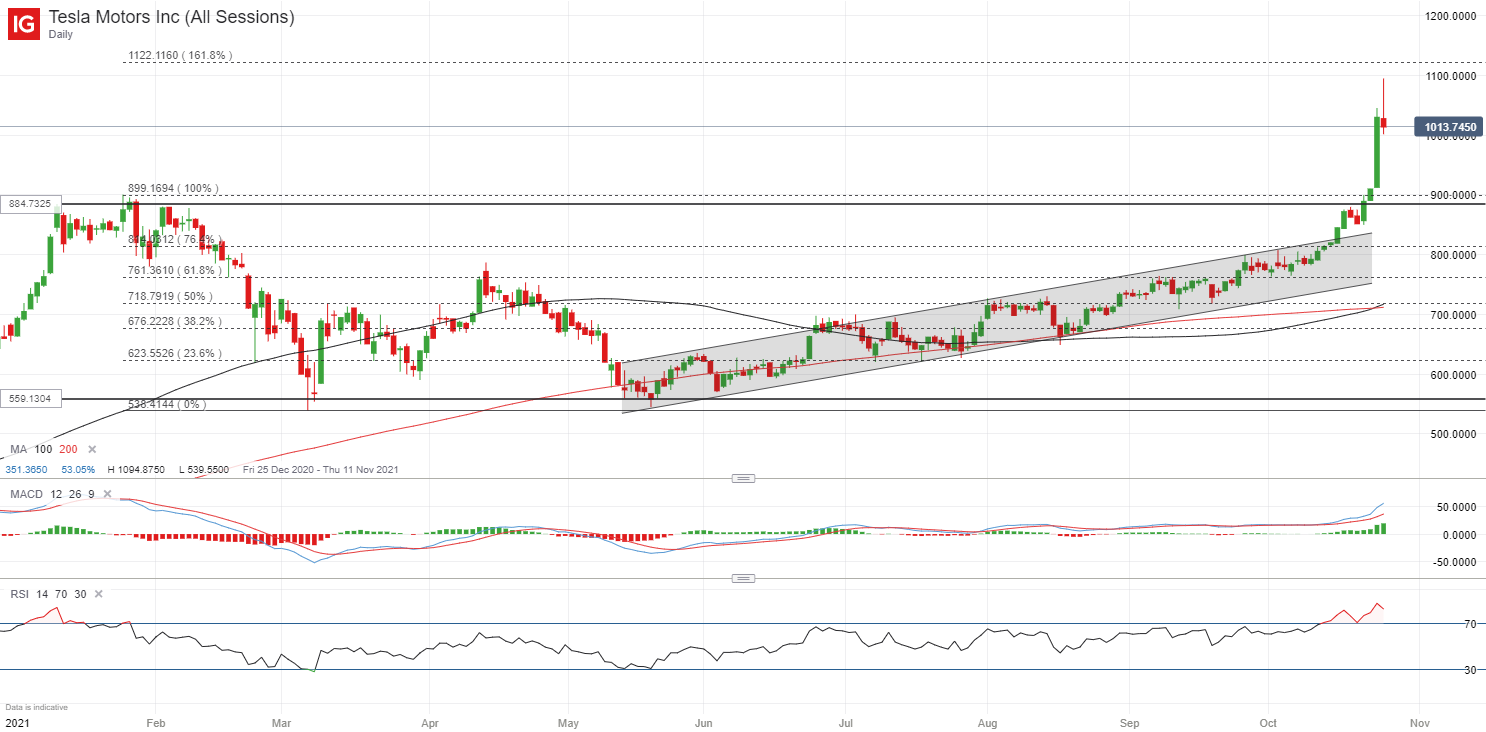 Source: IG Charts