Could the Pfizer share price explosion continue through 2022?
---
The Pfizer share price has more than doubled since its March 2020 low of $29. At $59 today, will continued investment and a resurgent Omicron-fuelled pandemic see it explode further into the new year?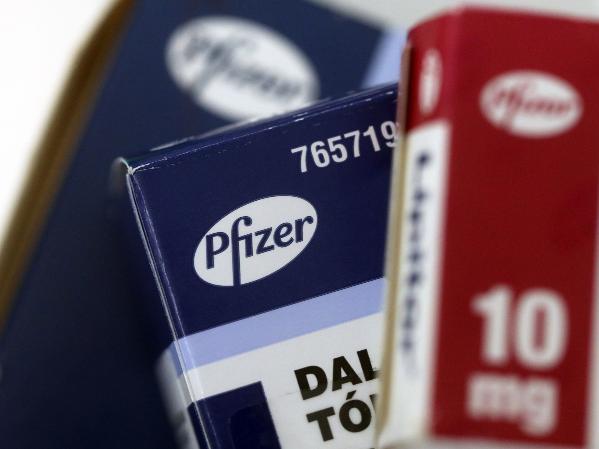 Source: Bloomberg
The Pfizer (NYSE: PFE) share price has been one of the best-performing stocks of 2021. Like the rest of the NYSE, it fell sharply at the beginning of the covid-19 pandemic, from $38 on 17 January, to $27 by 20 March 2020.
Since then, it's been fairly volatile, peaking at $41 on 11 December 2020, and again to $49 on 20 August 2021, while also dipping to as low as $33 in-between. However, since 15 October, it's risen consistently to a high of $59 today, as demand for its patented Comirnaty coronavirus vaccine continues to remain strong.
And cheerleaders for the pharmaceutical company believe it could go further.
Pfizer share price: 2021 acquisitions
The key problem for long-term Pfizer investors is that its meteoric share price rise is due almost exclusively to the success of its trailblazing coronavirus vaccine, developed in partnership with BioNTech. But through a combination of vaccination and natural herd immunity, coronavirus will eventually no longer be treated as a worldwide medical emergency. Knowing this, Pfizer is using its newfound wealth to acquire strategically important companies to prepare for the inevitable.
In April, it bought Amplyx Pharmaceuticals, which develops treatments for immuno-compromised individuals. Currently in phase 2 clinical trials, its cutting-edge anti-fungal drug, Fosmanogepix, could be the first to be approved by the US Food and Drug Administration (FDA) in almost two decades. And in August, Pfizer bought out Trillium Therapeutics for $2.26 billion. The company is developing treatments that boosts the immune system's ability to identify and destroy cancer cells.
Then last week, Pfizer announced plans to spend $6.7 billion acquiring stomach and intestinal disease research firm Arena Pharmaceuticals. And it's offering $100 per share, a 100% premium on the company's prior closing price. Arena's flagship drug Etrasimod could be the key to treating inflammatory bowel disease, a condition that affects 10-15% of the global population. It's also developing Olorinad, which it hopes will soon be approved to treat pain associated with gastrointestinal disorders.
Mike Gladstone, Global President of Inflammation & Immunology commented that together the two companies could develop 'therapies for patients with debilitating immuno-inflammatory diseases with a need for more effective treatment options.' The success of any of these new treatments could see Pfizer's share price soar.
Source: Bloomberg
Pandemic profits
According to Q3 results, Pfizer generated $24.1 billion in revenue, representing 130% operational growth. However, 60% of this revenue, or $14.6 billion, came from sales of its coronavirus vaccine Comirnaty. And full-year vaccine revenue is anticipated to be $36 billion, as a result of 2.3 billion doses. Excluding vaccine sales, revenue only grew 7% to $11.1 billion.
With such a high proportion of revenue coming from a non-renewable resource, Chief Financial Officer Frank D'Amelio believes that it is essential for Pfizer 'through partnerships and bolt-on acquisitions to gain access to cutting-edge platforms, science and technologies that could potentially bolster our growth in the latter half of this decade.' Mizuho analyst Vamil Divan believes the company is 'reasonably valued,' but that 'questions still remain on the longevity of the revenue streams, as well as how well Pfizer will be able to leverage that success into the rest of their business.'
But demand for Pfizer's vaccine remains strong for now. In response to the Omicron variant, the European Commission is purchasing an additional 200 million Comirnaty vaccines in 2022, bringing the total ordered up to 650 million.
Meanwhile, the UK has ordered 2.75 million courses of its oral coronavirus antiviral pill, Paxlovid, through 2022. In clinical trials, the drug was shown to be capable of preventing 90% of hospitalisations and death in high-risk patients. The US government has also ordered 10 million courses of the pill, with approval expected from the FDA imminently.
CEO and Chairman Albert Bourla believes it will be 'a critical tool to help quell the pandemic,' while Eric Topol, director of the Scripps Research Translational Institute thinks 'if we had an unlimited supply of these pills, it could have an extraordinary impact on preventing illness.'
The Pfizer share price could rise even further in 2022. SVB Leerink analyst Geoffrey Porges believes that its revenue could soar to $101.3 billion in 2022, as countries desperate to avoid further lockdowns continue to mass-order the company's wares.
But when the pandemic eventually runs out of steam, Pfizer will be left depending on a fair return on its various corporate investments. It's probably fair to expect further volatility as it implements its long-term plan.
Go short and long with spread bets, CFDs and share dealing on 16,000+ shares with the UK's No.1 platform.* Learn more about trading shares with us, or open an account to get started today.
* Best trading platform as awarded at the ADVFN International Financial Awards 2021

Charles Archer | Financial Writer, London
23 December 2021