Tesla Stock Price: What to Expect in 2022
---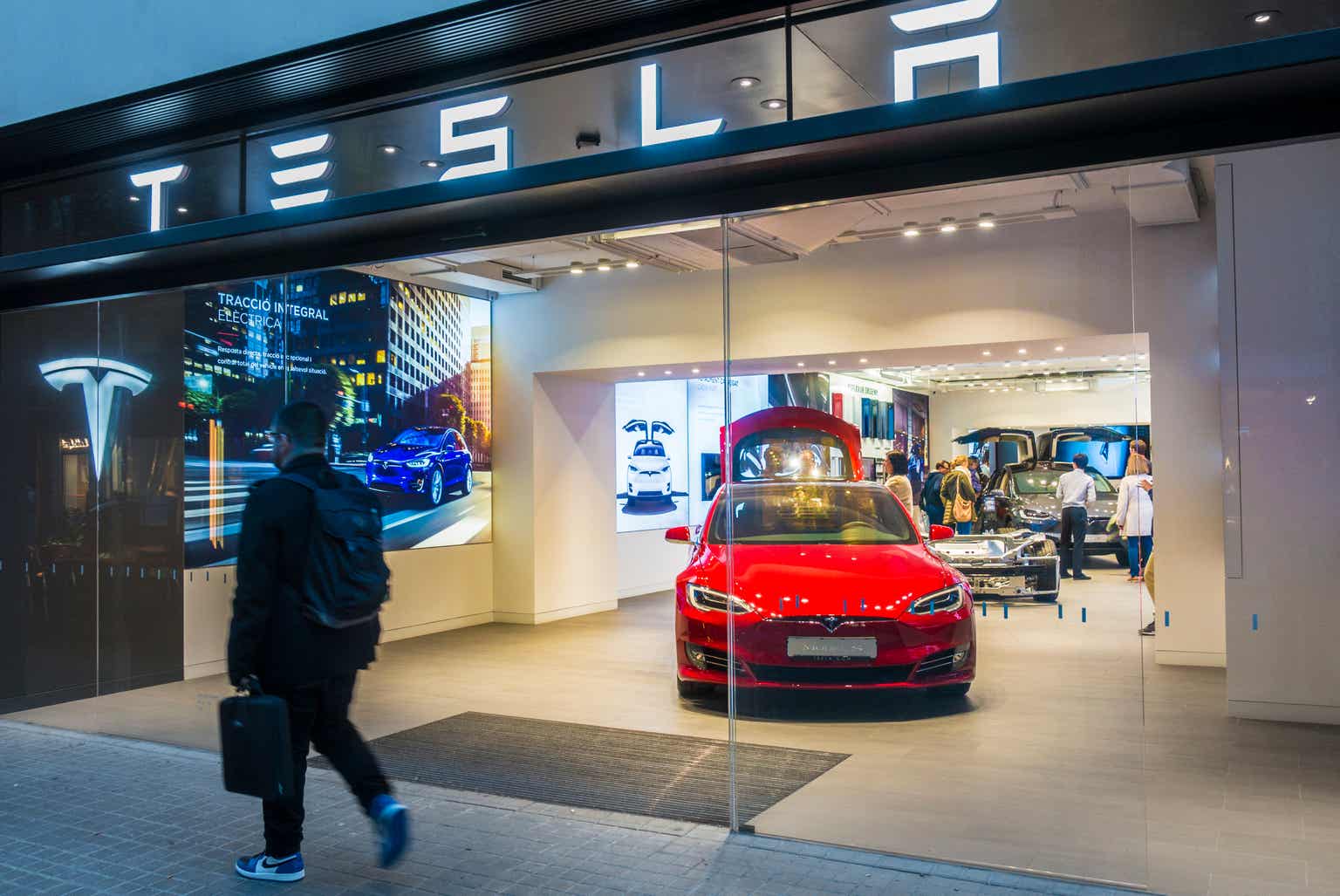 Dec 28, 2021
By: James Blakeway, Tastytrade
Tesla's (TSLA) 2021 return of 57% may not be quite as impressive as the parabolic, 740% return of 2020, but it still stands out against indices like the Nasdaq-100 and S&P 500. Tesla now sits firmly in the top 10 components of both indices, making it a target of investors and traders around the world as everyone waits to see what 2022 will bring for the dominant electric vehicle manufacturer.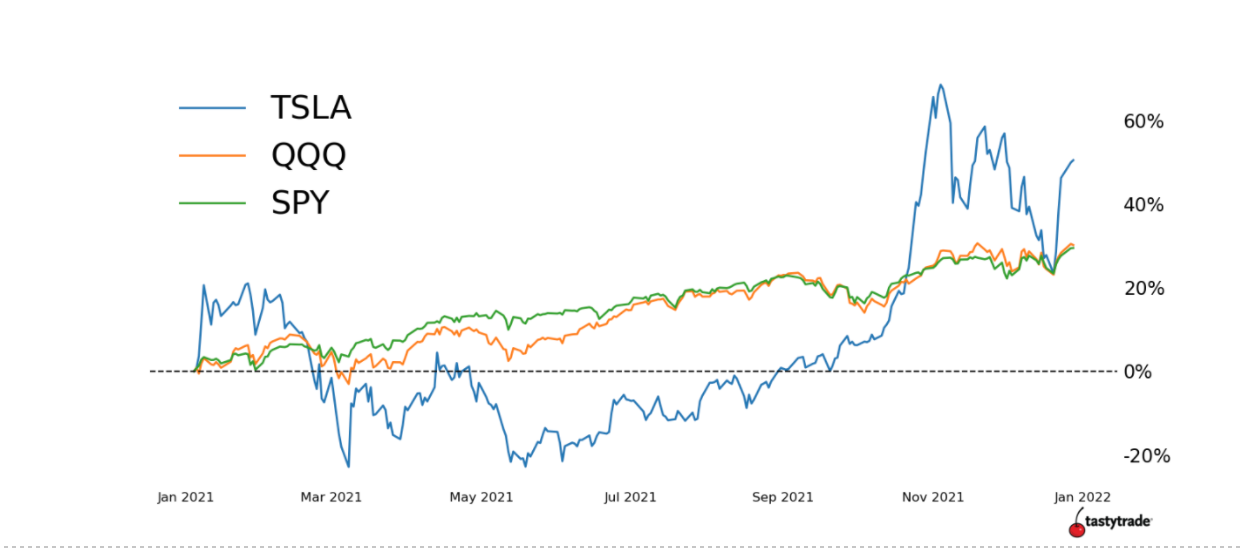 Despite being a car maker, there's been no doubt that Tesla trades more like a tech stock as investors bet big on the EV technology to transform the way we utilize, and store, cleaner energy. Tesla was added to the Nasdaq-100 in 2013 and for the last 5 years has consistently outperformed the index, even posting a positive return in 2018.
TESLA Outlook
So, what's next for the stock? While we obviously can't predict the direction, the option markets give current guidance as to the expected magnitude of movement for Tesla in 2022. Here are the current expected moves for various points next year: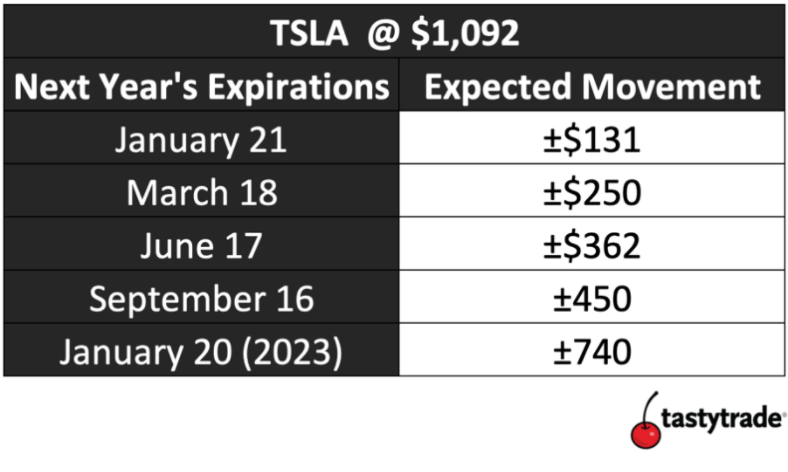 TESLA Option Pricing
With the options pricing in 60%-70% volatility throughout next year some large moves may still be ahead for those trading Tesla. Traders should keep in mind this is a one standard deviation range, meaning the stock is expected to fall within such a calculated range 68% of the time.
Looking back at Tesla, we calculated the historical 30 day expected ranges to see how often Tesla "played by the rules" and stayed within the one or two standard deviation range from 2017 until now:

More often than not, Tesla managed to stay within the one standard deviation expected range for the last four years. However, Tesla's sometimes huge movements push it outside of the two standard deviation range more often than the market prices in. 
Trade Ideas in TSLA 
How can traders play Tesla for the start of 2022 now that a $1,000 share value prices many traders out of naked options strategies? One way, assuming a bullish or bearish outlook is to use a simple credit spread.
Traders who believe that Tesla will drop in the early new year maybe interested in this call spread found by the Alpha Boost system. The trade combines the 1140 short call and 1145 long call. The trade has a 64% probability of profit and expires in January, before Tesla's next earnings announcement.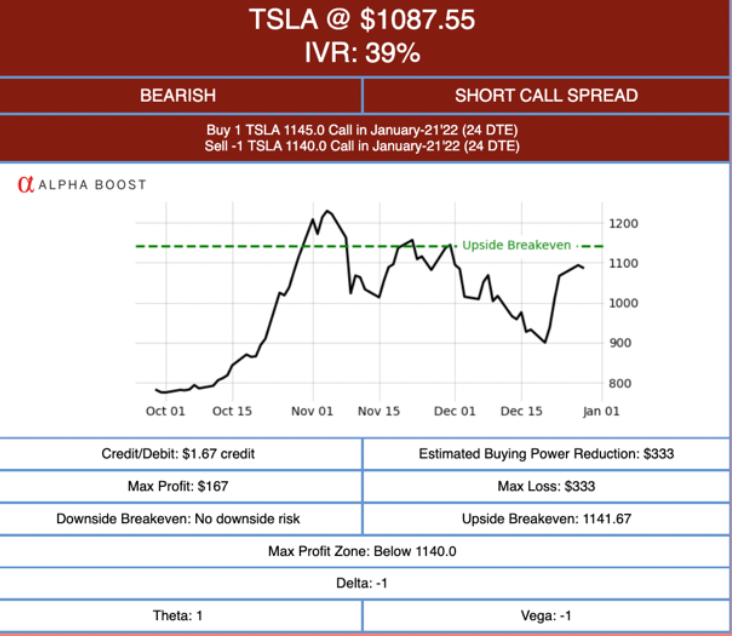 Traders more bullish on TSLA maybe interested in the opposite trade, selling a put spread. This trade also has a 64% probability of profit and is for the January monthly expiration.
Both trades have a 14% higher probability of success than being long or short stock and each trade costs less than one third a single share of Tesla!