Is the Burberry share price ready to soar back into fashion?
---
The Burberry share price remains 20% below its pre-pandemic point. But a new CEO, soaring full-price sales, and an inflation-resistant clientele could see the FTSE 100 stock gain ground soon.
Source: Bloomberg
The Burberry (LON: BRBY) share price has risen 6% today, after reporting promising Q3 results. But this upwards movement is just the latest in a series of volatile sideways steps. While Burberry stock was worth 2,329p in January 2020, the covid-19 pandemic put it on sale at 1,159p by late March. It then recovered to a 2021 high of 2,264p, before falling to 1,719p last Friday.
But it's now at 1,869p. And with Versace and Alexander McQueen veteran Jonathan Akeroyd filling the CEO void in April, today may be the start of some real skywards momentum.
Burberry share price: Q3 results
Todays' results signal a promising future for the FTSE 100 fashion operator. Revenue hit £723 million, up 5% year-over-year, while full-price sales rose 26% compared to pre-pandemic levels. And Burberry has upgraded its full-year profits growth forecast to £500 million, a 35% increase year-over-year. By comparison, Refinitiv average analyst expectations were for a 19% increase to £470 million.
Chairman Gerry Murphy highlighted that full-price sales are growing at a double-digit percentage compared to pre-pandemic levels reflecting 'a higher quality business' and 'new younger consumers.' And despite 'ongoing challenges of the external environment' Murphy is 'confident of finishing the year strongly.'
This canny pivot towards a younger clientele and full-price sales began amidst the panic of the pandemic. With profits falling 56% in H1 2020, the company decided that reducing discounting would 'put a brake on revenues, but it will serve the long-term interests of the brand.' And while store sales are down 3% globally, the risk seems to be paying off.
In the Asia-Pacific region, full-price sales rose 22% compared to pre-pandemic levels. In the Americas, they rose 72%, 'driven by new customers.' Both regions also saw total sales growth. In the crucial Chinese market, store sales grew 15% and full-price sales 37% compared to pre-pandemic levels. And it was a similar story in South Korea, where store sales shot up 28% and full-price sales 62%.
However, in EMEIA, full-price sales fell 4% quarter-over-quarter, and total store sales fell 17% compared to pre-pandemic levels. But the company said it was 'very encouraged' by the performance, explaining the fall as an 'ongoing drag from the lack of tourists' which had previously accounted for 40% of sales in the region.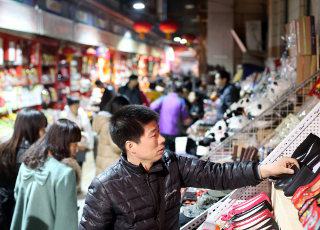 Source: Bloomberg
Are Burberry shares back in style?
The company's marketing strategy could see the Burberry share price soar soon. It's rolled out 31 redesigned stores, including on Sloane Street in London and its 'second flagship,' Plaza 66 in Shanghai. And it remains 'on track' to deliver 50 more by the end of the financial year.
Moreover, the brand appears to have turned a corner with regards to Environmental, Social, and Governance (ESG). In 2018, it was found to have burnt £28.6 million of stock to protect its brand. And in March 2021, actress Zhou Dongyu resigned as 'brand ambassador' when it was caught up in the Xinjiang cotton row, stating it had not 'clearly and publicly stated its stance on cotton from Xinjiang.'
However, having rectified much of the damage, Burberry plans to become net-zero by 2040, ten years ahead of the Paris Climate Agreement. And it's extended its partnership with footballer Marcus Rashford to help disadvantaged children, buying it both ESG credits and the goodwill of its new younger clientele.
Importantly, Burberry is an inflation-resistant company. With its cheapest jacket at £720, it serves a different type of customer than the mass market. This is an attractive feature in the current economic environment.
However, the Burberry share price faces one significant risk. The company's most important market is China; it's no coincidence that its second flagship store is in Shanghai. And while Burberry's affluent clientele are unlikely to be hurt by inflation, they won't be immune to China's 'common prosperity' policies. Companies including Ant Group, Alibaba and Evergrande have lost billions of dollars in value so far as President Xi Jinping attempts to rein in their billionaire owners.
Moreover, it's constructing a fourth-generation 'Golden Tax' system, which Wang Jun, head of the State Taxation Administration, believes will allow the country to 'transition from managing tax through invoices to managing tax through big data and the cloud.' And the country's Communist party is determined to 'show no forgiveness' to tax evaders from now on. Last month, the country's 'live-streaming queen' Viya was slapped with a $210 million tax evasion fine.
The Burberry share price is back in fashion for now. But future growth depends on wealthy Chinese customers. Any further crackdowns could see it getting its coat.
Go short and long with spread bets, CFDs and share dealing on 16,000+ shares with the UK's No.1 platform.* Learn more about trading shares with us, or open an account to get started today.
* Best trading platform as awarded at the ADVFN International Financial Awards 2021