AMD share price trending lower ahead of Q4 earnings
---
AMD's share price is down more than 20% year-to-date. Can its upcoming Q4 results lift sentiments for its share price?
Source: Bloomberg
When does AMD report earnings?
Advanced Micro Devices (AMD) is set to release its quarter four (Q4) financial results on 1 February 2022, after the market closes. Expectations for its Q4 earnings per share (EPS) is set to come in at $0.76, up 46.2% year-on-year (YoY) and 4.1% from the previous quarter.
AMD earnings – what to expect
A look at the past several quarters suggest that the sales momentum for AMD seems to show no signs of slowing yet. Overall gross margins continue to be on an upward trajectory since quarter three (Q3) 2020, coming in at 48.4% for its latest quarter. This marks an ongoing improvement towards the management's long-term target of greater than 50% and suggests that pricing power for its products may remain intact for the upcoming Q4 2021 as well. The increasing trend for its inventory turnover ratio (4.9 in Q3 2021 compared to 4.7 in quarter two (Q2) 2021) suggests that demand continues to outpace supply and that may underpin further increase in pricing ahead.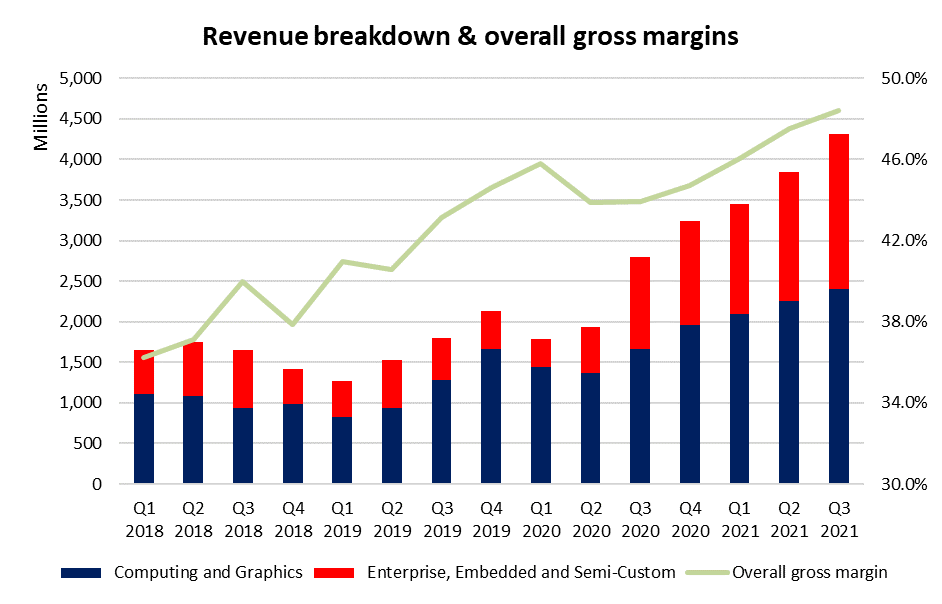 Source: AMD
The ongoing delay for Intel's production of the 7-nanometre-based processors may also continue to support AMD's potential gains in market share into the upcoming quarter. The release of Intel's 7-nanometer chips was previously said to only be in late 2022 or early 2023, with no signs of any pull-forward in production timeline thus far. With that, AMD will continue to benefit from the robust demand in the server central processing unit (CPU) market, with capital spending from hyperscale cloud service providers showing no signs of easing.
Any guidance for the acquisition of Xilinx will be on watch in the management's earnings call. The revised timeline stated previously was to close the transaction in the first quarter of 2022. Expectations are for the deal to complete sooner or later, with the integration expected to be immediately accretive to AMD margins, cash flow and EPS, along with a boost to its total addressable market (TAM) from $79 billion to $110 billion.
Where are the risks?
That said, in line with the ongoing inflationary environment, higher input costs are expected to be reflected in AMD's results. While gross margins are expected to hold up, net income margin is expected to trend lower from 22.1% in Q3 2021 to 20.4% for Q4 2021, followed by 19.4% in Q1 2022. With AMD's leverage on Taiwan Semiconductor Manufacturing Company (TSMC) for chips production, this may leave AMD vulnerable to any increased pricing from TSMC, which may have a direct impact on its profitability. Thus far, it seems that AMD has been able to pass on some costs to its consumers to sustain its earnings, which may be a positive for now. That will continue to be on watch in the upcoming Q4 2021 results.
Along with other tech stocks, AMD is also not spared from the recent sell-off as rising yields led markets to revisit some of the valuation for growth stocks. A look at AMD's valuation compared to its peers do suggest that its valuation seems to fall on the high side, leaving it more sensitive to any increase in yields. On a forward price-to-earnings (P/E) basis, its forward valuation seems to tower above its peers, similar to NVIDIA. This suggests that expectations for outperformance are being priced and with that, just being in line with estimates may not necessarily be sufficient to drive any upside for share price.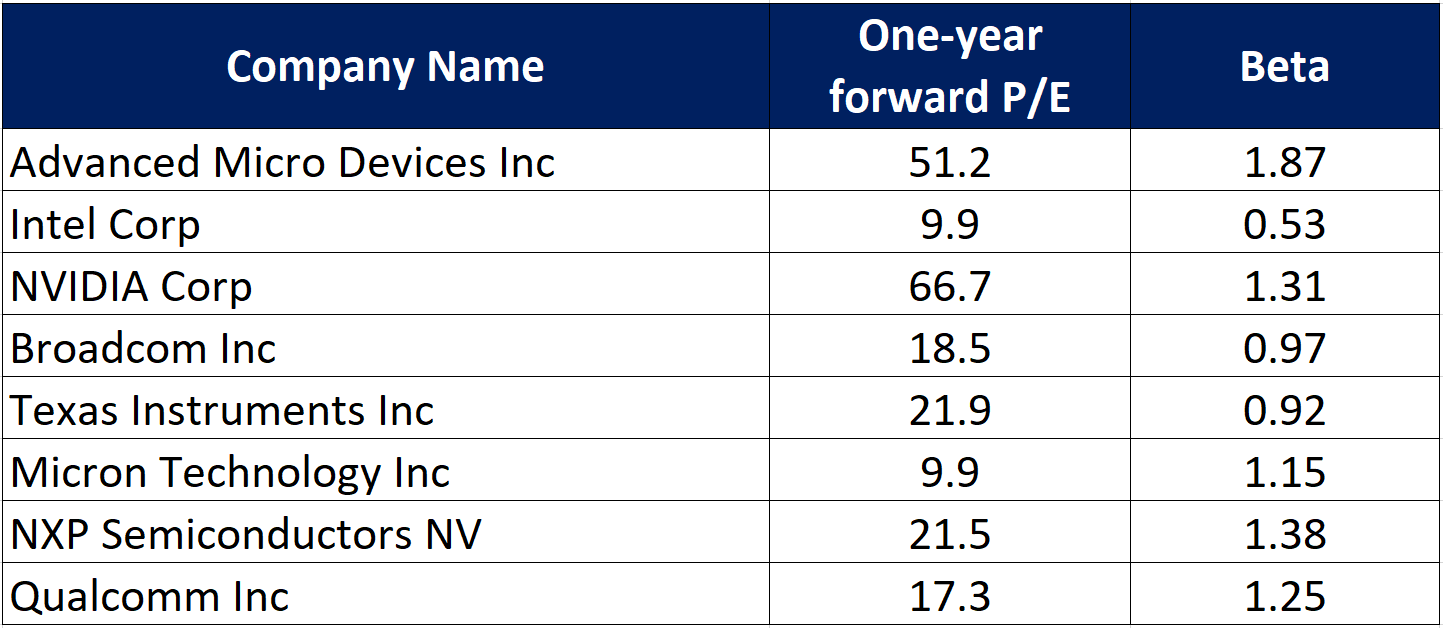 Source: Nasdaq
AMD share price – technical analysis
AMD's share price seems to trade within a near-term falling wedge pattern, with an ongoing series of lower highs and lower lows pointing towards a near-term downtrend. A recent attempt to break back above the wedge pattern was met with a bearish rejection at the lower trendline, suggesting that the bears remain in control for now.
Recent prices seem to have difficulty holding onto the $118.27 level, which will be a near-term resistance to overcome where a 50% fibonacci retracement level lies. Near-term support may be at the $110.60 level, where a previous resistance may now serve as support.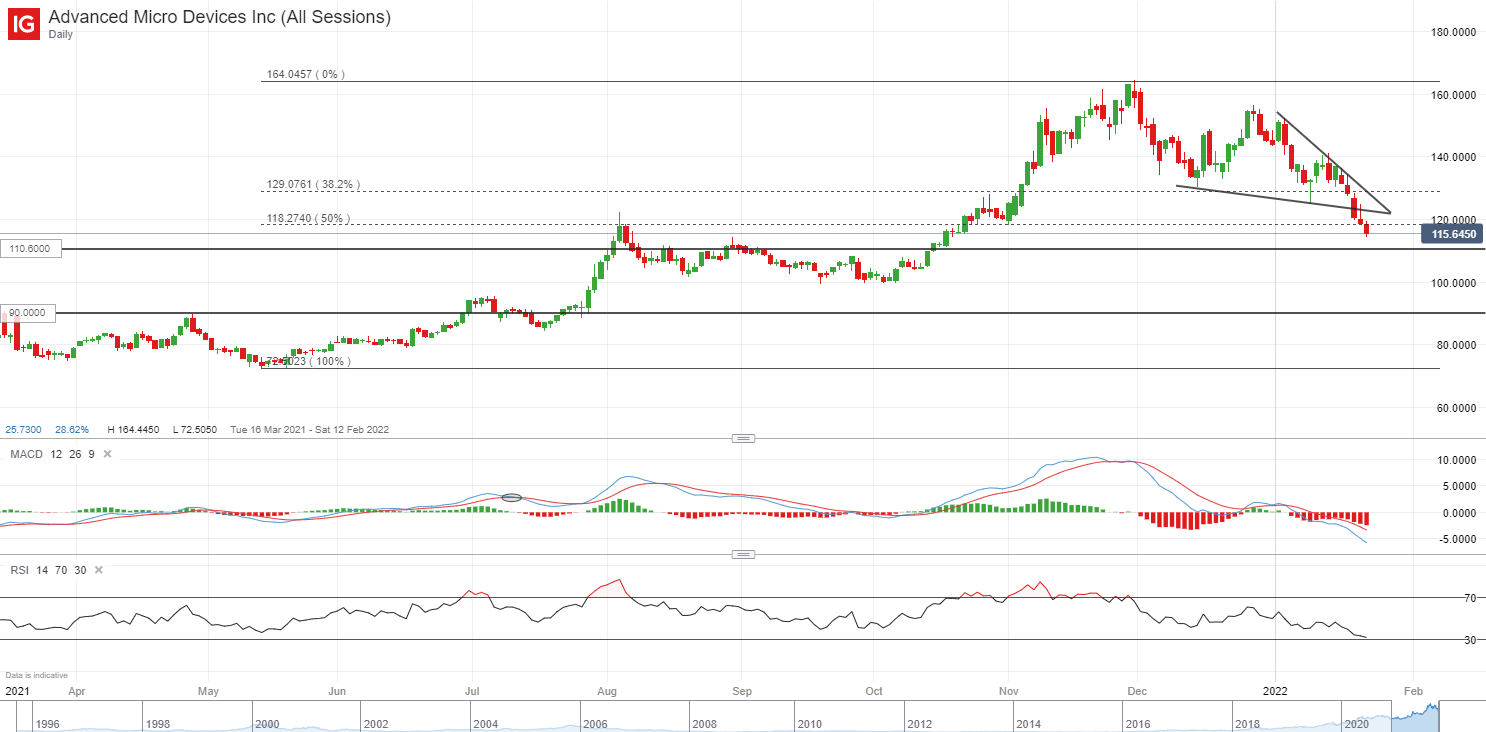 Source: IG charts