Oil price: what to expect from this week's OPEC+ meeting
---
Crude oil prices have been rallying for six consecutive weeks, hitting seven-year highs.
Source: Bloomberg
Supply and demand
The price of Brent crude oil briefly touched $91 per barrel this week for the first time in seven years, and market participants are expecting the price to edge even higher.
The latest round of increases was attributed to the tensions around Ukraine and Russia, but fundamentally, the divergence between its supply and demand is the key driver.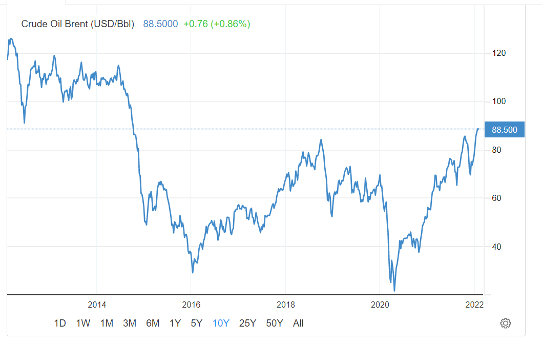 Source: Trading Economics
After a six-week straight rally, both benchmarks recorded their highest levels since October 2014 on January 28. Brent crude jumped to $91.64, while WTI headed to $88.57 on the same day.
There is little sign that the crude oil price's surge will slow down soon. At its upcoming meeting on 2 February, OPEC+ is expected to stick with the existing policy of a gradual increase of output for March as it sees demand recovering.
Despite downside risks from the pandemic and looming interest rate rises, tensions between Russia and the West have been fanning fears that energy supplies will be disrupted. A tighter market combined will undoubtedly drive oil prices even higher if that happens.
However, the sky-high oil price can also trigger a slowdown in consumption. Consumer sentiment in the United States fell in January to the lowest level since November 2011.
Considering that high gasoline prices are a primary concern for already high inflation, governments and central banks could respond by either releasing more of their reserves or raising interest rates sooner to tame energy-driven price increases.
Technical analysis - Brent Crude
From the daily chart, it's clear that the price has been in an upward trajectory since the end of 2020. The last high from October 2021 is acting as a key support for now, nearing $85.
Looking ahead, the next record to expect will be looking at the upper boundary of the moving tunnel, approximately $93, the price last seen in September 2014.
However, if we take a closer look at the hourly chart, the price has been oscillating between $87.9 and $89.7 since January 26th, combined with a flattering RSI, which seems to suggest the price is ready for a consolidation before the next push.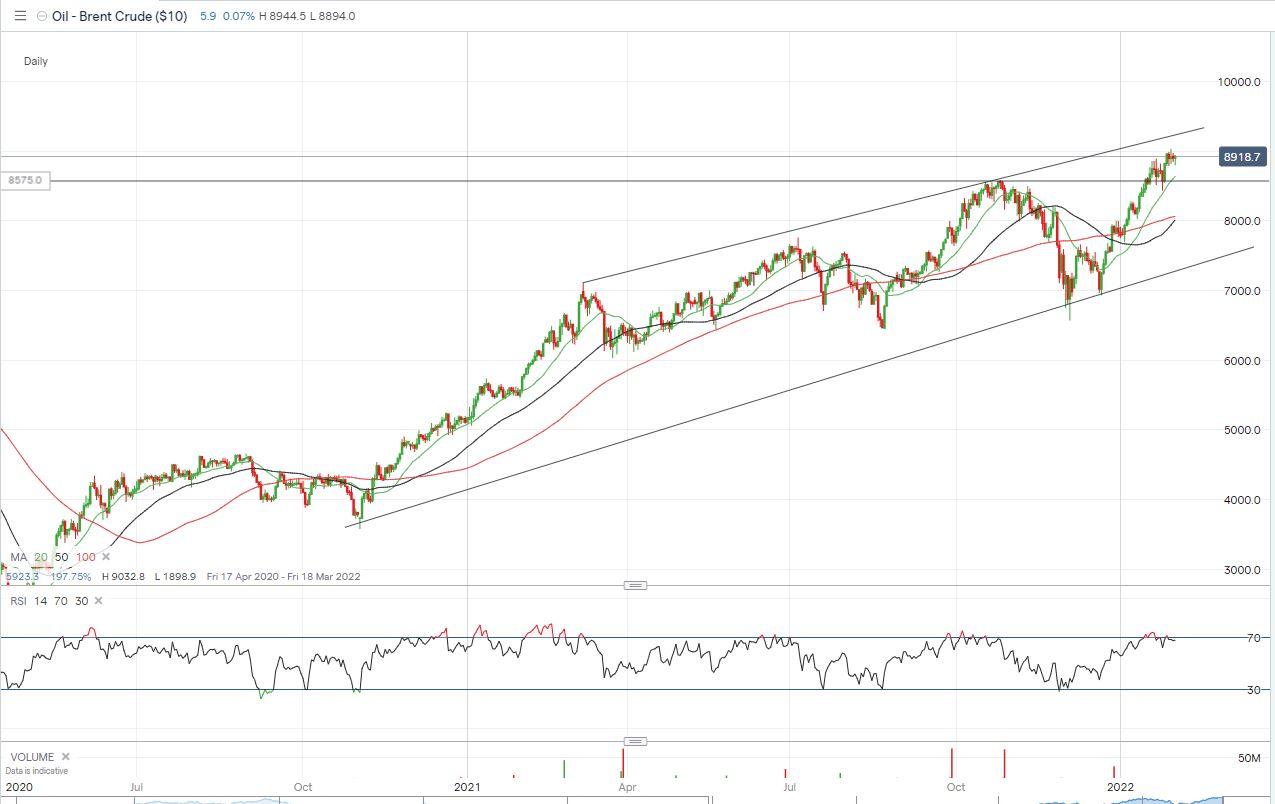 Source: ProRealTime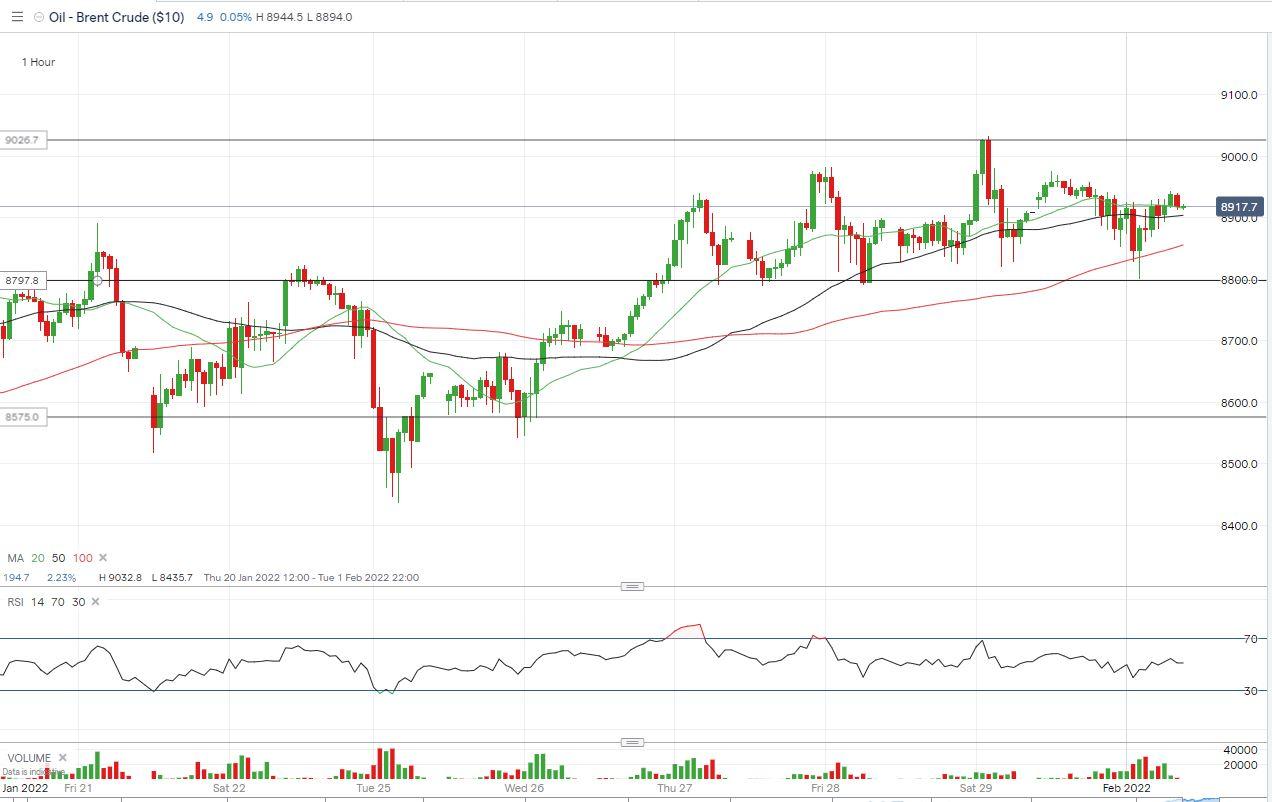 Source: ProRealTime
WTI
The price of WTI crude oil has increased by 17.72% since the beginning of 2022 and recorded its sixth consecutive week of increases.
Key support for WTI can be found at $85.90 now, which if broken, would see the price retest the hilltop of October to November's high at around $84.40.
The next record high to eye will be $90 per barrel, a price level last reached on September 29, 2014.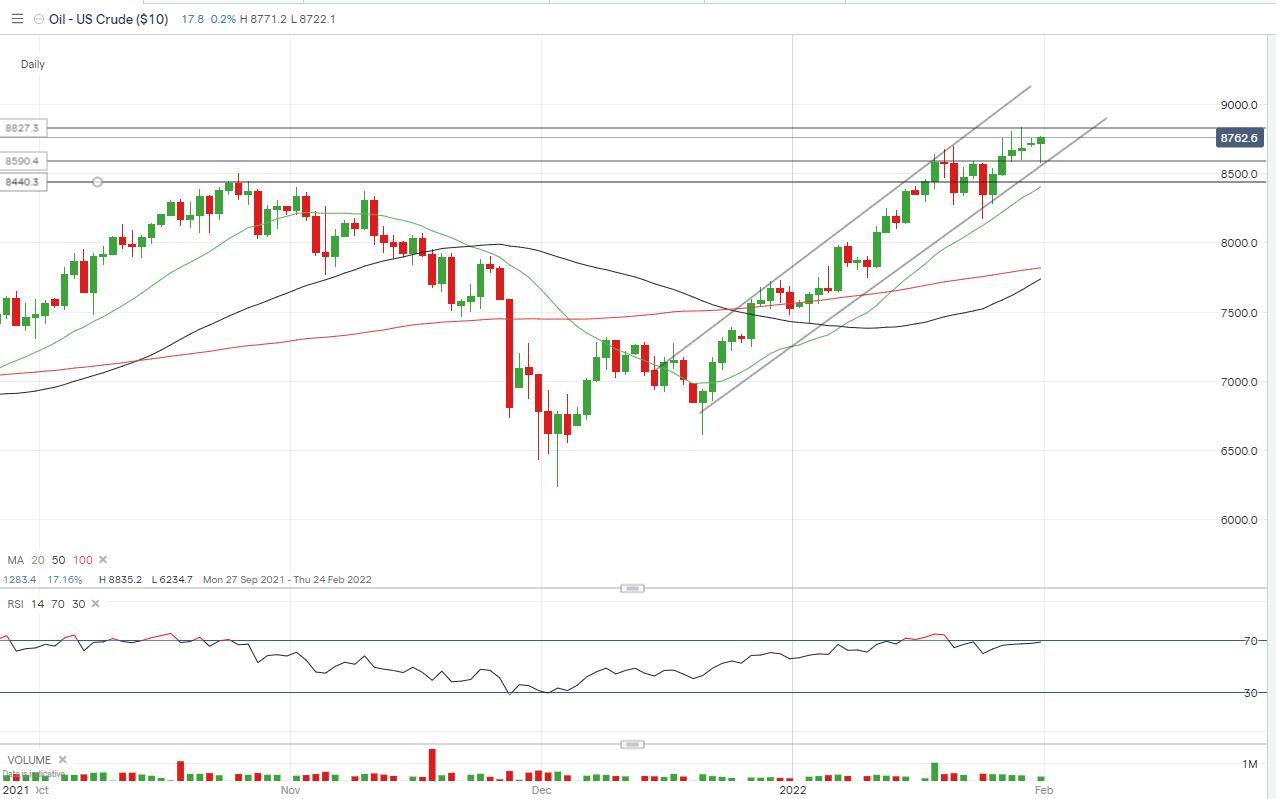 Source: ProRealTime