Fresnillo share price recovers on back of surge in silver ahead of FY results
---
Fresnillo's descent amid disappointing updates ended with a surge in the price of silver ahead of its full-year results, out on Tuesday.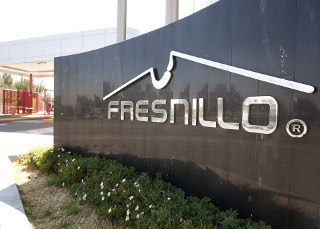 Source: Bloomberg
Fresnillo, the world's biggest silver miner, missed on production targets around this time a year ago and in January the Mexican company downgraded output goals for 2021 and 2022.
Since then, the firm's share price has benefitted from the surge in the price of silver ahead of full-year (FY) earnings out on Tuesday.
As Fresnillo has continued to issue disappointing updates, its share price has dropped by over -35% between November and early February before benefitting from the rally in the price of silver by around +15% over the past few weeks as the war in Ukraine intensifies and investors seek out safe haven assets.
Source: ProRealTime
Analysts expect the company to report a 11% Ebitda rise for 2021, to $1.3 billion, which implies a 15% year-on-year drop for the second half, according to AJ Bell.
Mining analysts at the Royal Bank of Canada (RBC), upgraded Fresnillo shares to "outperform" from "sector perform" as they believe the share price can weather the current geo-political situation, spiralling inflationary pressures and an increasingly challenged macro environment.
Source: ProRealTime
Despite the recent recovery in precious metals prices, Fresnillo's shares are still down around -15% year-to-date as a result of disappointing operational performance.
There is hope for the bulls, however, since Fresnillo stock has risen by around +20% since early February - around +5% more than the price of silver.
With the latter expected to continue its upward trajectory amid mounting geo-political tensions and inflationary pressures, Fresnillo's share price is likely to also benefit.
Source: ProRealTime
The five-month downtrend line at 778.5 pence is currently capping the share's advance but as long as the second to last relative low at 664.2p isn't slipped through on a daily chart closing basis, the five-week uptrend remains intact with the 200-day simple moving average at 818.2p remaining in focus.
The next higher September and mid-January highs, late October, November and December lows at 846.9p to 871.2p represent a key target area for the stock which may prove difficult to overcome, though. If so, the October and December highs at 923p to 927.2p would be next in line.
Failure at the 22 February low at 664.2p on a daily chart closing basis would put the January and February lows at 613p to 611.2p as well as the psychological 600p mark back on the plate.