Where next for the Alibaba share price?
---
Last week's surge in Chinese technology stocks in the wake of its government announcing a stimulus package, kicked off a swift bullish reversal which is expected to continue for shares like Alibaba.
Source: Bloomberg
Shares in the Chinese ecommerce group, Alibaba surged by over 11% as the company upsized its share buyback programme from $8 billion to $25 billion on Tuesday, the largest ever repurchase plan by the company.
The upsurge came on the back of a more than 40% rally in the Alibaba share price from last week's $72.24 low after Chinese Vice Premier, Liu He, said that Beijing will rout out more measures to boost the economy and hinted at an end to the Chinese government's restrictive regulatory environment.
Last week Alibaba stock quoted in China had its biggest one-day gain since 2014, rising by around 37%, with it soaring by more than 20% in US trading.
Source: ProRealTime
Chinese regulatory risks, US disclosure requirements and Beijing's alliance with Russia, all posed a threat to the delisting of Chinese companies and have contributed to investors selling stocks such as Alibaba which declined by around 75% from its $319.27 October 2020 high.
Can Alibaba's eye-watering bullish reversal continue?
The sharp rally in Alibaba's share price on the New York Stock Exchance (NYSE) has taken it from last week's $72.24 low through the December-to-January lows and resistance area at $108.76 to $110.41 with the $120 region about to be hit, a rise of some 60%.
Given the strength of last week's bullish reversal and this week's follow through to the upside, the current rally in the Alibaba share price is expected to continue, especially since it has broken through its six-month downtrend line and risen above the 55-day simple moving average (SMA) at $115.29.
A potential upside target is the $129.39 February high.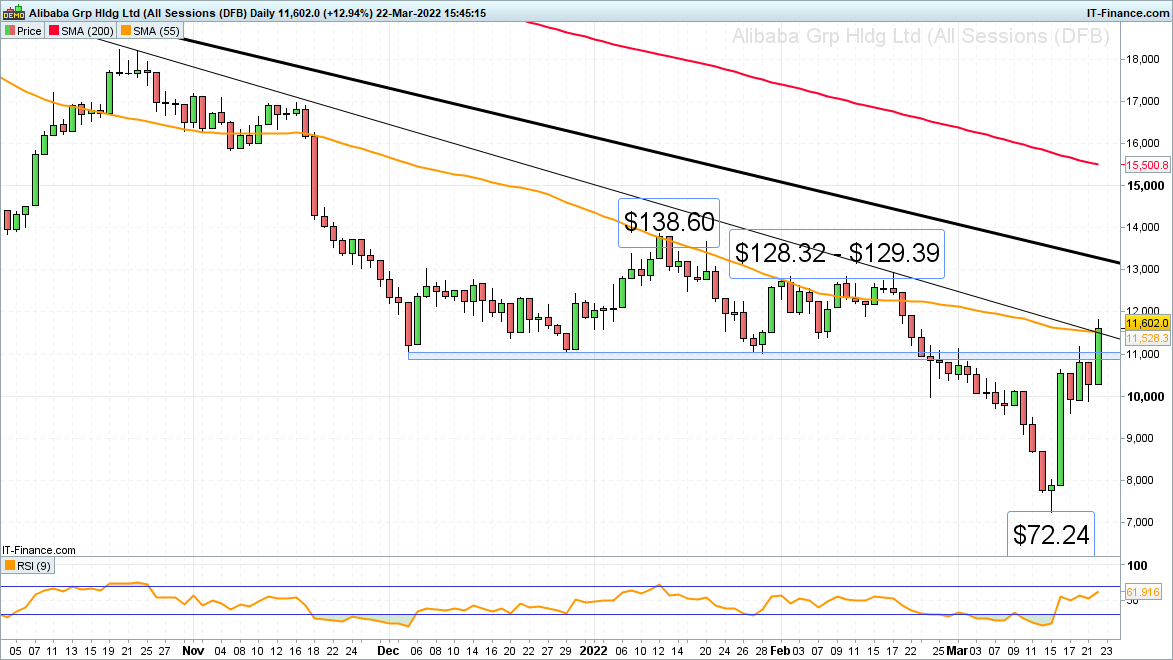 Source: ProRealTime
Further potential targets are seen between the 2020-to-2022 downtrend line and the January high at $132.80 to $138.60.
The bulls are to remain in charge while the Alibaba share price stays above the 24 February low at $99.67 on a daily chart closing basis. One should see the current strong rally in the Alibaba share price within the context of its approximately 75% decline from its $319.27 October 2020 high to last week's $72.24 low, though.
This large decline was caused by the Chinese government's crackdown on its technology companies, such as Alibaba, which haven't as yet been lifted, despite its recent hints.