Global market update: four markets to watch
---
While volatility on Wall Street has dropped, there is still plenty of movement in the global markets.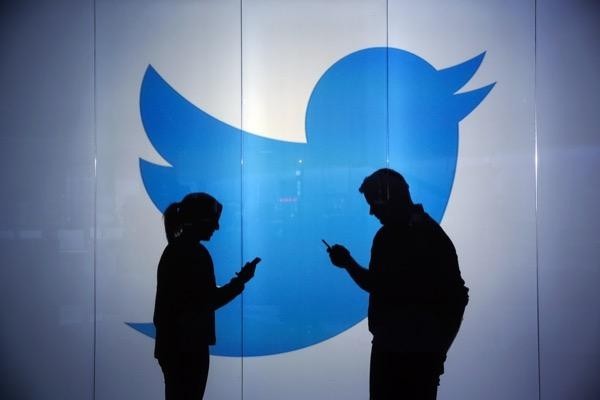 Source: Bloomberg
Volatility settles, yet there's still plenty of movement in the global markets
The rise of global stocks through March has many perplexed in the market, with implied volatility on Wall Street back to levels consistent with a bullish market. There remains plenty of movement in the global financial markets, however, as issues such as inflation, the war in Ukraine and China's COVID-19 lockdowns keep traders guessing.
Throw in some typical antics from Elon Musk, and here are four markets to watch.
Top four markets to watch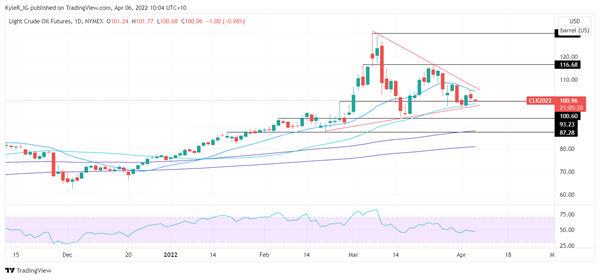 Source: TradingView
The Russians have shifted their strategic focus from Kyiv and toppling the Ukrainian government to consolidate its stronghold of disputed Eastern regions. The lower risk of regime change, not to mention a lower risk of crippling sanctions on Russia and Russian debt default, has seen oil prices pull back from recent highs.
Moreover, alleged war crimes in Bucha have put an obstacle in front of peace talks but there remains the hope of progress in negotiations going forward. WTI Crude is consolidating now as traders assess the situation. Momentum has neutralized, while prices range between the 20- and 50-day moving average (MA).
It must be said a consolidation pattern is taking form, suggesting that perhaps the risk here is skewed towards a break-out.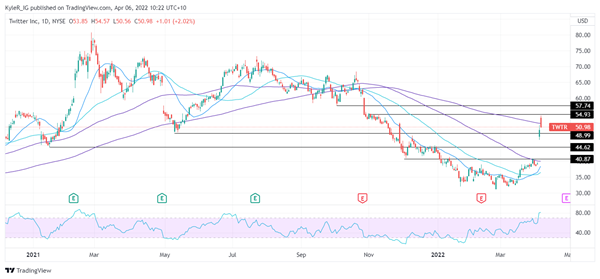 Source: TradingView
Twitter shares surged this week after it was reported that Tesla CEO – and long-time Twitter user and often critic – Elon Musk had taken a 9.2% share in the company. The stock was up as much as 30% on an intraday basis, with the mercurial Mr Musk hinting at bringing about changes to the platform, as the company's CEO invited Musk to join the board.

The news broke Twitter's downtrend, sending the stock flying into technically overbought levels and towards its 200-day MA. Price met resistance at $54 per share, as lucky investors took profits on the trade. Support looks around $49 per share currently, as the RSI signals a possible further pullback.
3. S&P 500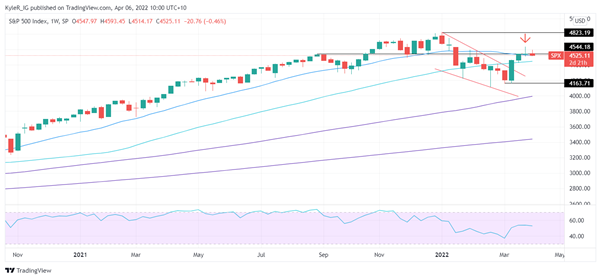 Source: TradingView
The rebound in global equities has had many pundits scratching their heads lately. There are possible signs that this move could be a bear market rally, as upside momentum stalls for the S&P 500. The weekly RSI remains in a downtrend and below the key 50 level. More pertinently, the weekly candle last week is sending a potentially ominous signal of a short-term top and possible price reversal.
A gravestone doji can be seen for the index, suggesting potential for further downside risk on Wall Street in the short term. A drop below the 20-week MA could open a pullback to the 50-week MA. A hold above 4545 support/resistance may indicate support and consolidation for the market.
4. US Dollar Index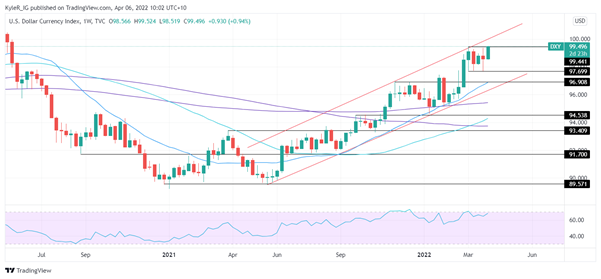 Source: TradingView
The path and pace of US interest rates is priority number one again for market participants. With hawkish comments coming from perennial uber-dove Lael Brainard this week has put rate hikes back at the centre of the equation and re-introduced the discussion about when the US Fed will begin the process of balance sheet 'normalisation.'
Heading into the latest FOMC minutes, traders will be gauging the odds of two successive 50-point hikes from the central bank in May and June, and whether 'QT' will begin in May. The US Dollar Index has been consolidating lately, trading in a range between 99.50 and 87.70. The DXY is approaching the top end of that range now, a break of which could open a fresh rally in the dollar.
Take your position on over 13,000 local and international shares via CFDs or share trading – and trade it all seamlessly from the one account. Learn more about share CFDs or shares trading with us, or open an account to get started today.

Kyle Rodda | Market Analyst, Australia
06 April 2022