Microsoft share price and Q3 2022 results preview
---
What to expect and how to trade Microsoft's upcoming results
Source: Bloomberg
When are the Microsoft results expected?
The Microsoft Corporation is set to release quarter three (Q3) 2022 results on the 26 April 2022. The results are for the fiscal quarter ending March 2022.
What is 'The Street's' expectations for the Q3 2022 results?
'The Street' expectations for the upcoming results are as follows:
Markets are expecting revenue to be supported by robust cloud service demand. Previous guidance from the group has suggested that Intelligent Cloud revenue for Q3 could be as much as $19 billion.
Other key business areas to watch for Microsoft are the Productivity and Business Processes division, which is expected to bring in revenue of between $15.6 billion and $15.85 billion, as well as the more computing division which is expected to add between $14.15 billion and $14.45 billion. That is according to Microsoft's earnings call guidance in the previous quarter.
How to trade Microsoft into the results
Source: Refinitiv
Refinitiv data shows a consensus analyst rating of 'buy' for Microsoft, with the median of estimates suggesting a long term price target of $368.33 for the share, roughly 28% higher than the current price (as of 20 April 2022).
Source: IG
IG sentiment data shows that 97% of clients with open positions on the share (as of 20 April 2022) expect the price to rise over the near term, while 3% of these clients expect the price to fall.
Microsoft Corp – technical view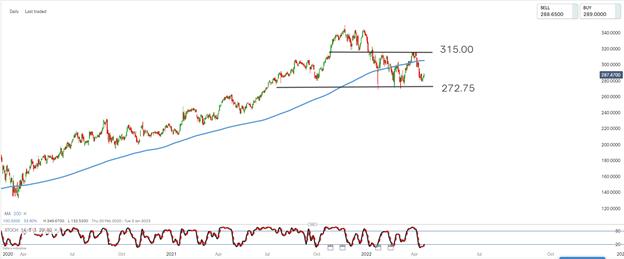 Source: ProRealTime
The share price of Microsoft has broken its long-term uptrend. The price whipsawing through the 200 day simple moving average (SMA) blue line, suggests that we have now moved into sideways range trading environment.
The near-term range for Microsoft is considered between levels $272.75 (support) and $315.00 (resistance). We have seen a bullish price reversal just above the support of this range. The price reversal is supported by a move out of oversold territory by the stochastic oscillator. $315.00 becomes the initial upside target from the move. Traders who are long might consider using a close below $272.75 as a stop loss indication for the trade.
Summary
Microsoft Corp. is set to release Q3 2022 results on 26 April 2022
Q3 2022 results are expected to show a YoY increase in both revenue and EPS
Long-term broker consensus suggests the share to currently be a 'buy', with a longer term price target of $368.33
IG clients with open positions on the share are predominantly long
The share currently trades in a broad range having recently formed a

 

bullish

 

price reversal from oversold territory