Losses for EUR/USD, GBP/USD and AUD/USD pause for now
---
The dollar's run higher is pausing for now, but the overall bearish outlook for EUR/USD, GBP/USD and AUD/USD remains firmly in place.
EUR/USD moves sideways
Consolidation appears to be the order of things here with EUR/USD, as the price looks to recover some of the ground lost in recent weeks. The sideways movement allows the price to work off some of its 'oversold' condition that has resulted from the sharp declines of recent months, and also allows the moving averages to play catch-up.
Overall the scene appears set for a short-term recovery, although that will depend mostly on the US dollar, which is being supported both by safe-haven moves as market volatility surges and by the expectation that some Federal Reserve (Fed) speakers will begin fresh calls for 75 basis points (bps) rate hikes to fight inflation. Gains from here target $1.0637, and then towards $1.08 and the 50-day simple moving average (SMA). A move below the 2017 low at $1.034 would be a major development that would see the pair head to a 20-year low.
Source: ProRealTime
GBP/USD edges off Monday's lows
Monday saw a fresh two-year low for GBP/USD, but signs of stabilisation overnight have given some hope that a short-term rebound could be in play. The outlook for the UK economy remains grim however. A recession seems to be a definite possibility, as UK consumers remain squeezed by high inflation and by rate rises that have boosted borrowing costs.
This has put the Bank of England's (BoE's) hiking policy into question, at least in the medium term. A short bounce might see the price recover $1.25 or even head back towards $1.27, but the downtrend would remain firmly intact. Further losses below $1.225 would see the price head towards $1.208.
Source: ProRealTime
AUD/USD slips below $0.7
Weakness in commodity prices and the general risk-off environment has meant that AUD/USD has fallen sharply in recent days, falling below $0.7 for the first time since January. Despite the Reserve Bank of Australia's (RBA's) move to a hiking posture, the US dollar retains its pre-eminence, and while the debate over 50 vs 75 bps rate hikes appears to be over for now, it will likely reignite if this week's and future consumer price index (CPI) figures remain strong.
Additional declines target $0.6828, and then on to $0.6671, while a recovery above $0.7 might suggest a short-term low is in place.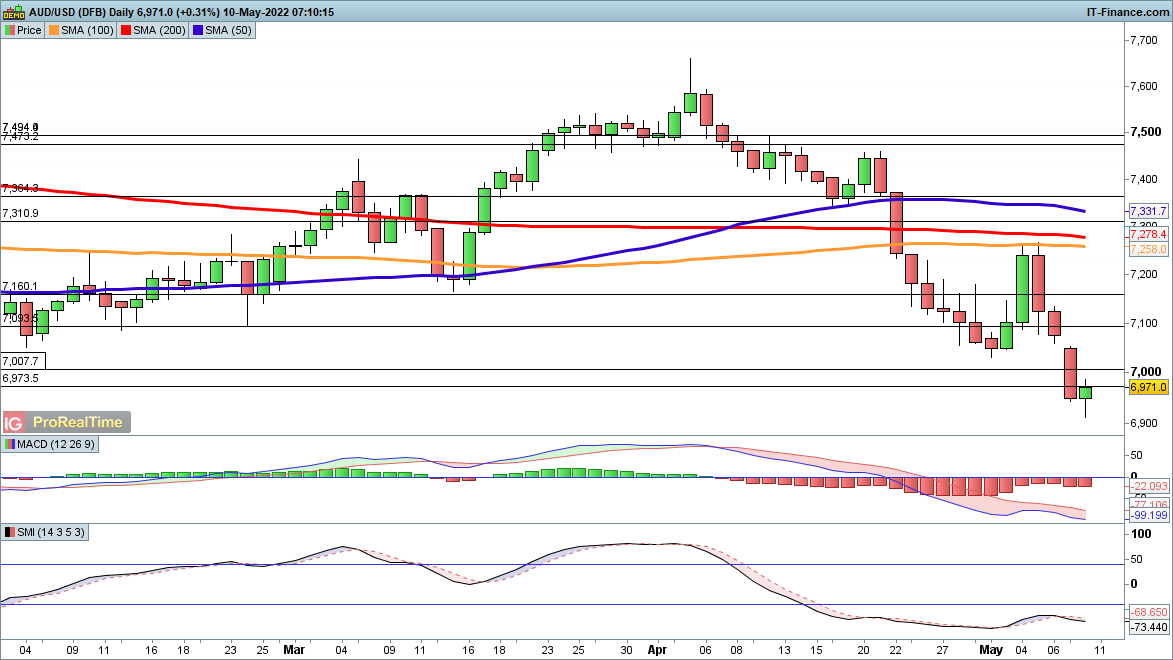 Source: ProRealTime
Chris Beauchamp
|
Chief Market Analyst
,
London
10 May 2022