Risk appetite under some pressure after last week's relief rally for S&P 500
---
Major US indices opened the month of June in the red, although a slight attempt to pare back some losses was seen in the latter half of the trading session.
Source: Bloomberg
Market Recap
Major US indices opened the month of June in the red, although a slight attempt to pare back some losses was seen in the latter half of the trading session. Overall risk appetite came largely under pressure as central banks' resolve to curb inflation and the underlying trade-off for economic growth remains at the forefront. The US dollar came in stronger overnight while US Treasury yields continued its move higher. With markets being sensitive to any central banks' guidance for clues on outlook ahead, the hawkish message from the Bank of Canada saw the central bank raising the possibility of 75 basis-point hikes ahead. That seems to come as a reminder that the global tightening process to curb pricing pressures will continue to lean towards the aggressive end, which may have dampened some previous optimism looking for a potential pause in rate hikes.
Economic data released in the US overnight provided the go-ahead for aggressive tightening from the Fed. The US Institute of Supply Management (ISM) manufacturing came in higher-than-expected at 56.1 versus 54.5 consensus, with the faster pace of growth in the new orders (55.1 versus 53.5 in April) and production (54.2 versus 53.6 in April) sub-indexes providing testaments to the strong economic demand currently, while pricing pressures on manufacturers remain elevated (82.2 versus 84.6 in April). The US job opening numbers also showed no significant pace of decline, suggesting that higher wage gains ahead on the labour supply-demand imbalance will remain one of the obstacles in bringing inflation back under control.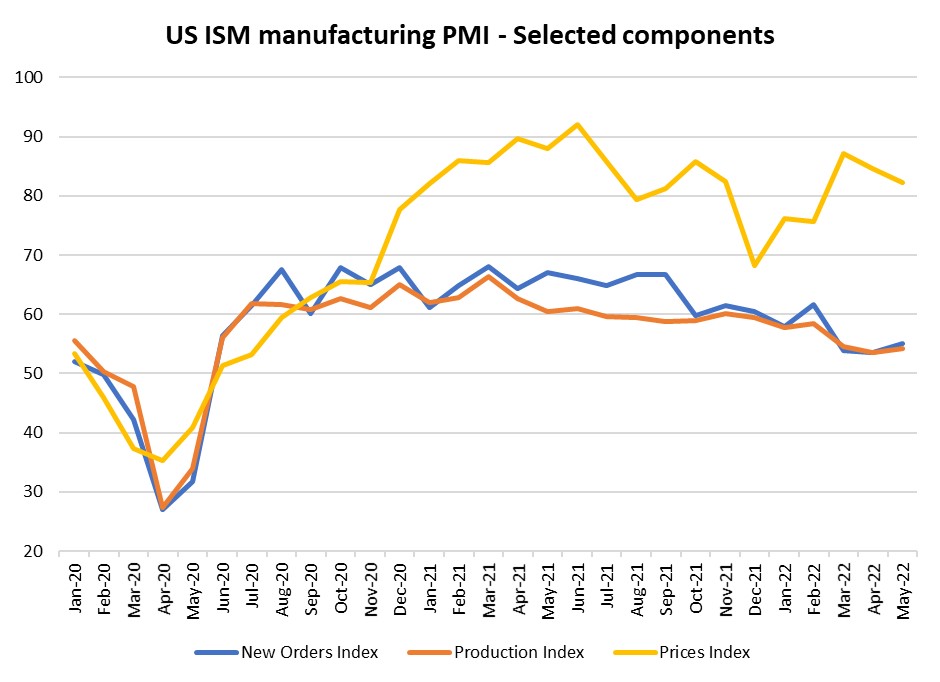 Source: Refinitiv

With the onset of the process for Fed's balance sheet reduction yesterday adding a new element to the process of tightening, the eventual impact on economic growth remains a huge uncertainty. The release of the Fed's beige book has reflected that higher interest rates and elevated inflation are making its way into a slower pace of economic growth. Statement indicates 'slight to modest growth' for economic conditions in most districts, which seems to be a downward revision from the 'moderate' activity back in April. This seems to reinforce warnings from JPMorgan CEO Jamie Dimon and Wells Fargo CEO Charlie Scharf overnight, which suggests economic challenges ahead with words of an economic 'hurricane' and 'hard to avoid some sort of recession'.
Whether we will see a bear market ahead remains the ultimate question. Past instances of previous bear markets were met with around five to six bear market rallies before bottoming out and if we are looking at a bear market ahead, the recent rally may just be the third one.
Asia Open
Asian stocks look set for a negative open, with Nikkei -0.66%, ASX -0.95%, KOSPI -0.84% at the time of writing. The dampened mood in Wall Street may not provide much positive backdrop for the Asia's session today, with US-listed Chinese stocks falling in tandem with its Western counterparts overnight. An increase in virus cases in Hong Kong with subvariants concerns has added on to the list of potential worries, while manufacturing purchasing managers index (PMI) released in the region yesterday largely ticked lower from April, pointing to modest expansion and failing to provide much of a positive catalyst on that front. The below-estimates China's Caixin PMI reading yesterday also reflects more headwinds for the country's smaller manufacturers, providing a contrast to previous official PMI readings which showed a stronger recovery.
The pocket of optimism may come from further indications from China's authorities to stabilise growth by ordering state-owned policy banks to set up an 800 billion yuan line of credit for infrastructure projects. The further support from the fiscal front may bode well for a recovery in economic conditions ahead, although a key uncertainty will remain on how successful China will be in containing Covid-19 risks ahead with mass-testing and limited restrictions.
The day ahead will bring focus to Australia's trade balance and closer to home, Singapore's manufacturing data will be in focus. Having remained largely resilient with a bounce back in April, market participants will continue to watch for any impact of cost pressures and supply chain issues on the pace of expansion.
For the Japan 225 index, the index is currently finding resistance at a confluence level of 27,600, where a downward trendline in place since September last year stands along with a key 50% Fibonacci retracement. An attempt yesterday to retest the level was met with a rejection. While that remains a key resistance line to overcome, any retracement will leave the 27,000 level on watch as potential support to see if the index can form a higher low.
Source: IG charts
On the watchlist: CAD/JPY retesting resistance at seven-year high
The Bank of Canada raised its overnight rate by 50 basis-point yesterday, coming in line with expectations. However, its hawkish guidance of being 'prepared to act more forcefully' to tackle inflation seems to put a 75 basis-point on the table ahead. As a result, rate hike expectations were revised upwards after the meeting and tagging it to the Japanese yen on the two central banks' policy divergence has seen the CAD/JPY hovering close to its seven-year high. On the technical front, the currency pair is retesting a resistance at the 103.00 level, which marks its previous peak in late-April this year. An upward break of the resistance may potentially pave the way for the 106.30 level next. In the event of a retracement, the 100.90 level may be looked upon as a support level to form a higher low.
Source: IG charts
Wednesday: DJIA -0.54%; S&P 500 -0.75%; Nasdaq -0.72%, DAX -0.33%, FTSE 100 -0.98%