Roku shares: a simplified precis of Netflix takeover rumours
---
Roku shares are rising as speculation intensifies over a possible takeover bid from streaming giant Netflix.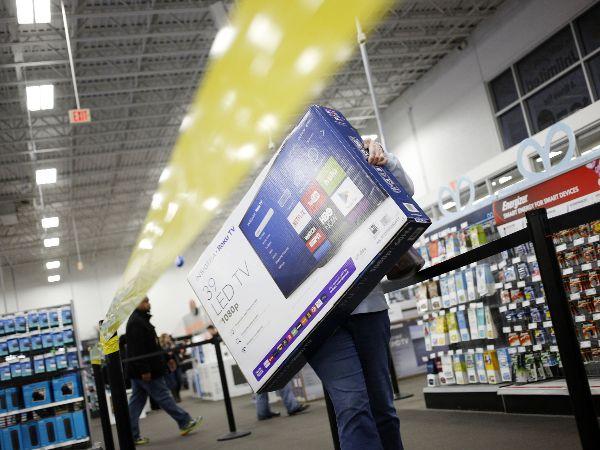 Source: Bloomberg
Netflix (NASDAQ: NFLX) and Roku (NASDAQ: ROKU) shares have both fallen victim to the NASDAQ curse of 2022, having fallen by 66% and 56% year-to-date respectively.
Both are suffering from the Federal Reserve's tightening monetary policy. Roku has warned investors that growth is set to decelerate, while Netflix lost subscribers for the first time earlier this year.
Roku share price: Netflix takeover?
Yesterday, Business Insider reported that Netflix could be interested in purchasing Roku. The two companies have a history going back decades and even used to have neighbouring headquarters.
Roku's founder and CEO, Anthony Wood, developed a set-top box inside Netflix in the early 2000s, in the days of the dot-com crash. Cofounder and current co-CEO of Netflix, Reed Hastings, decided to spin out this business in 2008, fearing that owning its own hardware would make it difficult to distribute its steaming app amongst competitors.
In 2014, Hastings reconfirmed 'we're working with over 1,000 devices now. There's no value add for us to do a device.' Moreover, Wood is well-known as an independent thinker who may resent losing any control.
However, Roku has abruptly shut an employee trading window, stopping them from selling any vested stock when they would normally be allowed. This is almost certainly because Roku intends to make a material announcement that will affect its share price. Of course, it doesn't necessarily mean that announcement will be Netflix-related.
But one 'senior-level Roku' employee enthused that a deal would 'align well in terms of culture, business, and current valuation,' highlighting Roku's growing advertising business.
In addition, it's financially feasible for Netflix to purchase Roku at its recently reduced $14 billion market cap. Further, Roku has been struggling to keep up with employee pay demands amid the tight labour market, so is underwater based on stock-based compensation.
However, Business Insider was unable to name any insiders in its report.
Source: Bloomberg
Netflix-Roku tie-up: for
In April, Hastings said 'allowing consumers who would like to have a lower price and are advertising-tolerant get what they want makes a lot of sense.' Accordingly, Netflix plans to add a cheaper ad-supported subscription option soon.
Wells Fargo analysts believe the move will increase profits by $2.3 billion by 2025, arguing 'Premium AVOD is the highest-quality advertising available… we think NFLX AVOD sells itself.'
And Roku's video-advertising platform generated $627 million in revenue in Q1, seven times more than from its hardware division.
With a $150 target on Roku stock, Truist Securities analyst Matthew Thornton thinks the deal has 'industrial logic' to help Netflix scale its advertising ambitions.
Moreover, buying Roku would give Netflix a huge competitive advantage as it would be able to see what customers watch not only on its own service but also across rival streaming channels on Roku hardware.
And while Roku has 61.3 million active accounts, Netflix's 221.6 billion subscriber base is larger. Further, Netflix has solved the problem of country-specific codes, taking years off Roku's learning curve in its ambition to become the world's connected-TV operating system.
With both Netflix and Roku's share prices far below historic valuations, it could be the shake-up needed to re-incite investors.
and against
Roku's dominant market position against some of the largest companies on Earth is in no small way down to its Swiss-like detachment from any individual partner.
Discarding this neutrality could see Netflix competitors abandon Roku, as it would see them both give up precious data and directly fund a competitor. And as when Nvidia attempted to purchase ARM, Netflix could well run into antitrust problems.
Netflix is already spending $33 billion on content this year, against its current market cap of just $90 billion. Roku would cost an additional $14 billion, with a significant premium on top. Wells Fargo's Steven Cahall thinks a deal remains 'highly unlikely' with Netflix better off with 'an asset-light approach to advertising.
Moreover, Netflix just fired 150 employees and has warned the remainder to leave if they are offended by its content. This has been interpreted by some as a precursor to more enforced redundancies. It's also aggressively cost-cutting, cancelling upcoming series including Meghan Markle's Pearl and Space Force. Roku's continued expansionary efforts make it a poor suitor at present.
Further, LightShed Partners analyst Rich Greenfield thinks 'Netflix owning hardware and basically prioritizing one hardware, meaning themselves, over the thousands of devices that Netflix runs on seems completely antithetical to everything that (Netflix) has built over the last 20 years.'
And Insider quoted a Roku employee saying Netflix 'never showed an appetite for getting into hardware.'
But in the current fiscal environment, Roku's share price might choose to huddle with Netflix for warmth.
Go short and long with spread bets, CFDs and share dealing on 16,000+ shares with the UK's No.1 platform.* Learn more about trading shares with us, or open an account to get started today.
* Best trading platform as awarded at the ADVFN International Financial Awards 2021