Sainsbury's shares: the next FTSE 100 private equity buyout target?
---
Sainsbury's shares are down 25% year-to-date. But the FTSE 100 company could be an attractive buying opportunity for private equity firms.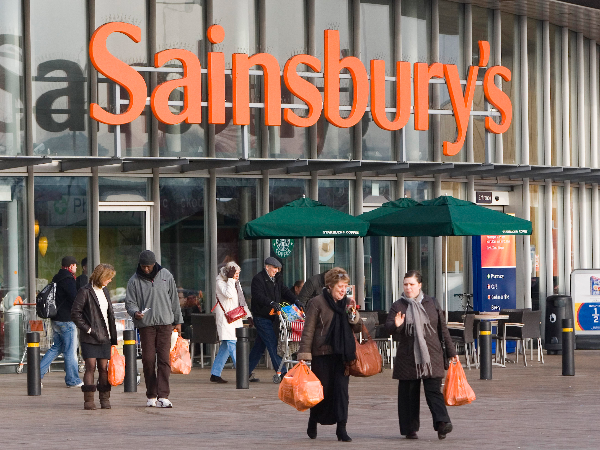 Source: Bloomberg
Sainsbury's (LON: SBRY) shares are now the orange sheep of the FTSE 100, down 13% in the past month, 25% year-to-date, and 39% since its 340p August high.
However, as a FTSE 100 grocer with strong brand recognition, it has significant defensive qualities. And this negative share price movement means it now has a price-to-earnings ratio of just 7.2 and an above-average dividend yield of 6.3%.
This could make Sainsbury's shares a private equity target. Clayton, Dubilier & Rice (CD&R) bought Morrisons at auction last year, for a winning bid of £7.1 billion (£9.8 billion including debt), or 287p a share. This represented a 61% premium to its closing price of 178p before the firm announced its intentions.
But Kantar research indicates Morrison only controls 9.5% of the UK grocery market. By contrast, Sainsbury's controls 14.8% with a market cap of just £4.8 billion.
Where next for Sainsbury's shares?
The FTSE 100 company is contending with investor disquiet over employee pay, after revealing that CEO Simon Roberts had received a pay packet of £3.8 million in FY21-22. This is nearly triple the £1.3 million he earnt in the prior financial year, after waiving his bonus due to the covid-19 pandemic.
It was also 183 times larger than the median pay of Sainsbury's 171,000 directly employed workers, who saw their pay increase by only 5.3%.
Currently, more than 50% of FTSE 100 companies pay at least the living wage, set at £9.90/hour outside London and £11.05 within.
However, no supermarket has made this commitment, including Sainsbury's, as it has excluded essential contractors such as cleaners and security operatives who work through external companies.
Accordingly, the company is facing a shareholder-induced vote on 7 July, backed by institutional investors Fidelity, Legal & General, and HSBC, calling for the living wage to be implemented across the board. This will be the first action of its kind at a FTSE 100 company.
Sainsbury's counters it has 'invested over £100m in increasing colleague pay, including becoming the first major retailer to pay all store colleagues the living wage.' And it pointed out that it had 'removed £100m of Covid-related profit from both the annual bonus and share awards calculations, meaning they are lower than they would otherwise be.'
But with compensation likely to rise, profit margins will move correspondingly.
Source: Bloomberg
FTSE 100 stock: complicating factors
Sainsbury's estimates that underlying pre-tax profit will fall to between £630 million and £690 million in this financial year, compared to the £730 million it generated in financial 2021-22, driven by 'significant external pressures and uncertainties.'
CPI inflation is already at 9%, and the economy contracted by 0.3% last month. Roberts has also warned investors of the 'profound impact' of the Ukraine war, including the rocketing prices of key commodities including oil, wheat, and cooking oils.
Meanwhile, April YouGov research indicates 14% of the population is either eating smaller meals or skipping them entirely. And 1.9 million, or 22.5% of school children, now qualify for free school meals, up from 20.8% only a year ago.
Sainsbury's is already putting aside £500 million over the next two years to keep prices down. But according to Finbox research, its median gross profit margin averaged a wafer-thin 7.9% over the past four years. This commitment could have a material impact.
Moreover, Sainsbury's has a reputation as being a relatively costly food shop. While it remains the UK's second-largest grocer, its market share is down 1.5 percentage points over the past decade, as challengers including Aldi, Lidl, Ocado, and Amazon have entered the scene.
However, it could be boosted by the government's recently closed business tax consultation. A 'retail jobs alliance' comprised of companies including Sainsbury's, Tesco, Morrisons, and the Co-op have said they are 'open to the possibility' of an online sales tax to cut business rates for physical shops.
CFO Kevin O'Byrne argued 'we urge the government to introduce an online sales tax that funds a reduction in business rates for retailers of all sizes and levels the playing field between physical and online retailers.'
But the headwinds could outstrip the tailwinds. CD&R is planning to sell Morrison's food production arm for £600 million, after issuing a profit warning over rising costs, falling spending, and also seeing its market share fall, to 9.5% from 10% a year ago.
Shore Capital analyst Clive Black warns 'market conditions are very challenging at the moment and CD&R would not have been expecting that when they were putting together the deal last year…it just shows how much can change in a year.'
But despite the uncertainties, Sainsbury's low share price could make it attractive to the right buyer.
Go short and long with spread bets, CFDs and share dealing on 16,000+ shares with the UK's No.1 platform.* Learn more about trading shares with us, or open an account to get started today.
* Best trading platform as awarded at the ADVFN International Financial Awards 2021