S&P 500 closed in bear market territory: DJIA, STI, AUD/USD on watch
---
Broad-based declines in the US equity markets have driven a close in bear market territory for the S&P 500, while the rate-sensitive Nasdaq registered its 9th largest single-day drop ever.
Source: Bloomberg
Market Recap
Broad-based declines in the US equity markets (DJIA -2.79%; S&P 500 -3.88%; Nasdaq -4.68%) have driven a close in bear market territory for the S&P 500, while the rate-sensitive Nasdaq registered its 9th largest single-day drop ever. The quiet economic calendar yesterday and the absence of positive catalysts thus far seem to pave the way for the bearish momentum to continue, as market sentiments continue to reprice for a tighter Fed's policy in reaction to the upside surprise in US consumer price index (CPI) last week.
Heading into the Federal Open Market Committee (FOMC) meeting, the Fed Funds futures are reflecting some market expectation of a 75 basis-point hike to take place, with the Fed Funds rate to hit close to 4% by early 2023. With that, any near-term market relief may revolve around whether the Fed will continue to stick to its previous stance of having increments of 50 basis-point hikes ahead and whether the Fed dot plot will see a less aggressive shift in rate outlook. For now, the upside surprise in inflation seems to make it a less probable scenario. The 10-2 Treasury spreads also briefly inverted overnight, revealing some concerns of economic growth slowdown in the trade-off for policy tightening.
With both the S&P 500 and Nasdaq falling into a bear market, the DJIA currently hangs just less than 3% from bear territory. For now, a confluence of a horizontal support level and a downward trendline seems to be attempting to hold the index up. That said, the downward trend continues to be presented with the lower highs and lower lows since the start of the year. Near-term market relief thus far have proven to be short-lived. Any downside may leave the 29,600 level on watch next, where the level may see dip buyers jumping in to keep the DJIA away from bear market territory.
Source: IG charts
The day ahead will bring focus to the US producer price index (PPI). While it is generally less looked upon, the data will provide a last glimpse of inflation conditions before the upcoming Fed decision and markets have been highly sensitive to any indications of pricing pressures to drive expectations of policy tightening.
Asia Open
Asian stocks look set for a negative open, with Nikkei -2.05%, ASX -5.27% and KOSPI -1.26% at the time of writing. With no reprieve in the sell-off for Wall Street overnight, the Asia region may be in for a tough session with the ongoing dent in global risk sentiments. The Australia market is back into trading today, leading to a larger downward move to reflect some catch-up sell-off from Monday. With a quiet economic calendar in the region today, it may lead sentiments to continue pricing for a more hawkish Fed policy, along with the rising Covid-19 risks in China.
Back at home, the latest SGX fund flow data has revealed another week of net institutional outflows in the STI last week, reinforcing the stance of distribution taking place since late-February. Positioning for the financial sector among institutional investors is at its lowest since March this year and with the sector taking up close to 40% weightage in the STI, we may have to see some revival in confidence on that front to provide sustaining upside for the index. For now, further downside in the STI may confirm the formation of a new lower low and giving it an overall downward bias.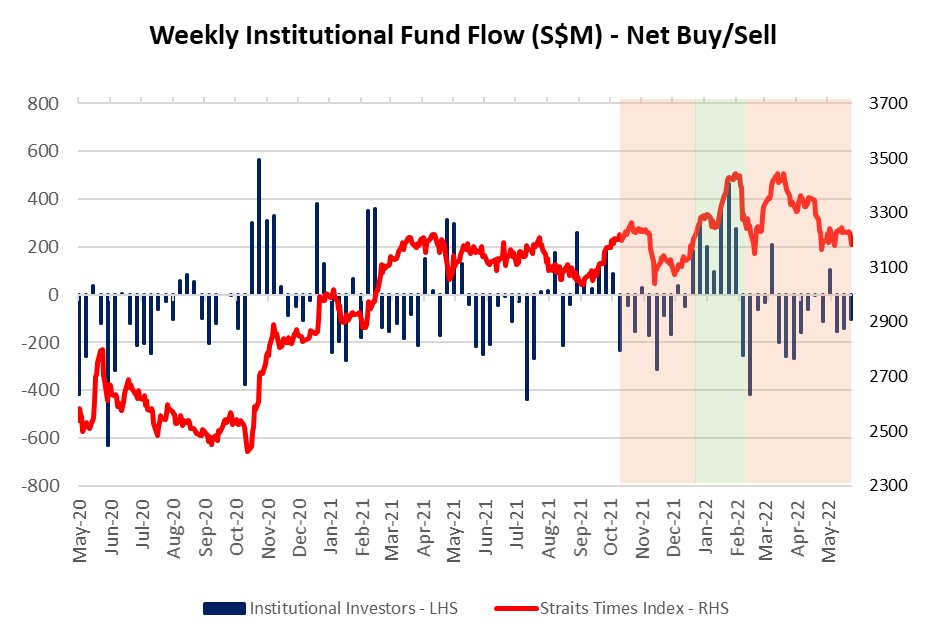 Source: SGX, IG
Source: SGX, IG
On the watchlist: AUD/USD broke below key 0.700 level of support
The AUD/USD has been facing more headwinds than relief, coming against the backdrop of China's renewed restrictions, global risk-off sentiments and a stronger US dollar on expectations of aggressive Fed's tightening. The currency pair has broken below a key support level at 0.700, which has previously supported the pair on four previous occasions. Recent sell-off has also led to a formation of a new lower high, seemingly marking an end to the recent relief rally. Over the coming days, Australia's unemployment rate and consumer confidence data will be on watch but the pair's movement may likely take greater cue from global risk appetite and US dollar moves. The 0.700 level may serve as a resistance to overcome while near-term support may be at its May's bottom at 0.682.
Source: IG charts
Monday: DJIA -2.79%; S&P 500 -3.88%; Nasdaq -4.68%, DAX -2.43%, FTSE -1.53%