Can American Airlines' Q2 earnings provide a lift for its share price?
---
American Airlines' share price has plunged more than 25% over the past one year. Can an expected record revenue for Q2 provide a lift for share price?
Source: Bloomberg
When does American Airlines report earnings?
American Airlines (AAL) is set to release its quarter two (Q2) financial results on 21 July 2022, before market opens.
American Airlines' earnings – what to expect
Pre-result guidance provided by the airline expects upcoming Q2 revenue to come in at $13.4 billion, up 79.3% year-on-year (YoY). In addition, overall net income is expected to hit $585 million, compared to $19 million in the previous year. As the figure is higher than the mean forecast of $510 million laid out by the markets before the pre-result guidance, AAL's share price saw a 10% jump before retracing some of its gains overnight.
Resilient travel demand to underpin Q2 results, but signs of moderation may surface
AAL's upcoming Q2 revenue may continue to be underpinned by a confluence of resilient travel demand and higher airline fares. A look at the US Transportation Security Administration (TSA) checkpoint travellers throughput as an indication of travellers' number suggests an ongoing uptick since the first quarter (Q1), with passenger traffic for Q2 delivering its highest level since March 2020. This is a 9.8% increase from a year ago, although compared to pre-Covid-19 levels in 2019, passenger traffic is still down around 13.8%.
The demand for travel may also be presented in the ongoing surge for airline fares in the US, towering way above its pre-Covid-19 levels at a multi-year high. The sub-index for airline fares from the US consumer price index (CPI) also presented an ongoing surge for airline fares, towering way above its pre-Covid-19 levels at a multi-year high. While this may suggest that consumers are willing to stomach the higher fares for now amid pent-up travel demand, the latest June CPI figure revealed its first decline since October 2021. Airline fares in the US fell 1.8% in June, though still up 34.1% from a year ago. Further decline could be on watch over the coming months, which could suggest a potential peak in airline fares.
Source: Transportation Security Administration (TSA)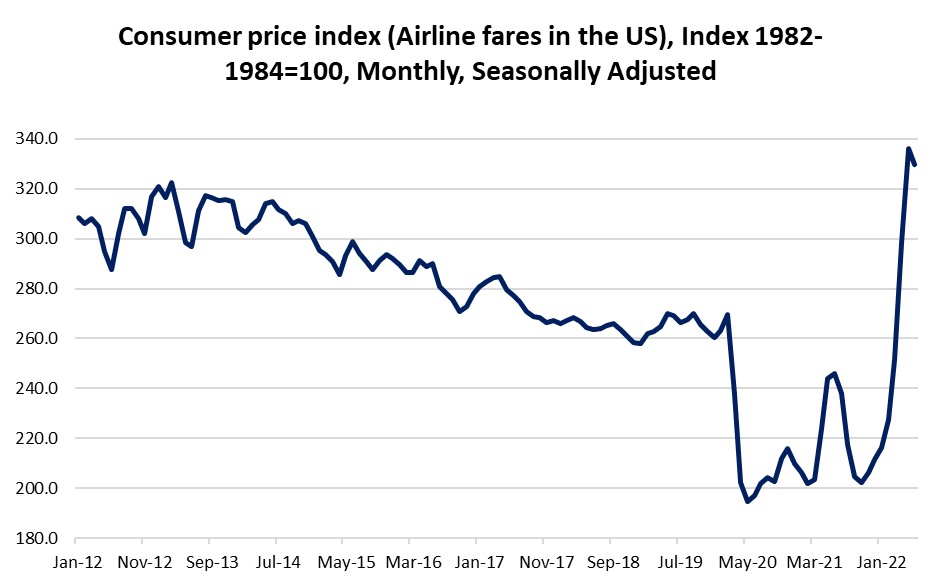 Source: U.S. Bureau of Labor Statistics
Several key metrics remains below trend, costs on watch
While resilient travel demand may provide a tailwind for the industry as a whole, two key metrics for AAL, number of trips flown and passenger load factor, remains below trend as of the previous quarter. Its number of flights is still 12.4% below pre-Covid-19 level, while passenger load factor stands at 74.4% in the previous quarter, which generally should be above 80% in normalised times. This could highlight the presence of underlying issues pertaining to labour shortages and operational challenges (flight delays/cancellations) which comes with the rapid reopening. Recent guidance from Delta Air Lines suggests that these issues will likely persist, with the airline limiting its flights for the rest of the year to cut back on cancellations.
Costs remain another key component for the airlines and elevated energy costs will likely weigh in Q2, as moderation in energy prices only took place towards late-June. Labour costs remain on the upward trajectory as well with average hourly earnings up 0.3% in June. With the prominent labour shortage in the airline industry, it suggests that a surge in costs will be expected to attract workers.
Robust current quarter results is not all, forward guidance is key as well
Slowing economic momentum is further lined up in the horizon as a trade-off to policy tightening and with the University of Michigan's consumer sentiment index hitting a record low in June, the sustainability of travel spending over the coming months is clearly put into question. Especially with surging airline fares and travel spending being largely deemed as discretionary or non-essential, dented economic conditions could leave the travel segment susceptible to a greater pullback in spending.
Management's guidance will be key as to how resilient and how long the 'travel boom' can continue ahead, as further tightening gets underway. Even if we were to see some downplaying of growth risks from the management, the cloudy outlook surrounding the moderation of airline fares and travel demand ahead could still leave market participants to be cautious and potentially put a cap on any rebound.
American Airlines' shares – technical analysis
From a technical standpoint, AAL's share price has been trading in a near-term ascending channel pattern, but the ongoing downward trend poses a risk to it being a formation of a bearish flag for another leg lower. Any break below the $13.75 level will be looked upon for that, where a confluence of support comes from the lower channel trendline in coincidence with a key 23.6% Fibonacci retracement. Near-term level to overcome may be at the $16.00 level, where a potential upper channel trendline resistance could stand in the way.
Source: IG charts