Risk-on mood continues after Monday's late-night reversal: Nasdaq 100, Hang Seng Tech index, EUR/USD
---
The late-night reversal on Monday was overruled by a broad-based rally in Wall Street yesterday, as buyers took greater control of sentiments.
Source: Bloomberg
Market Recap
The late-night reversal on Monday was overruled by a broad-based rally in Wall Street yesterday, as buyers took greater control of sentiments and have been successful in shrugging off the cautious taken by companies on economic outlook. Several risk catalysts are being addressed, potentially adding relief for some improved risk appetite. For one, sources pointed out that Russian gas flows via Nord Stream 1 pipeline are seen restarting on time on Thursday after its maintenance. Probability for a 100 basis-point (bp) hike in the July Federal Open Market Committee (FOMC) meeting currently hangs at a less-probable scenario, with the US dollar retracing from overcrowded net-long trades and overbought technical levels. Netflix's earnings after-market also removed a risk factor for markets, with its loss of 970,000 subscribers in quarter two (Q2) sharply lesser than the two million guided previously, while forecasting for subscribers gains in quarter three (Q3). The subscribers and outlook resilience are being tapped on to drive a 7.9% surge in Netflix's share price post-market, after falling as much as 77% from its November 2021 peak.
The Nasdaq 100 index has broken out of its ascending triangle pattern with the formation of a new higher high, suggesting that buyers retain control for now. On the weekly chart, recent up-move is also seeking to validate a bullish pin bar. Further upside could leave the 12,600 level on watch next. Earnings out from Tesla after-market today will be the next event on the calendar.
Source: IG charts
Asia Open
Asian stocks look set for a positive open, with Nikkei +2.11%, ASX +1.67% and KOSPI +1.03% at the time of writing. The turnaround in Wall Street from Monday's late-night reversal is providing a positive backdrop for risk sentiments in the Asia session as well, but gains around Chinese equities could be on watch with higher virus cases and ongoing efforts to contain risks in its property sector. The Nasdaq Golden Dragon China Index closed slightly higher at 0.85%, lagging behind its US counterparts in terms of performance and potentially highlight that some lingering caution remains.
The monthly release of China's loan prime rate (LPR) saw no change to both its one-year and five-year LPR, which pushed back against some hopes for a cut to its five-year LPR in light of the renewed risks in the property sector. This is in line with the no-change in June as well, with the People's Bank of China (PBOC) recently maintaining its view that liquidity conditions were already ample and even slightly high. This comes as economic reopening continues to take place albeit at a slower pace, potentially leading to some near-term wait-and-see on economic progress before delivering further cuts ahead.
China is also expected to fine Didi Global more than US$1 billion before wrapping up a year-long probe into the ride-hailing giant. Thus far, there seems to be a lesser extent of major changes to regulations recently as compared to the start of the year, which suggests that we could be a step closer to the end of this tech regulatory phase. The Hang Seng Tech index is attempting to make it way back into an ascending channel pattern in place since April this year, with the lower trendline serving as near-term resistance to overcome. A successful reversion back into the channel could present a false-breakout scenario over the past week and points towards some upward bias ahead.
Source: IG charts
On the watchlist: EUR/USD jumped on weaker dollar, larger rate hike being discussed by ECB
The EUR/USD has managed to find near-term support at the lower trendline of a descending channel pattern this week, as a pullback in the US dollar provided an uplift. Yesterday, European Central Bank (ECB) sources also pointed out that a 50 bp hike is being brought to the table for discussion, a significant shift from the 25 bp being guided by policymakers previously. Some potential support for indebted countries with new bond purchases was also being brought up. Technical conditions are moderating from previous oversold levels in the near-term with a bullish crossover on moving average convergence divergence (MACD), along with a reversion into more neutral territory for the relative strength index (RSI). Trading within the descending channel may leave the 1.037 level on watch as the next stage of resistance, where the upper channel trendline stands in place. All eyes will be on the upcoming ECB meeting tomorrow, with any hawkish shift in policymakers' guidance on watch.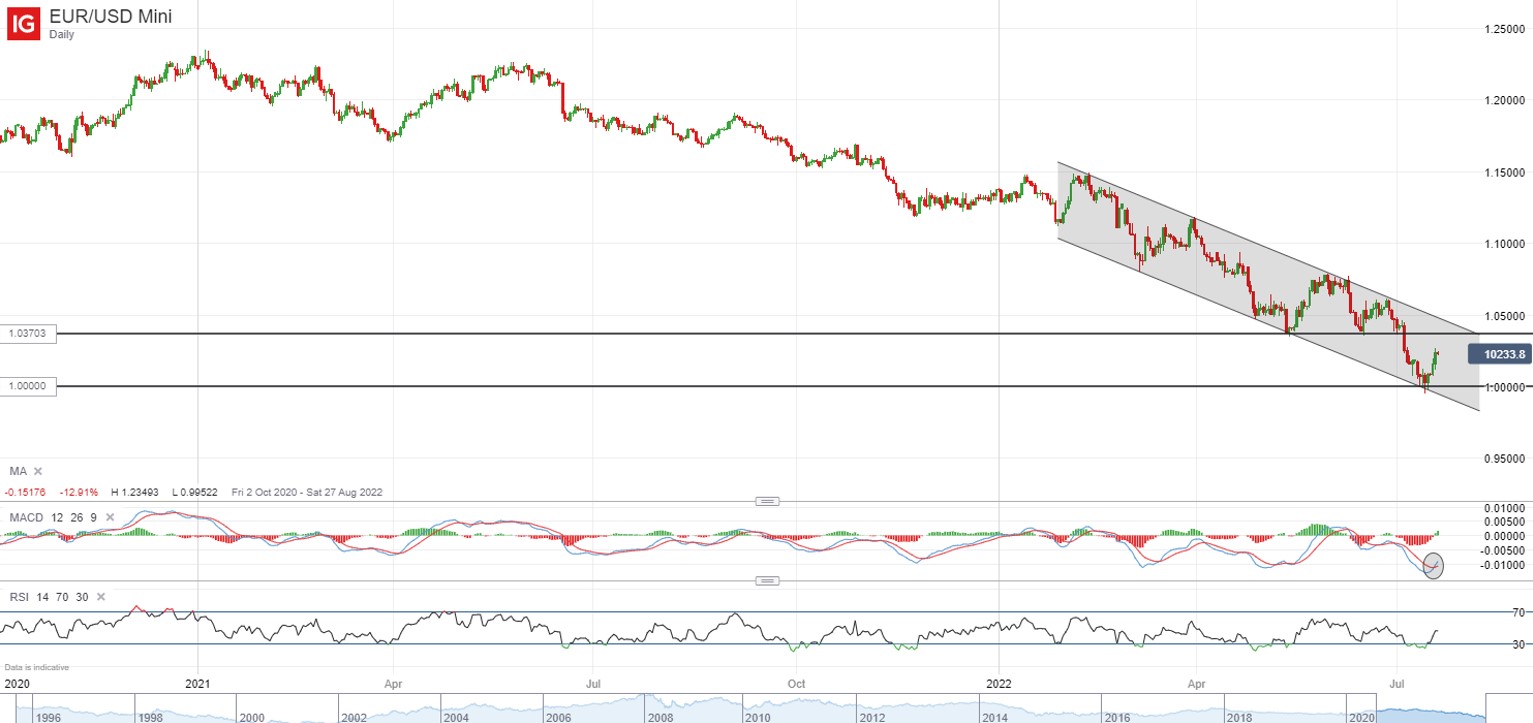 Source: IG charts
Tuesday: DJIA +2.43%; S&P 500 +2.76%; Nasdaq +3.11%, DAX +2.69%, FTSE +1.01%