Risk sentiments under downward pressure overnight: US dollar, Hang Seng Index, NZD/USD
---
The US equity markets remained under pressure overnight (DJIA -1.23%; S&P 500 -0.67%; Nasdaq -0.16%), as US House Speaker Nancy Pelosi's visit to Taiwan was met with China's missile tests and military drills around the island
Source: Bloomberg
Market Recap
The US equity markets remained under pressure overnight (DJIA -1.23%; S&P 500 -0.67%; Nasdaq -0.16%), as US House Speaker Nancy Pelosi's visit to Taiwan was met with China's missile tests and military drills around the island, along with its ministry summoning the US ambassador in protest of the visit. The US Dollar and Japanese yen climbed as a display of market positioning to the defensives, but some paring back of losses in JPY crosses suggests lingering bets that fears could be overblown. Now, markets will be watching if the in-person meeting between US President Joe Biden and Chinese President Xi Jinping will still be in discussion, or if there will be any retaliatory economic moves such as targeting Taiwan's economy. These may be deemed as a sign of worsening ties, which may not bode well for risk sentiments. Further steps on a military response remain in focus as well, but considering that both economies continue to face growth (for China) and inflation (for US) challenges back home, it could be a show of force rather than an intention to escalate to a military conflict.
Markets also reacted to a series of comments from three Fed members (Mary Daly, Loretta Mester, Charles Evans), which saw the US Treasury yields moving higher. The US 10-year yields are back to retest the neckline resistance of a head-and-shoulder pattern. The narrative that more needs to be done from the Fed has been largely present across all three members' speeches. That seeks to dampen some hopes for a sooner-than-later moderation in rate hikes, with markets now pricing for a 42% chance of a 75 basis-point (bp) in the September meeting. A slew of earnings overnight also weighed on market performance, particularly the Dow Jones Industrial Average (DJIA), which was dragged lower by a 5.8% plunge in Caterpillar's share price on sales-estimates miss. That said, optimism was found in PayPal and Starbucks' earnings results after-market, with their share prices jumping 11.3% and 1.5% respectively.
Lingering uncertainty on the geopolitical front and a seemingly hawkish tone from Fed members have lifted the US dollar index off an upward trendline in place since February this year, with a bullish engulfing candlestick seeking to offset past three days of losses. Hanging above the 106.00 level where a 38.2% Fibonacci retracement level stands in place could bode well for a subsequent retest of the 107.20 level next. On the contrary, if the 106.00 level failed to sustain, the rebound could be short-lived with the formation of a new lower high.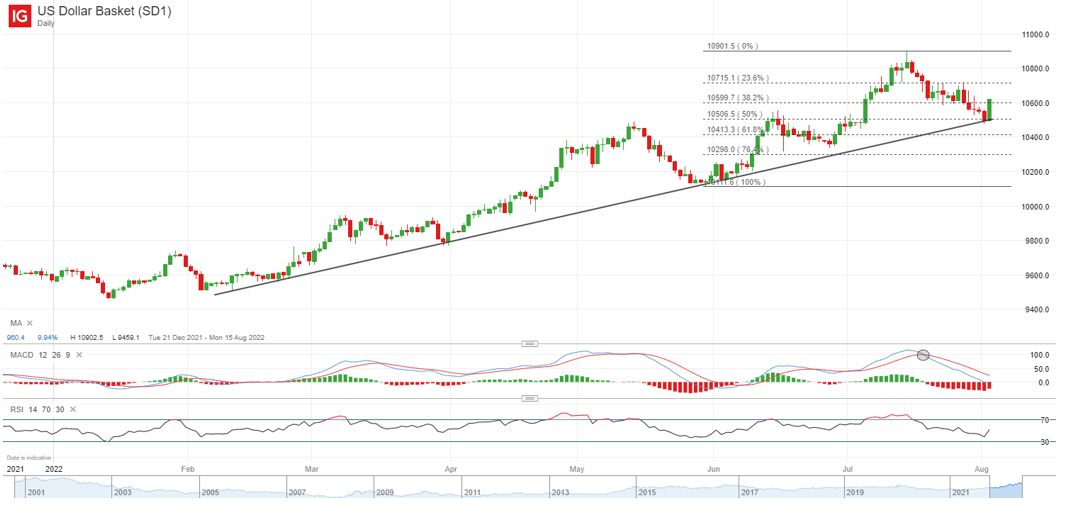 Source: IG Charts
Asia Open
Asian stocks look set for a mixed open, with Nikkei +0.65%, ASX -0.66% and KOSPI +0.06% at the time of writing. Developments in US-China relations will continue to be the key theme in Asia's session today. A look at the USD/CNH as a sentiment indicator for US-China tensions suggests that some lingering caution remains, as it continues to hang near its two-month high. Its initial move lower on easing fears were overturned throughout the course of yesterday, so markets could remain on edge for any further action from China.
Closer to home, OCBC has released its results this morning, with 2Q earnings rising 28% year-on-year (YoY). Similar to UOB last Friday, upward revision in OCBC's net interest margins by 16 basis-point (bp) continues to do the heavy-lifting for profitability, driving a 16% jump in net interest income. Loans in quarter two (Q2) also remain resilient with a 1.4% uptick from the previous quarter. Overall, this aids to cushion the impact on non-interest income from a 15% drop in net fees and commissions. A decline in allowances from a year ago also points to a better economic environment with reopening, which could provide some relief for market watchers. DBS results will be on watch tomorrow morning.
In light of the series of headwinds ranging from a 1.4% contraction in the Hong Kong's economy in 2Q, China's virus and property risks and recent geopolitical tensions, the Hong Kong HS50 index has broken below its key 20,000 level, coming in at its two-month low. The overall downward bias seems to remain and any recovery attempt could be sought for the formation of a new lower high ahead. Alibaba's results could be a key driver for sentiments ahead, with its release tomorrow.
Source: IG Charts
On the watchlist: Uptick in New Zealand's Q2 unemployment rate drove NZD/USD sharply lower
A surprise rise in New Zealand's 2Q unemployment rate to 3.3% drove the NZD/USD sharply lower this morning, as market expectations were initially pricing for a further fall in unemployment rate to 3.1%. This marks the first uptick in unemployment rate since quarter three (Q3) 2020 and seeks to push back against the 50 basis-point (bp) hike being priced currently for the upcoming August RBNZ meeting, as it reflects that softer economic conditions are seeping into its labour market. Accompanied by US dollar strength overnight, the recent up-move for the NZD/USD seems short-lived with the currency pair back to retest a key support at the 0.622 level. The downward bias continues to be present with the series of lower highs and lower lows, and any break below the 0.622 level could draw further downside to the 0.605 level next.
Source: IG Charts
Tuesday: DJIA -1.23%; S&P 500 -0.67%; Nasdaq -0.16%, DAX -0.23%, FTSE -0.06%