Investor Spotlight: Either/ore? Digging into the ASX's mining giants
---
This issue of Investor Spotlight is brought to you by IG, with Kyle Rodda, Market Analyst and ausbiz presenter.

For better or worse, the ASX is dominated by companies that mine one of Australia's most abundant resources: iron ore. In this piece, we dig into the investment case for owning iron ore stocks, what's driving these companies' shares right now, and the fundamentals of the three best ASX-listed iron ore companies.
Should your portfolio hold iron ore miners?
The materials sector of the ASX200 makes up over 20% of the index's total market capitalization. Of that 20%, the iron ore miners dominate, with three – BHP, Rio Tinto and Fortescue Metals Group – amongst the biggest companies in the overall market. In fact, at its recent peak, BHP was more than 10% of the total index weight, after the company ended its dual-listing on the London Stock Exchange. For Australian investors, investing in one of the country's biggest and best companies is an inescapable choice. But just like when making any investment, timing, price, risk and reward all must be considered. And as a cyclical stock, the investment case is heavily informed by the economic cycle - and the outlook for iron ore prices.
What's driving the iron ore price?
Since the beginning of the pandemic, iron ore prices have scaled record highs as the global economic recovery roared. The spot price of the commodity hit as high as $US220, with hot steel demand from China, as the country's policy makers pump-primed its economy out of lockdowns, underpinning the move. Demand has cooled markedly over the past 12-months however, as actions by China's central government to deleverage its property sector, stop-start lockdowns, and so-so monetary and fiscal stimulus push iron ore prices to current levels around $US100 per tonne. The outlook is also uncertain, as China's dynamic-zero policy remains in place and the global economy shows signs of slowing.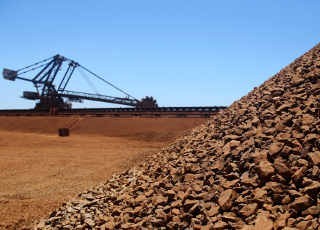 Source: Bloomberg
The three best ASX iron ore miners
BHP is the largest miner in the world, and after ending its dual listing on the London Stock Exchange, safely the biggest company on the ASX, with a market capitalization of just below $A200 billion.
Although a diversified miner, in the business of mining a variety of metals, minerals and petroleum, iron ore makes up more than half of the company's profits - a figure that hit a record high in financial year 2021 of over $17.1 billion.
Profits are expected to climb again this financial year, with consensus forecasts for profits tipped to rise to $24.5 billion, and earnings per share to increase from $3.37 to $4.07, according to data compiled by Reuters.
This will amount to a dividend increase from $3.01 to $3.43.
The issue for investors when it comes to BHP shares is looking further ahead. Earnings are tipped to remain robust, but are likely to slow. Current estimates for the companies' dividend is expected to moderate to pre-pandemic levels of around $1.87 by 2024.
BHP's price-to-earnings ratio of 6.55 is low by historical standards. Nevertheless, cyclical stocks tend to see multiples reach their most attractive at the peak of the cycle. It is also more rich than its industry peers.
Broker analysts remain bullish on the stock, despite the uncertain outlook for demand for its most profitable commodity. Of 20, ten either have a strong buy or buy, and the other ten a hold, with a media price target of $44.50 per share.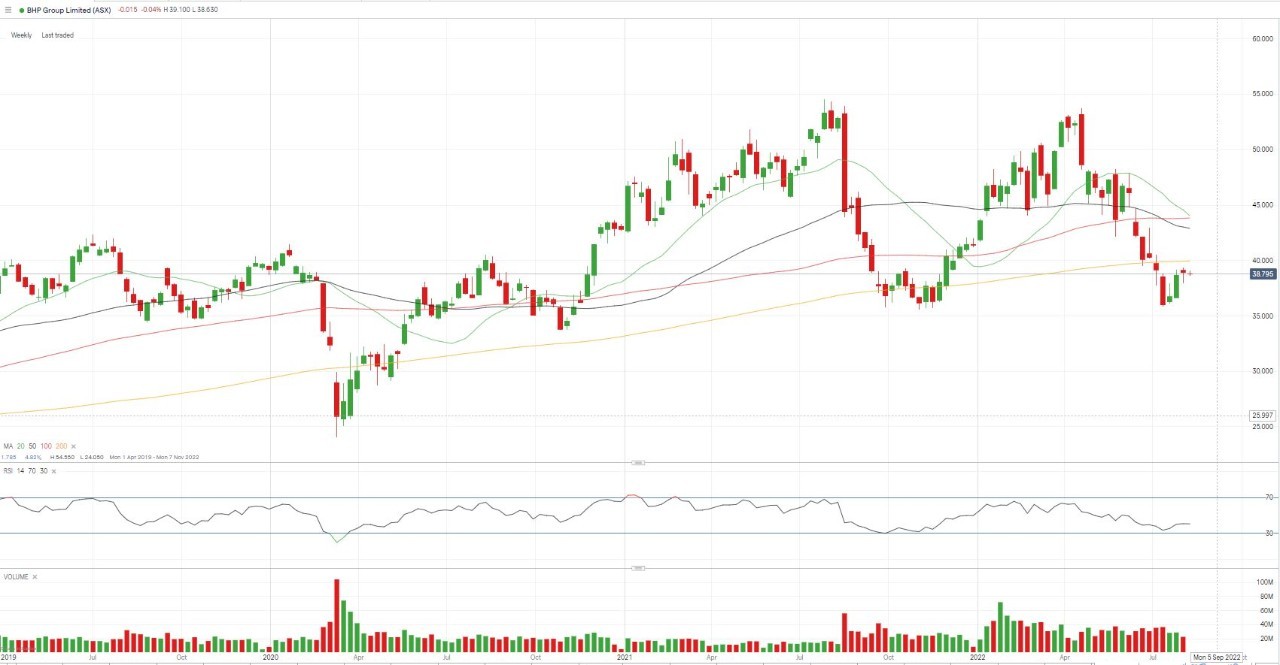 Source: IG
Rio Tinto is the second largest metals and mining corporation, with its market capitalization currently $143.5 billion. Roughly $36 billion of that is its ASX-listed business.
Like BHP, Rio Tinto is a diversified miner, but generates the majority of its profits from the production of iron ore.
Rio Tinto recently posted its half-year results, with the company's financials better representing the acute fall in iron ore prices. Profits fell by nearly 30%, and its dividend slashed by half to $2.67 per share.
The stock trades at a more attractive multiple than its larger counterparts though it does point to a company that has seen profits peak for this cycle. The company's full year dividend is tipped to moderate to $6.38 then to $5.45 in the next two financial years.
Analysts are positive on the outlook for Rio Tinto, though. Three recommend a strong buy, eight a strong buy, and seven a hold with a price target of $115.50 per share.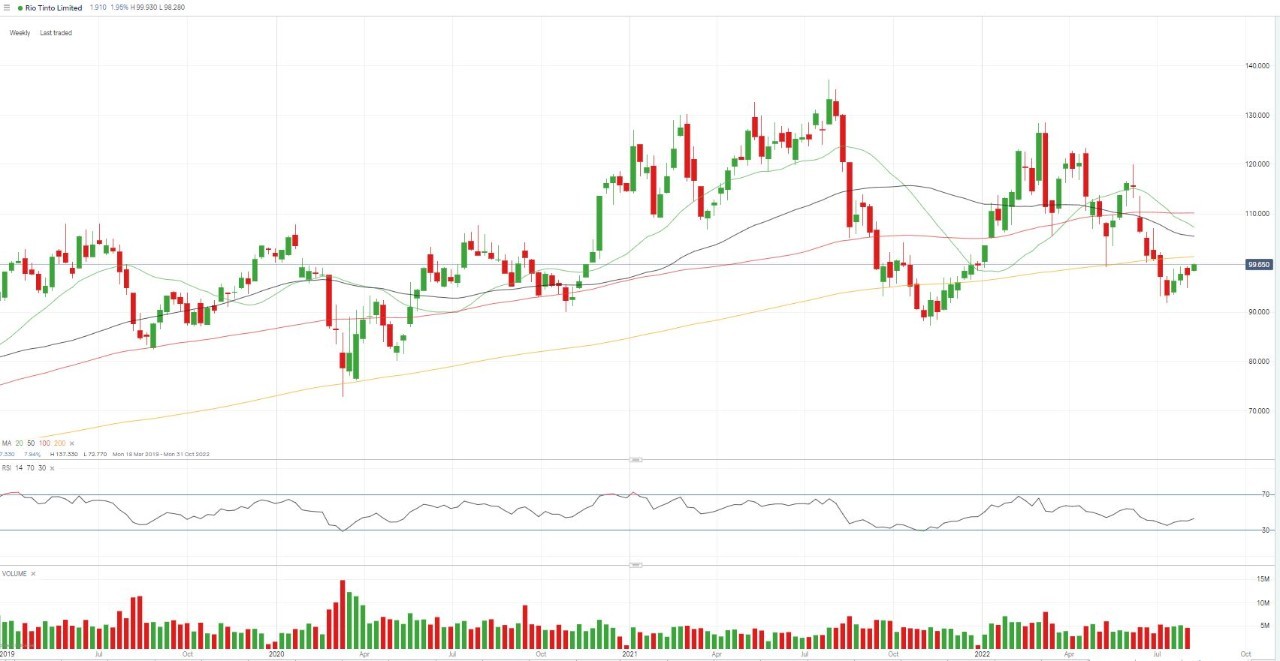 Source: IG
Fortescue Metals Group is a pure iron ore play, with the company's business' operations focused on the mining of the commodity.
The miner's competitive advantage comes from its relatively low-cost base, higher adaptability to changing demand and operating efficiency. Conversely, the iron ore it produces is of lower quality, and because it is almost solely an iron ore miner, lacks diversified revenue streams.
Like its larger counterparts, Fortescue posted record profits in its last financial year. Net profit rose by more than double to $US10.4 billion and earnings per share leapt to $3.35 for a dividend pay-out of $3.58.
Consensus forecasts compiled by Reuters are projecting a drop in profits and dividends this financial year and going forward. Earnings per share is tipped to contract to $2.04 and decline over the following two financial years, as profits revert to long-term trends.
The broker community is more pessimistic on the outlook for Fortescue, largely due to its concentration on iron ore. It has a consensus sell rating amongst 19 analysts, with 11 recommending that action, seven suggesting a hold, and just one a buy. The consensus price target is $17.00.
Source: IG
Summary
The iron ore majors are a staple investment for many Australian investors. Some of the biggest and best mining companies in the world are listed on the ASX, and offer exposure to great management, cyclicality and long-term value. However, as with any cyclical stock, timing is everything; an investor must be confident of when it is time to buy, or be prepared to hold throughout the fluctuations of the economic cycle to see full value.

Kyle Rodda | Market Analyst, Australia
09 August 2022