De-risking ahead of Jackson Hole Symposium this week: S&P 500, Hang Seng Index, EUR/USD
---
Major US indices logged its first weekly decline in a month to break its four-week winning streak, as a display of commitment for further tightening from Fed members drove some unwinding of market expectations for a dovish pivot.
Source: Bloomberg
Market Recap
Major US indices logged its first weekly decline in a month to break its four-week winning streak, as a display of commitment for further tightening from Federal Reserve (Fed) members drove some unwinding of market expectations for a dovish pivot. This came after a 18% surge in the S&P 500 since mid-June, which pushed both technical conditions and market breadth to overbought levels, calling for some breather. The upcoming Jackson Hole Symposium this week also provided a reason for some de-risking. The defensive lean in the markets are presented in the S&P 500 sector performance, which shows defensive sectors (healthcare, utilities and consumer staples) holding up better than the rest.
Ahead, Fed Chair Jerome Powell could display some optimism on the peak-inflation narrative, but is likely to reiterate the Fed's data-dependent stance in upcoming policy moves. Further softening in the US labour market and downside surprise in US inflation in September are needed to justify a 50 basis-point (bp) hike in the next Federal Open Market Committee (FOMC) meeting and the wait-and-see for upcoming economic data could leave any guidance of a dovish pivot off the table for now. Based on projections, US inflation is expected to remain elevated at 7.5% in quarter four (Q4) 2022, while moderating to 5.7% in quarter one (Q1) 2023 and 3.8% in quarter two (Q2) 2023. Therefore, stronger indications of a dovish pivot could likely come only early next year and in the meantime, some push back from a still-cautious Fed remains a key risk to watch. We have seen some of that playing out over the past week, which provided an uplift for the US dollar and Treasury yields while translating to downside for risk sentiments. The dollar is up close to 2.5% over the past week, while US yields jumped across the board last Friday.
The recent retracement in the S&P 500 has brought the index to close in at a support area around the 4,200 mark. Technical conditions with the bearish crossover on moving average convergence divergence (MACD) suggest room for further moderation, with the quiet economic calendar today providing little catalyst for a reversal in sentiments. Any break below the near-term support level may leave the 4,086 level on watch next, where a key 38.2% Fibonacci retracement resides.
Source: IG charts
Asia Open
Asian stocks look set for a downbeat open, with Nikkei -0.96%, ASX -1.05% and KOSPI -1.08% at the time of writing. The rollover in Wall Street to end last week could leave a negative backdrop for the Asia session, with some de-risking playing out ahead of the key Jackson Hole Symposium this week, along with a series of economic data releases such as the US Personal Consumption Expenditures (PCE) price index. China's loan prime rate will be in focus today, with expectations for a further cut in its benchmark lending rates to provide support for its property sector in terms of mortgage loan demand. However, previous market reaction to its Medium-Term Lending Facility (MLF) rate cut was lukewarm at best, suggesting that some caution around the effectiveness of its policy support persists and a more sustained recovery in economic conditions could be needed in order to revive longer-lasting market confidence towards Chinese equities. The Nasdaq Golden Dragon China Index remains in the red by 1.76% to end last week, with attempts to recover over the past month relatively short-lived.
After trading largely within consolidation over the past one month, the Hong Kong HS50 index is back to retest the lower consolidation base for the third time. The overall trend seems to remain downward bias, with any break below the 19,470 level driving the formation of a new lower low and potentially opening the door to further downside towards the 18,800 level next.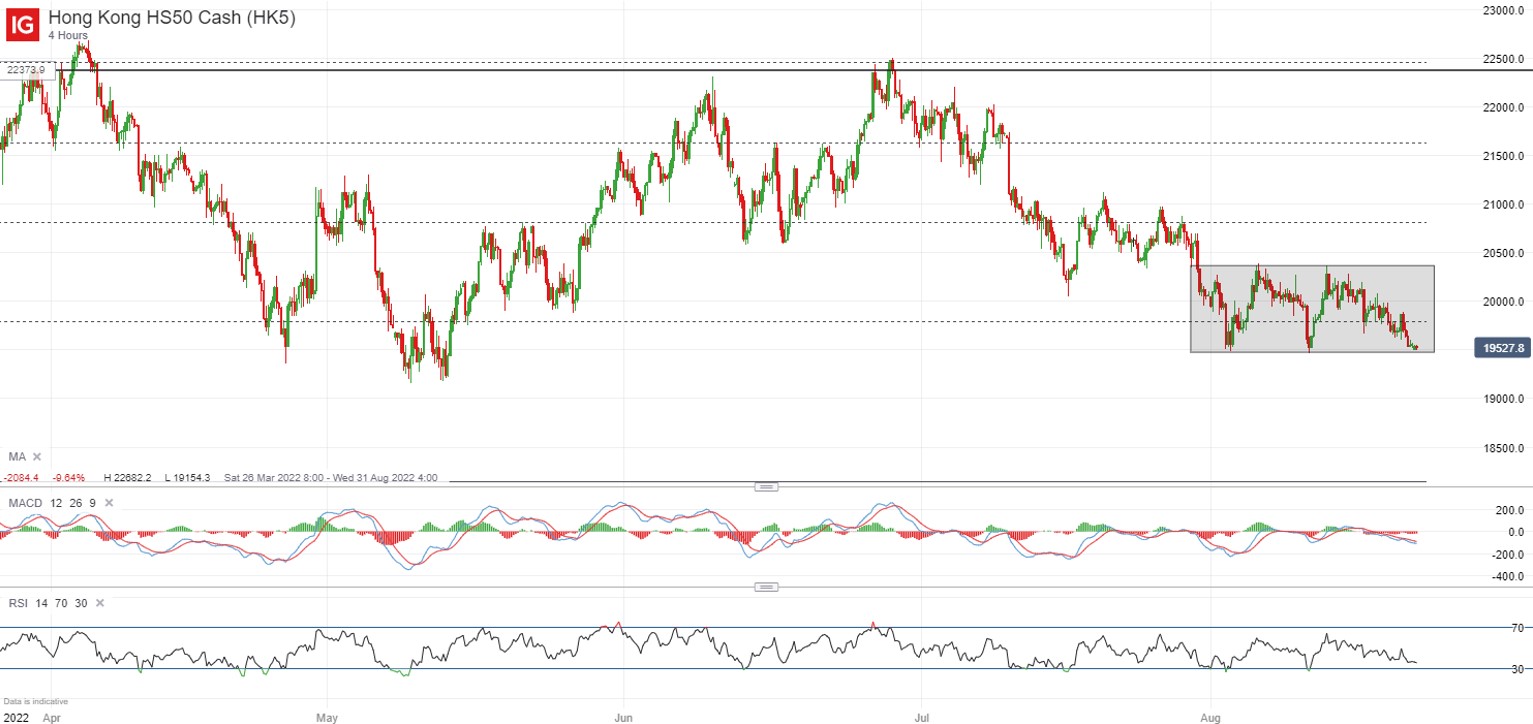 Source: IG charts
On the watchlist: EUR/USD retracing back to retest parity once more
Recent US dollar strength remains the key driver for various USD crosses, with the downward pressure on the EUR/USD seemingly pushing for another retest of parity once more. This came as a gloomy economic outlook in Europe, along with the issue of energy shortages, continued to limit the euro's upside, while a series of push back against a dovish pivot by Fed members drove recent recovery in the dollar. A descending channel pattern remains intact for the currency pair, with its upper channel trendline serving as resistance for the sixth occasion since the start of the year while a bearish crossover was formed on MACD. Any break below parity over the coming days could leave the 0.970 level on watch next, where the descending channel trendline support stands.
Source: IG charts
Friday: DJIA -0.86%; S&P 500 -1.29%; Nasdaq -2.01%, DAX -1.12%, FTSE +0.11%