Markets on a breather ahead of Jackson Hole: Nasdaq 100, Hang Seng Index, US dollar index
---
Major US indices largely took a breather overnight, eking out small gains but nevertheless ending its week of losing streak.
Source: Bloomberg
Market Recap
Major US indices largely took a breather overnight (DJIA +0.18%; S&P 500 +0.29%; Nasdaq +0.41%), eking out small gains but nevertheless ending its week of losing streak. This reinforces the stance that the recent push-back against a dovish pivot from Federal Reserve (Fed) members has been largely priced, as market participants look towards the Jackson Hole Symposium to shed more light on Fed's policy outlook. The overnight moves of the US dollar appears to be in spinning top formation, which suggests near-term indecision. On the other hand, US Treasury yields pushed higher across the board, suggesting that some hawkish lean out of Jackson Hole is being looked upon by the bond markets. The US 10-year yields rose nearly six basis points (bp) to 3.111%. Sector performance once again revealed another day of outperformance in the energy sector (+1.2%), as oil prices seek to reverse its previous downward trend.
Economic data overnight showed US durable goods for July flat from a month ago, falling below expectations of a 0.6% expansion. On the other hand, pending home sales fell less than expected (-1% month-on-month versus -4% consensus). Some positive guidance was given for home prices to moderate towards the typical 5% increase towards the end of this year, which aided to provide a further uplift for markets but eventually, some caution remains with ongoing de-risking towards the latter half of the trading session. On the corporate earnings front, NVIDIA reported a miss on both its quarter two (Q2) top and bottom line, in line with its preliminary results reported two weeks ago. Softer demand for its gaming graphics processing units (GPUs) is singled out as the culprit, with a forecast for a sharp 17% drop in revenue for the current quarter as well. That drove Nvidia's share price down more than 4.5% after-market and will leave the semiconductor sector on close watch for any negative knock-on impact today. On another note, Tesla stock will begin trading on a split-adjusted basis tonight.
For the US Tech 100, the index has been seeking to defend a key confluence area of support around the 12,900-13,000 level, where several Fibonacci retracement levels coincide. Market breadth still suggests that some moderation from overbought levels has been playing out with the recent sell-off but it continues to hover at elevated levels past its five-year historical mean. Any breakdown of the support area could leave the 12,300 level on watch next.
Source: IG charts
Asia Open
Asian stocks look set for a slightly positive open, with Nikkei +0.35%, ASX +0.42% and KOSPI +0.51% at the time of writing. Some muted moves could play out in the Asia session on some wait-and-see tracking Wall Street as well. One to note that the morning trading session for Hong Kong may be delayed due to bad weather conditions.
Chinese equities largely saw a strong sell-off yesterday, reflecting an ongoing loss in market confidence that recent policy rate cuts from the People's Bank of China (PBOC) will be able to help uplift the country's economy. The State Council has followed up with a slew of policy measures yesterday and while it may aid to underpin sentiments, previous pledge of policy support has not delivered a sustained recovery as economic conditions eventually failed to deliver much positive impact. Therefore, market participants may want to see a more consistent recovery as a gauge of policy success before confidence is lifted. Other than that, the day ahead on the economic calendar will leave interest rate decision out of the Bank of Korea in focus, with a quarter-percentage point hike largely expected.
The Hong Kong HS50 index has broken below its lower consolidation base, overturning previous dip-buying efforts as bearish sentiments remain in control with the formation of a new lower low. Further downside could leave the 18,800 level on close watch, where previous calls for support from authorities has ignited a strong uplift in the index in March this year.
Source: IG charts
On the watchlist: US dollar on watch ahead of Jackson Hole
The US dollar index is currently hanging at its July peak, awaiting further signals for any formation of a new higher high and drive a continuation of its upward bias. With its 4.4% surge over the past two weeks, some expectations of a hawkish lean for Fed Chair Jerome Powell speech at Jackson Hole is being priced and the onus is on dollar bulls to defend the recent up-move. Any no-surprise from his speech or bringing up some consideration of rate cuts ahead will likely drive some unwinding of stronger dollar bets. In the event of a retracement, the 106.25 level will be on watch as potential support. This is where an upward trendline has been supporting the dollar on at least five occasions since February this year.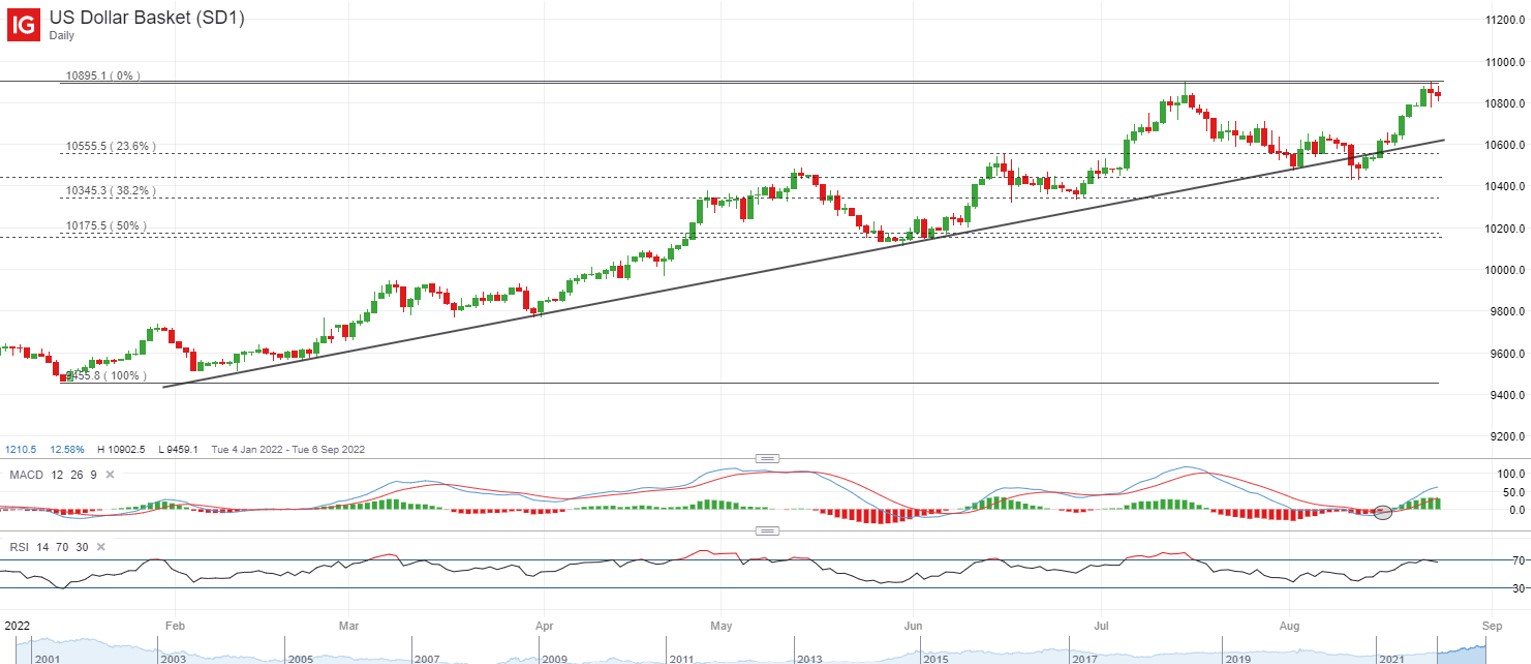 Source: IG charts
Wednesday: DJIA +0.18%; S&P 500 +0.29%; Nasdaq +0.41%, DAX +0.20%, FTSE -0.22%