Asian stocks: Hang Seng resumed downtrend and USD/CNH soared to two-year high
---
Although China's policymakers appear to step in provide economic support through tangible measures, the rapidly deteriorating power crisis and extreme weather continues to complicate and challenge the Chinese economy.
Source: Bloomberg
Asian stocks slid in the final week of August as fears of a sharp rate hike were ignited by Powell's speech in Jackson Hole last week. Meanwhile, headwinds continue to come in from China as the power crisis and extreme weather challenge the nation's economy despite China's policymakers appearing to step in.
Hang Seng
Hong Kong stocks slumped to their lowest level in more than three months last week and apart from the possibility of an aggressive rate hike in the US, investors are also digesting the uninspiring domestic corporate earnings report.
On Tuesday, Hong Kong-listed and China's largest Developer Country Garden reported a record 96% profit slump, cementing the view that China's property crisis is far from reaching the bottom.
Despite some bright momentum to conclude the last week's trading session, the downtrend has resumed for the Hang Seng index in the new week. Up to Tuesday, the price has broken a key support level from the 20-day moving average of 19594, with the potential to retest the three-month low level lying at 19158.
Hang Seng daily chart
Source: IG
USD/CNH
The strength of the greenback continues to push the USD/CNH towards its two-year high. On Monday, the price reached as high as 6.9329, a level last seen on August 17, 2020.
Unsurprisingly, the USD is attracting the spotlight after the hawkish tone signalled by Federal Reserve chair Jerome Powell at Jackson Hole. As stated, the Fed will continue hiking interest rates at an aggressive pace to scale down the inflationary pressures and as a result, it's not hard to see that the demand for the greenback will keep on an elevated level compared to the risk-perceived currencies.
In the near term, the strong uptrend could see the USD/CNH pair keep on exploring the territory above the two-year high level. Hence, the 6.94 regions is anticipated to be the imminent target ahead of the 6.98 level recorded on July 2020.
USD/CNH weekly chart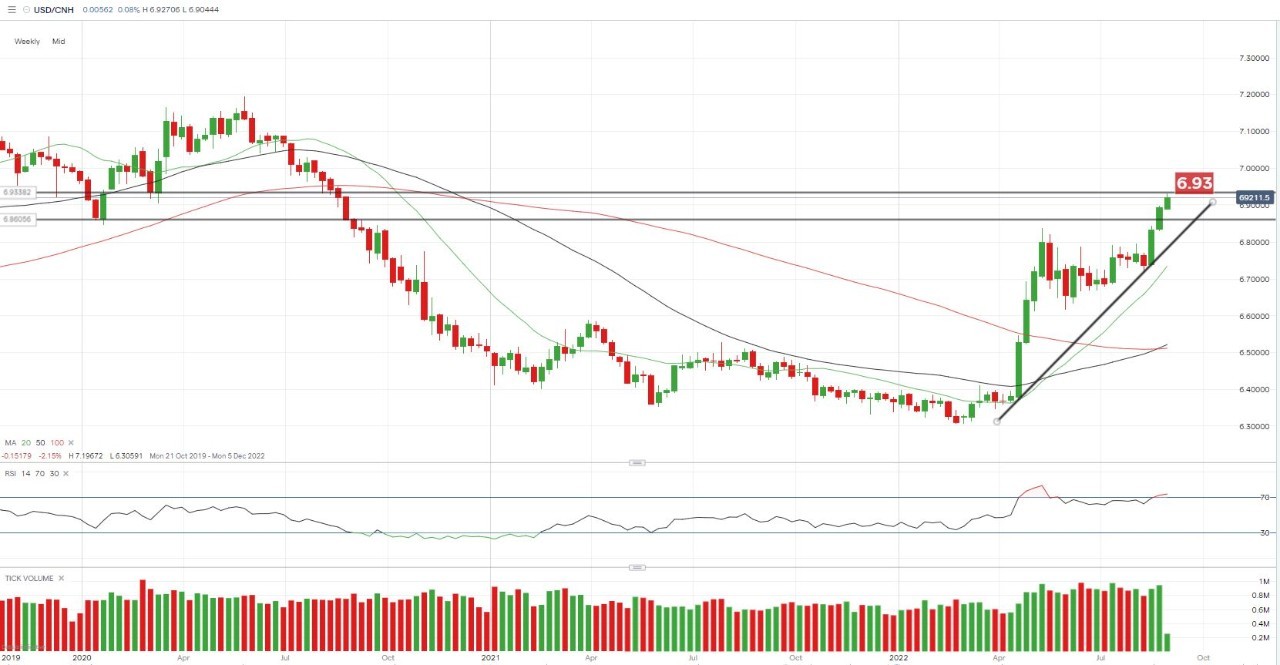 Source: IG
Gold
The precious metal gave up all the gains from the past month after taking clues from the greenback's strong return. On Tuesday, the price of Gold (XAU/USD) consolidated near $1,733, following a failed attempt to retest the 50-day MA. For the near-term view, the previous support line should stay valid to support the price above the $1714 level.
However, the upcoming US jobs report may spark new inflation concerns to back up Fed Chair Powell's determination to continue jumbo-sized hikes. The yearly low level at $1702 marked in mid-July is also a critical number to focus on.
Gold daily chart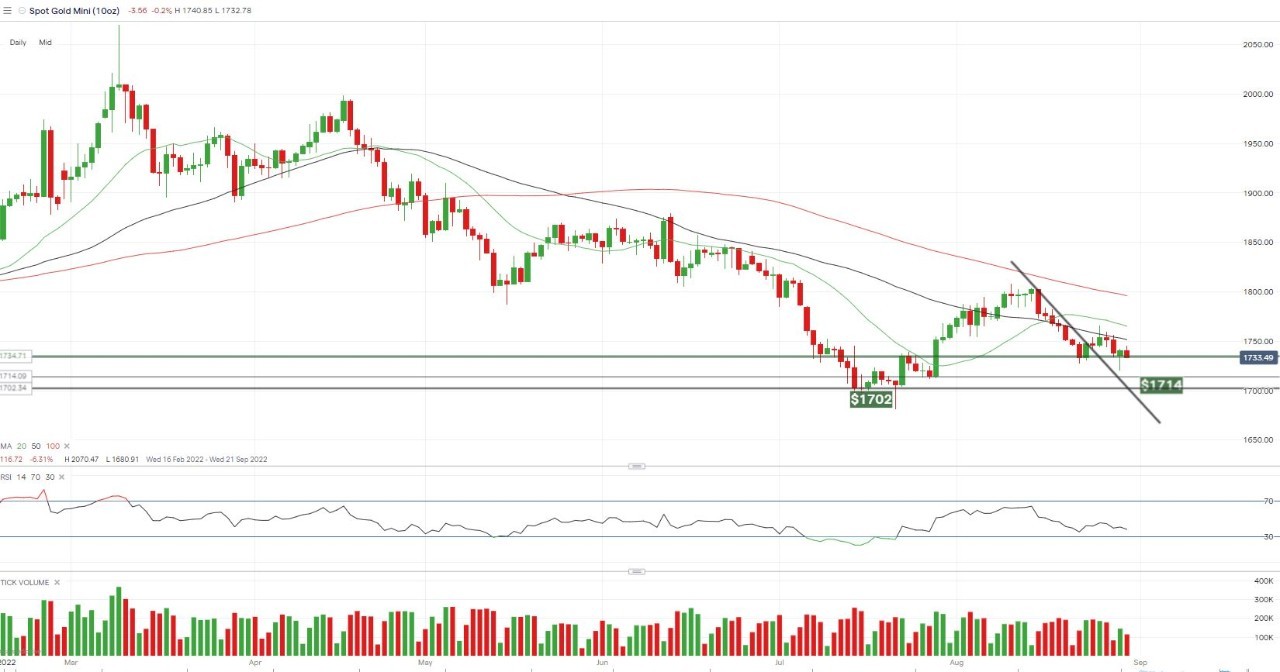 Source: IG
Hebe Chen

 

|

 
Market Analyst
,
Melbourne
31 August 2022
1