Superdry shares drift towards pandemic lows ahead of Friday FY results
---
Fundamental and technical outlook on Superdry share price ahead of Friday full-year results within context of UK mini-budget turmoil, volatile exchange rate and ongoing cost-of-living crisis.
Source: Bloomberg
Superdry shares continue their descent post UK mini-budget
Cheltenham-based fashion brand, Superdry, like other UK retailers, has been hit hard by Liz Truss' not so mini-budget on Friday 23 September with the company's share price dropping by 8% to its 96 pence September low, in line with the initial strong depreciation of the British pound sterling.

With the pound having practically regained most of its losses since and it trading back at pre-budget levels versus several major currencies such as the US dollar, euro and Japanese Yen, will the Superdry share price be able to recover as well?
Can Superdry benefit from the recovery in the pound and investor mood?
Following last Wednesday's Bank of England (BoE) emergency bond buying programme until mid-October to ease the pressure on UK pension funds and insurance companies, the pound recovered its losses whereas the FTSE 100 continued to slide into late September before staging a recovery rally at the beginning of October.

The government's political U-turn and abolition of the higher 45 pence tax rate on Monday morning led to further gains in the pound and also helped UK equity markets stabilise with Superdry's share price recouping some of its recent sharp losses. Its shares still trade 61% lower than at the start of the year, though (as of 04/10/2022).

Superdry is not the only major UK retailer which has suffered in the course of this year with cost-of-living worries being at the forefront of shoppers minds. Its UK competitor, Next, is also trading down close to 40% year-to-date and to a lesser degree, American owner of the Hollister brand, Abercrombie & Fitch Co., who's share price is trading at a near 20% discount year-to-date (as of 04/10/2022).
Where to next for fashion retailers such as Superdry ahead of its full-year results?
From a fiscal perspective, only around £2bn, out of £45bn of fiscal loosening, will be saved by the government's volte face regarding the abolition of the UK's highest tax rate but financial markets see it as a step in the right direction with both the pound and UK equity indices recovering.

Going forward it will be difficult for Liz Truss and her Chancellor of the Exchequer Kwasi Kwarteng to regain the trust of their voters, party members and the financial markets even though they are attempting to do so by delivering their much-awaited fiscal statement later this month rather than on 23 November as previously scheduled.

Traders will probably continue to also keep an eye on the Bank of England (BoE) who will do everything in its power to stabilise financial markets in order to avert another currency and pension fund crisis.

Among the current UK macro-economic instability and as the cost-of-living crisis continues to bite, investors will scrutinise Superdry's full-year results (FY), out at 7am London time on Friday.
What is 'The Street's' expectation for the FY 2022 results?
According to Reuters Refinitiv 'The Street' expectations for the upcoming results are for revenue to come in close to £621 million, or +11.65% year on year (YoY) at a time when Superdry warns of price rises and ends shop discounts.

CEO Julian Dunkerton recently said that "we need proper stimulus" and that "we should be talking about a free trade deal with Europe. We need a windfall tax on energy companies. What they've done is replace the energy company windfall tax with government debt."

There is also a risk of people traveling to Europe to go shopping because since Brexit Britain no longer offers tax-free purchases to international tourists, the Superdry CEO warned.

He is not the only one in the fashion business who believes that foreign exchange rates have become a huge concern and that the UK government needs to grow the economy to strengthen the pound against the US dollar.
Source: ProRealTime
Can Superdry shares benefit from the early October risk-on sentiment?

With global equity markets kicking off the month of October on a stronger footing after a dismal end to the previous quarter as hope of a slowing of monetary policy tightening enters investors' minds, the retail sector may also benefit.

The early October risk-on sentiment has been reinforced by the Reserve Bank of Australia's (RBA) less than expected 25 basis point rate hike on Tuesday which, despite being its sixth consecutive rate hike, came in lower than the 50 basis points the market had priced in.

So far, the Superdry share price has only managed to rise by around half of the FTSE 100's early October gains but this may change if Friday's full-year results come in better than expected.
Technical Analysis on Superdry shares
From a technical perspective Superdry shares remain in a clear bear market with a series of lower highs and lows being visible on the daily chart since May 2021 which has pushed its price to levels last seen in April 2020.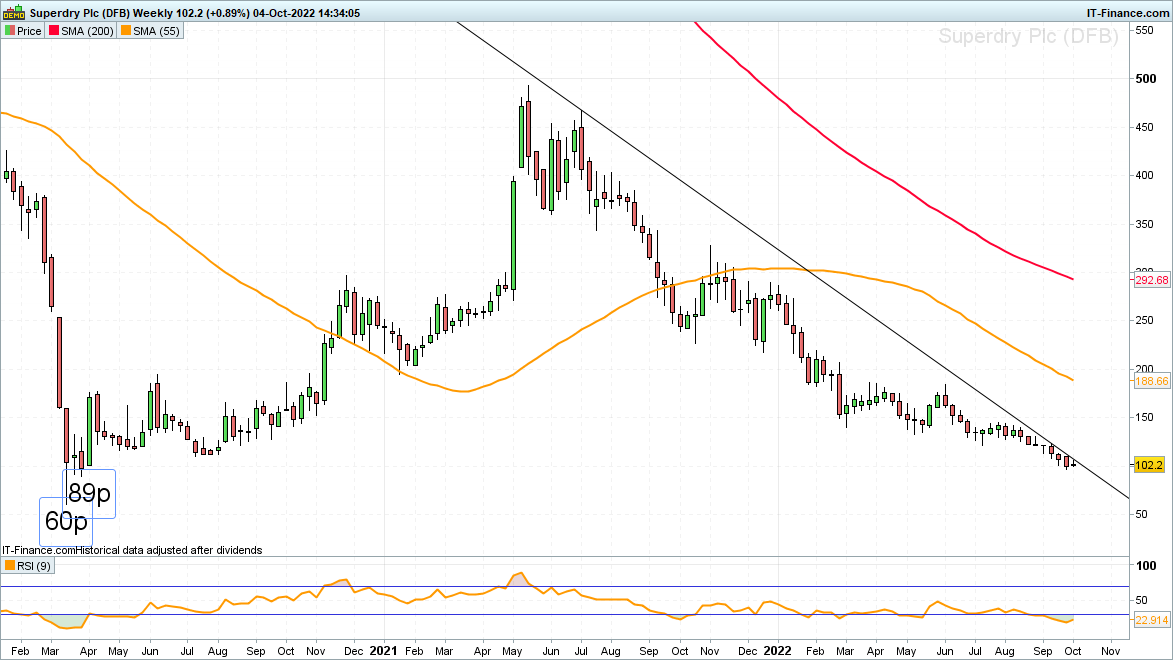 Source: ProRealTime
While no potential bullish reversal takes the Superdry share price above its mid-September high at 124p on a weekly chart closing basis, it remains in a downtrend and thus continues to be under pressure.

A slip through the September low at 96p would likely engage the April 2020 low at 89p, a drop through which would open the way for the pandemic low at 60p to be back in the picture.