Twitter and the Mercurial Mr Musk
---
After all the back and forth, Elon Musk will finally buy Twitter.
This issue of Investor Spotlight is brought to you by IG, with Kyle Rodda, Market Analyst and ausbiz presenter.
One of the market's biggest dramas this year has been the on-again, off-again, and on-again acquisition of Twitter by Elon Musk. In this week's Investor Spotlight, we look at the deal, and what it might mean for the share price of Twitter and Tesla.
Breaking down the deal
Earlier this year and after months of criticism of the social network, Tesla CEO Elon Musk announced he'd be acquiring Twitter and taking the company private. The offer price was out a material premium to the market value of Twitter at the time, at around $54.20 per share, or roughly $44 billion.
The deal rested on several covenants, one of which was that Musk could access information about the number of accounts on Twitter that were 'bots'. The reason for this was reasonable. A social media platform derives its value from its number of uses. If the user data is inflated by fake accounts, then that platform's value is significantly diminished.
The breaking of one of the deal's covenants would incur a $US1 billion break-up fee. A significant figure, but one that is relatively modest compared to Elon Musk's astronomical wealth. Based on analysis performed on behalf of Musk, Twitter's daily active users are 10% bots. Twitter has said the number is closer to 5%. As a result, Musk walked away from the deal, to which Twitter responded with legal action that would force the deal to go through.
This week, perhaps due to his limited legal recourse, Musk backflipped once again, pledging to buy the company for its original offer price. The details of the acquisition, especially as it applies to funding, are still to be finalized.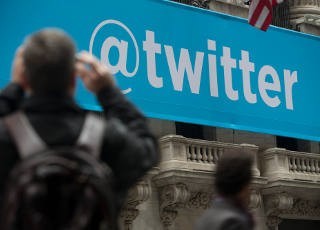 Source: Bloomberg
What impact could it have on Twitter shares?
Off the back of the news, Twitter shares surged. The company's stock jumped by 22% and to just above $50 per share, as the market pushed the price towards the value of Musk's offer - and perhaps remaining at a slight discount to reflect the risk of another U-turn.
The deal is clearly favourable for the company's share price. Based on price action, the opportunity to exit an investment in a public company going private is highly appealing. It also suggests that Musk's offer is well above what public markets consider fair value for the company.
Technical analysis of Twitter
The share price of Twitter has climbed towards the offer price made by Elon Musk. The stock looks to be in a primary downtrend, and in the absence of the recent rally, would send to be controlled by the bears. However, the price action from hereon becomes about whether the deal finalizes - and at Musk's offer price. Some discounts may remain until that point due to the risk of the deal falling over. If the deal does go through, price action will no longer be relevant as the company goes private.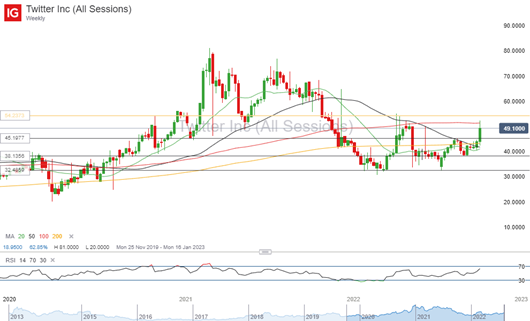 Source: IG
What impact could it have on Tesla shares?
Conversely, the deal between Elon Musk and Twitter is a negative for Tesla's share price. Both when the initial deal was announced and when Musk backflipped on his decision not to proceed with it, Tesla's share price dropped. Tesla's share price also rose when it was reported Musk was walking away from it.
The reason for this comes down to how the deal might be funded. While part of it might be paid for via new debt, some proportion of the acquisition will have to be funded by Musk's personal wealth. This will probably necessitate Musk selling some Tesla stock to raise the cash necessary, which will put downward pressure on the company's share price.
Technical analysis of Tesla
Despite posting strong results quarter-over-quarter, Tesla's shares have carved out a short-term downtrend, mostly due to multiple compression as interest rates rise. The stock has plunged lately, as fears mount about the amount of stock Elon Musk will be forced to sell to fund his acquisition of Twitter.
Price broke key support at $US260 and also dropped below its 100-week moving average, with the next key levels of support to watch at $US206 and $US179.
Source: IG
Delivery disappointment - another driver of Tesla
Elon Musk's Twitter deal wasn't the only issue driving Tesla's share price lower this week. Tesla also released its latest delivery update to the market, ahead of its quarterly results. Despite hitting a new record, deliveries came in lower than expectations at 343,830.
The consensus estimate was for 357,000 deliveries. The company cited supply chain bottlenecks and other logistical issues, especially in China, as major factors. There are also fears it could indicate disappointing demand for vehicles.
Tesla is expected to report its fourth-quarter results on October 19.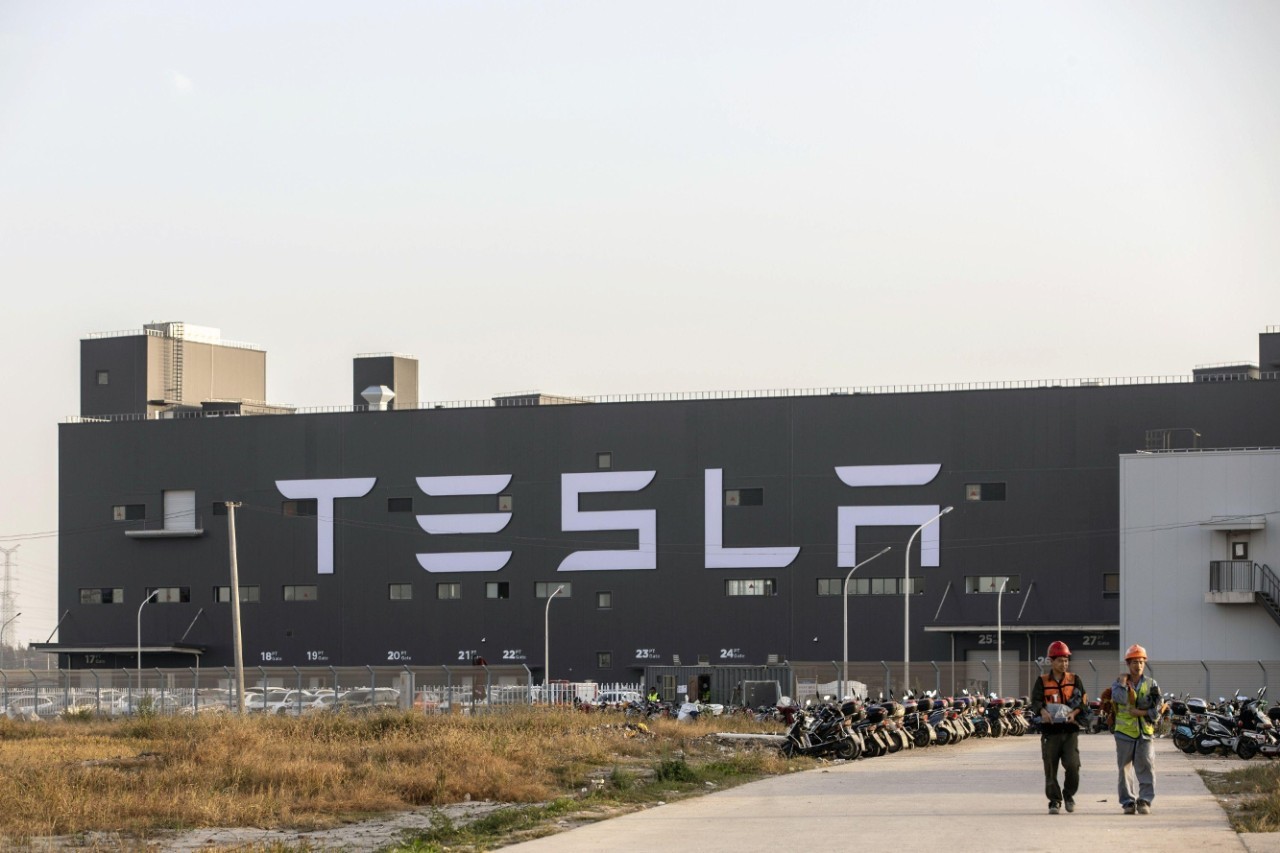 Source: Bloomberg