Tesla share price plunges as it misses Q3 revenue expectations
---
Tesla's third-quarter earnings fell short of the market expectations prompting its stock price to drop more than 5%.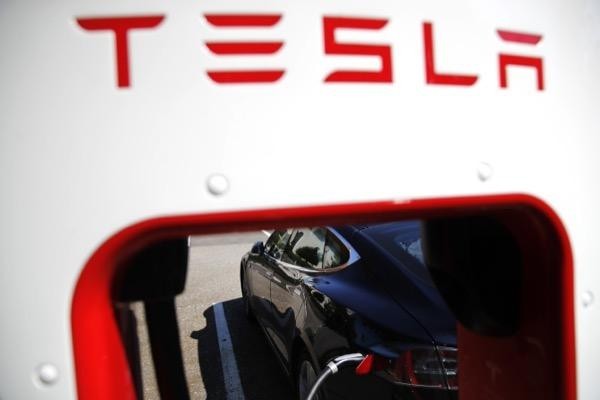 Source: Bloomberg
Tesla Q3 earnings result
Tesla Inc reported its Q3 earnings after the market closed on October 19th. It missed the market's expectations for both revenue and EPS but still demonstrated robust growing momentum.
Key numbers from the report included:
Q3 Revenue: $21.45 billion versus $22.09 billion expected, 55% yearly growth
Q3 Adjusted EPS: $1.05 versus $1.01 expected, 218% yearly growth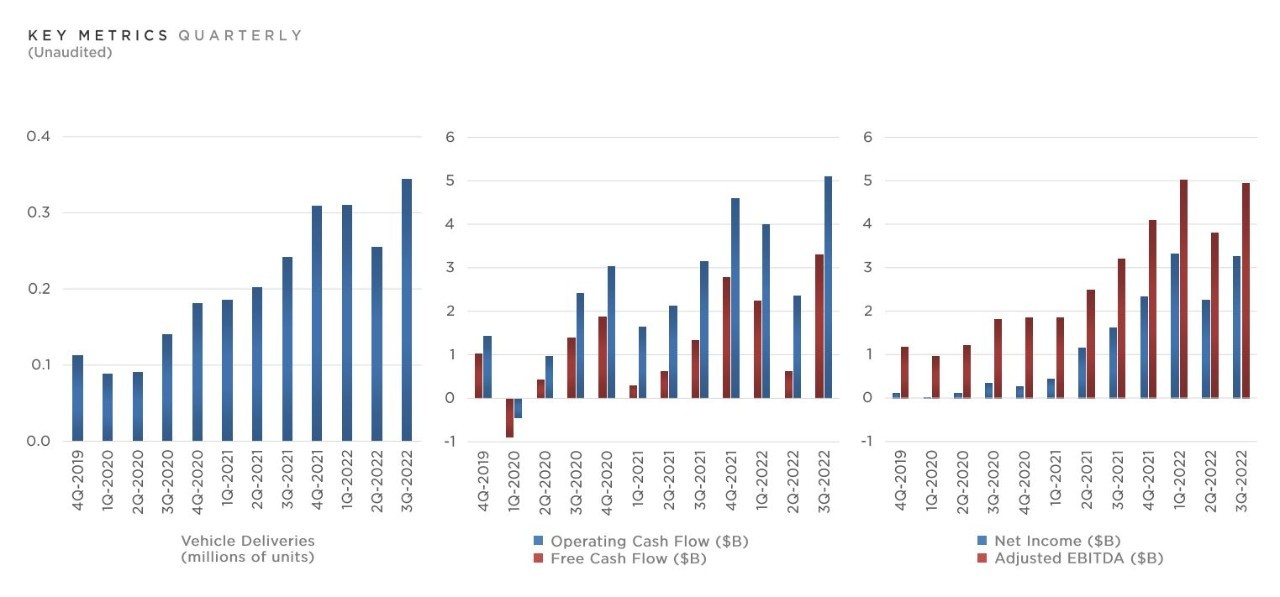 Source: Tesla
Tesla Q3 earnings highlight
Although the Q3 earnings numbers did not meet the market's expectations, Tesla's shareholders should feel a bit relieved that Tesla's production level over Q3 successfully reversed the Q2 downtrend with a 54% year-over-year increase to 365,923 vehicles.
In addition, Tesla's revenue demonstrated a robust growth momentum that few S&P 500 companies could keep up with. For the third quarter, Tesla's revenue jumped up 55% compared to a year ago and increased by 28% over the quarter.
The brightest spot comes from a better-than-expected margin number thanks to the EV market leader's superb pricing power.
While the rising inflation sees rising costs across every aspect of the business, Tesla's margin held steady with the operating margin increasing from 14.6% in Q2 (and the same quarter last year) to 17.2%.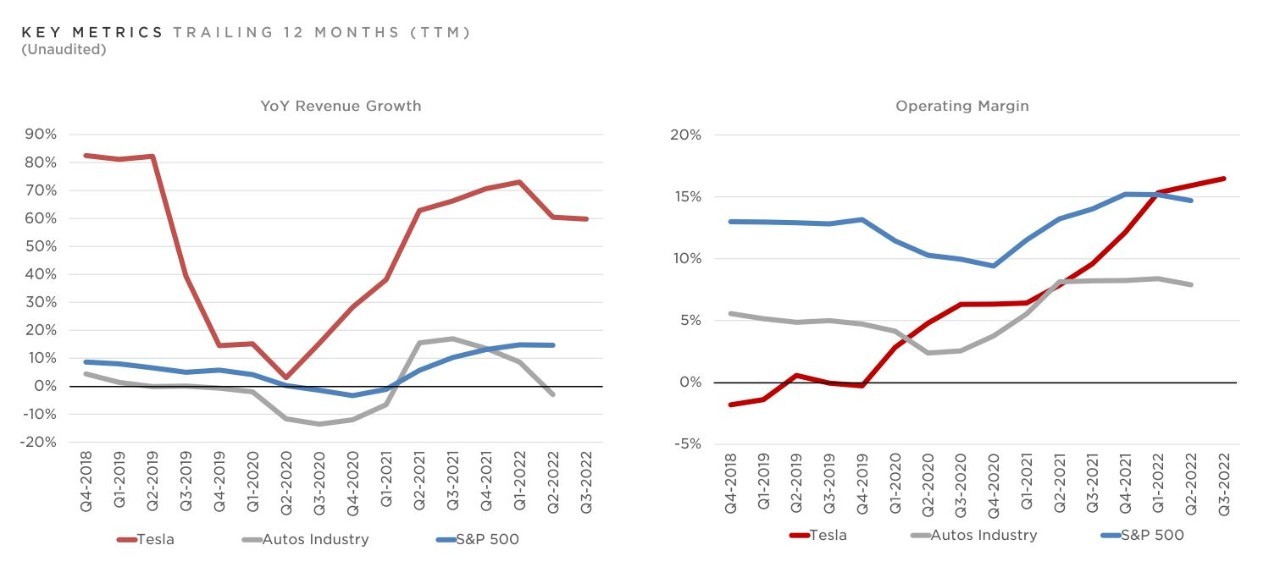 Source: Tesla
A key concern stems from Tesla's under-delivery. The numbers show that Tesla produced 22,000 more vehicles than it delivered, sparking worry that the company may produce more than it can sell.
As a response, the earnings report has attributed the increasing cost and limited capacity to transport its vehicles.
The company's chief executive Elon Musk, appearing positive, stressed that: "I can't emphasize enough we have excellent demand for Q4 and we expect to sell every car that we've made. The factories are running at full speed and delivering every car we make."

Source: Tesla
Tesla technical analysis
Tesla's share price has been continuously slipping since November 2021 and dropped around 44% year-to-date. The downtrend accelerated from September bringing the price to the floor level of the year.
From a technical perspective, the double-top pattern perfectly formed over the past three months is speaking for a bearish outlook, which is primarily due to the deteriorating market condition and the upcoming uncertainties around the Twitter deal.
Looking at the near term, the October low at $204 is likely to be the immediate bottom. Any movement to break through this level will open the floor to the $200 psychological level. In that case, the 16-month-low at around $195 would be in prospect.
On the flip side, for a bullish reversal to be seen, a rise above $223 will be the first step and further advance over the 20-day MA would also need to occur.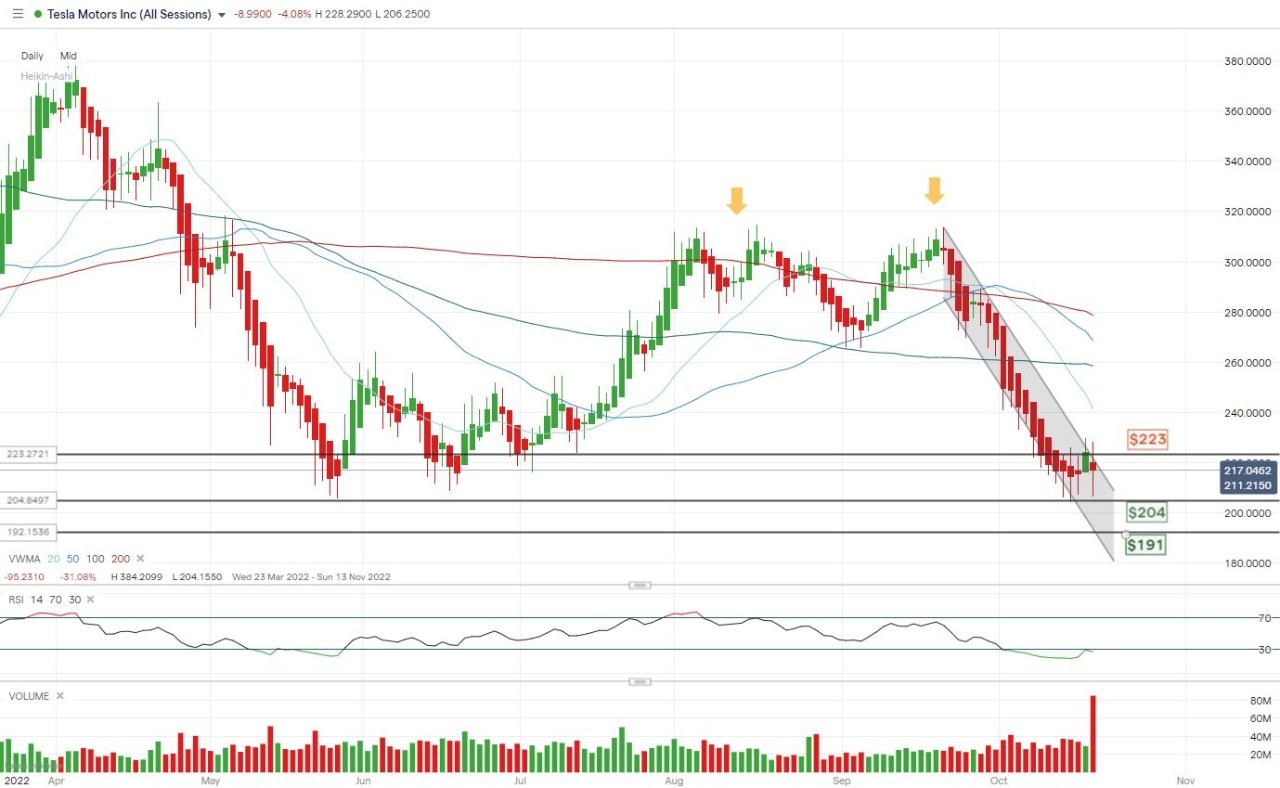 Source: IG