Australian CPI soars to 32-year-high and leaves RBA in a dilemma
---
Australia reported 32-year high inflation at 7.3% on Wednesday, beating market expectations and sparking questions over the central bank's monetary policy shift.
Source: Bloomberg
Australia's third quarter CPI
Australia's annual inflation rate has reached its highest level since 1990.
Over the past twelve months, the consumer price index (CPI) increased by 7.3% with the most significant price rises being housing (+10.5%), food (+9.0%), and transport (9.2%).
In particular, the cost of goods accounted for more than three-quarters of the rise in the CPI thanks to high freight costs, supply constraints, and prolonged elevated demand. During the past 12 months, fruit and vegetable prices rose 16.2% and dairy products increased by 12.1%.
Core CPI, which excludes seasonal price rises and falls (like food) increased to 6.1%, the highest since the ABS was first published in 2003.
Prior to the report, the market expected inflation to be around 6.5%-7%.
Source: Bloomberg
What will the RBA do?
Needless to say, the fact that inflation is still flying high must be uncomfortable for the RBA. After raising rates by 25 basis points in May, the Australian central bank has raised rates by 50 basis points in each of the four meetings between June and September.
This month, they made the first pivot to slow the pace back to 25bps as "the cash rate has been increased substantially in a short period of time".
With 32-year-high inflation, the policymaker is facing an undesirable dilemma. Either work on the unexpectedly sticky pricing pressure or save the rapidly deteriorating economic outlook. Just a day before, the Australian government officially downgraded the annual GDP growth forecast for FY2023 by a full percent to 1.5%.
It's probably not the RBA's first choice to bring back sizable rate hikes immediately in the next meeting (November 1st), however, if the central bank is resolute in its determination to return inflation to target (2 to 3%) then the path ahead will be much more challenging than anticipated.
AUD/USD technical analysis
With the general recovery in risk appetite and the slightly weakening greenback, both have lifted the AUD/USD from its two-year low level.
Thanks to yesterday's higher-than-expected CPI print, the pair has returned to the 20-day simple moving average (SMA) and painted an upward-moving tunnel in the four-hourly chart.
In the near term, buyers should keep a close eye on the next target as the pair sits around 0.6438 and coincides with the 23.6% Fibonacci retracement from the recent peak.
However, it must be said that the overall downtrend is still in place, so any turn lower would be viewed as a lower high. That is to say, the chance for the pair to move further and above 0.6547 will be limited.
Any downside will be supported by the level around 0.63.
Daily chart
Source: IG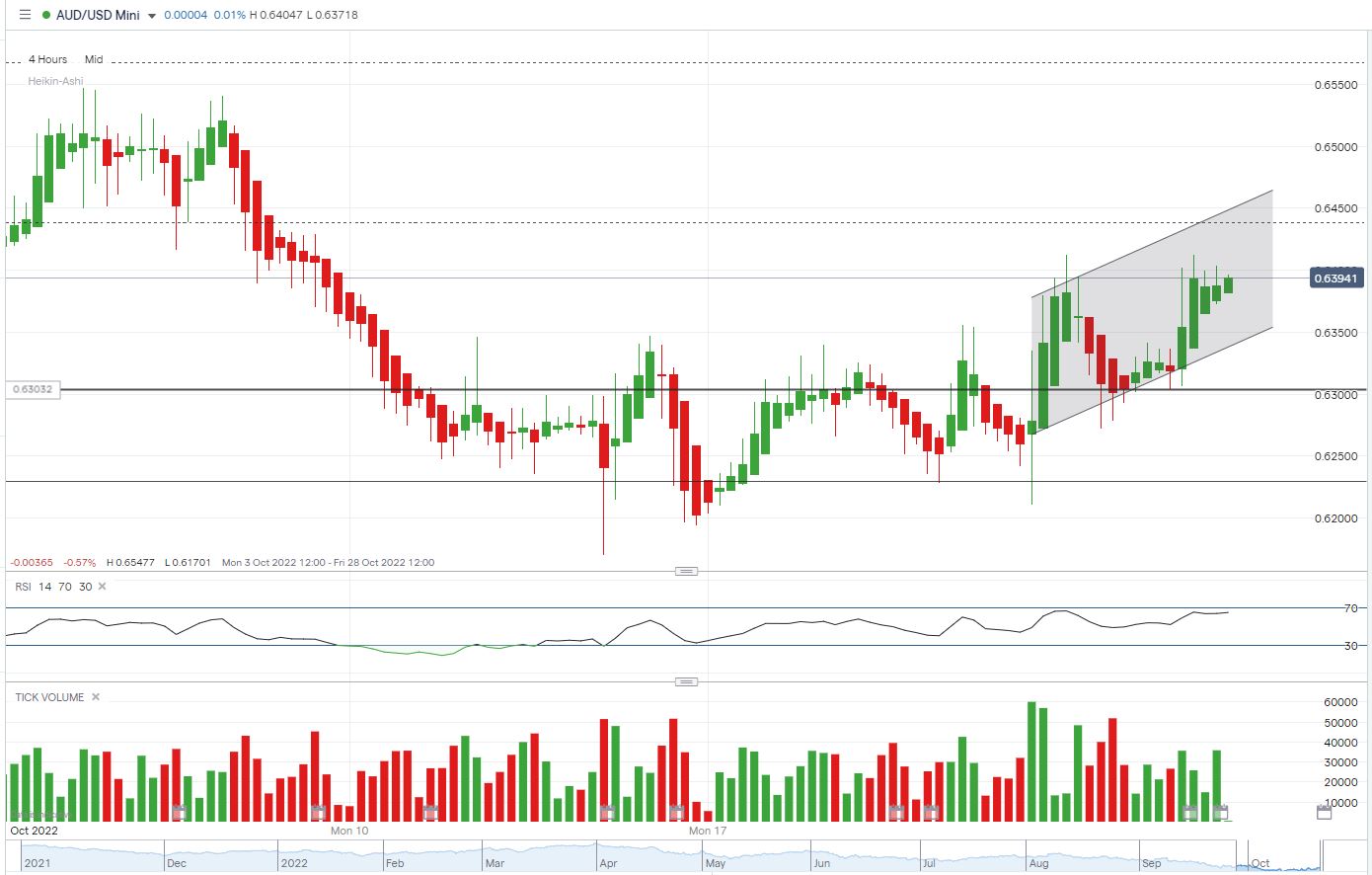 Source: IG