Walt Disney Q4 earnings: Will Disney streaming services continue to drive growth?
---
Walt Disney earnings put the spotlight back on Disney+ subscribers, with park earnings back to pre-pandemic levels
Source: Bloomberg
When will Walt Disney report their latest earnings?
Walt Disney will post its financial results for the full year and fiscal fourth quarter of 2022 after market close on Tuesday, November 8, 2022.
Walt Disney earnings –What should traders look out for?
Walt Disney shares have been on a rollercoaster ride over the past three-years, with 2020 in particular seeing the stock hit a five-year low and record high. However, we have seen the stock head lower in 2022, with shares falling back below the $100 mark just 16-months after reaching the $200 milestone.
Inflationary pressures have provided a cautionary backdrop for many companies, and Disney are no different. From Cruises and Parks, the firm will be challenged by the need to maintain strong margins as the price of goods and wages increase. We have recently heard from the CFO stating that the company is considering trimming portion sizes at their parks. The firm has also seen natural inflation for their content, as competition for talent with the likes of Netflix hots up. The other side of the inflation story comes as consumers feel the pinch, with falling real wages driving potential cost cutting measures for luxury goods and experiences. Could this dampen demand for theme park and cruise visits? Will people see services such as Disney+ as a luxury that could be cut to lower bills? Traders will be keeping a close eye out for signs over how much the company is impacted, and how successful they are in mitigating the impact rising costs are having on margins.
Much of the recent focus has been on the Disney+ streaming service given its relative infancy and potential to significantly boost group revenues. After all, Disney Media and Entertainment Distribution now makes up 66% of the Group's revenues (vs 55% pre-Covid). Park and experiences revenue have returned to almost the same level as those seen pre-pandemic, while media and entertainment distribution earnings are some 35% higher.
Last month saw international Disney+ subscribers top domestic users (US and Canada), with year-on-year growth at a whopping 48%. Keep an eye out for whether they can maintain this rapid rate of growth for this streaming service. There is a sense that we are now moving into a position where Disney trades much like Netflix as investors constantly look for signs that subscriber growth is slowing or quickening as a key driver of price action.
Walt Disney earnings – what to expect
Revenue – $21.3 billion vs $18.5 billion (Q4 2021), and $21.5 billion (Q3 2022).
Earnings per share (EPS) – $0.55 vs $0.37 (Q4 2021) and $1.09 (Q3 2022).
Walt Disney earnings – valuation and broker ratings
Analysts are largely positive for Disney shares, with 7 'strong buys', 17 'buys', and 6 'hold' recommendations.

Source: Eikon
Walt Disney shares – technical analysis
Walt Disney shares have been hit hard over the course of this year thus far, with price falling back to the $90 mark after starting the year around the $160 region. The latest pullback found support on the July low of $90, with price turning higher as market sentiment improves. Whether or not this continues apace remains to be seen, but it would ultimately take a break through $126 to complete a double bottom formation. Such a break would signal the likely end of this period, with the long-term uptrend back in play.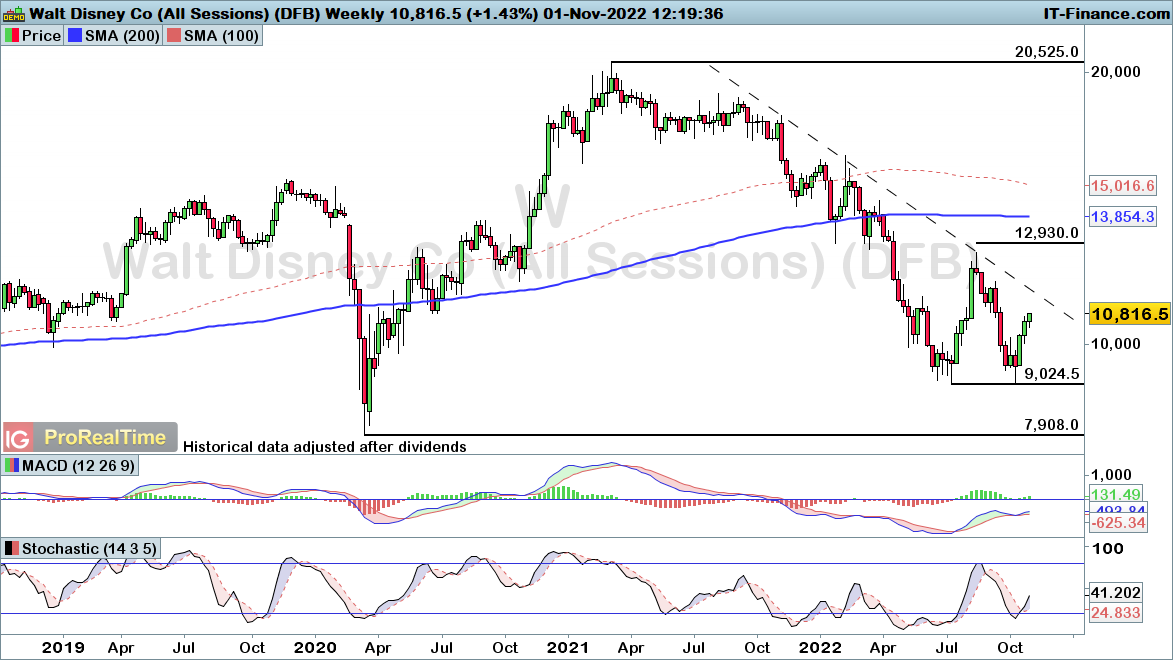 Source: ProRealTime
With price having broken through the $101 swing-high, we do look likely to see further short-term upside, but a push through $126 is still needed to prove that this is not simply a short-term rebound before the bears come back into play. Given the wider bearish trajectory in stock markets, a bearish turn does seem likely before long.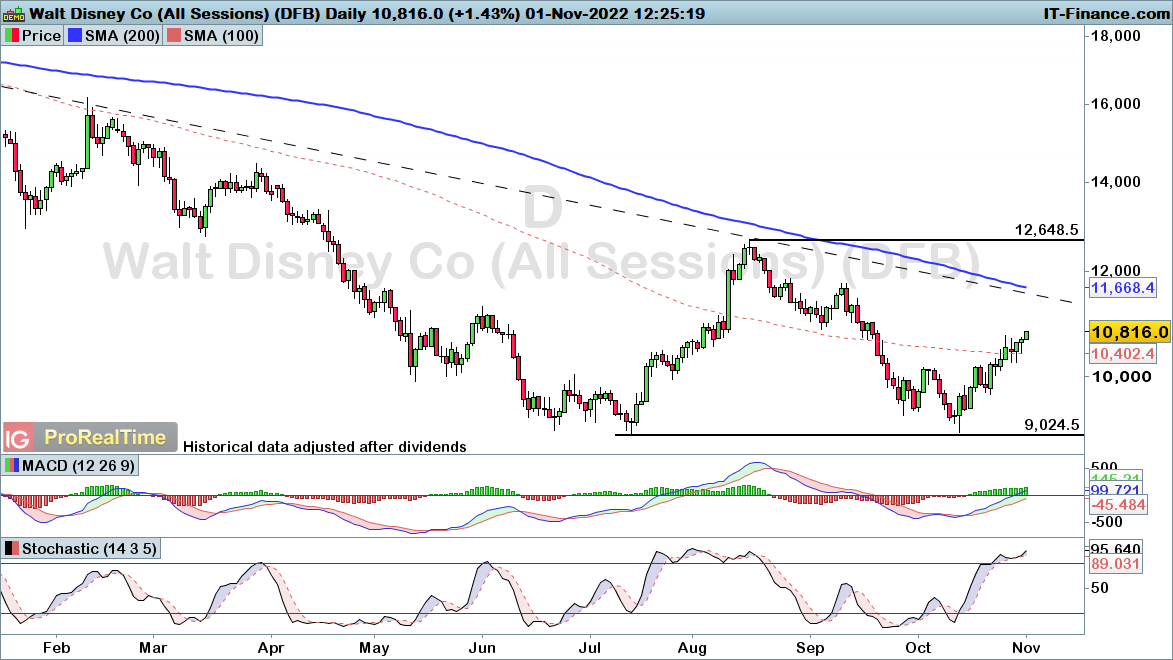 Source: ProRealTime