US jobs preview: Unemployment and payrolls expected to flash warning sign for markets
---
Friday's US jobs report at risk of finally showing weakness in the employment market as rising rates and elevated inflation take a toll
Source: Bloomberg
The October US jobs report is due to be released at 1.30pm, on Friday 4 November (UK time). This report comes at a time where markets are showing signs of confidence that have often been lacking this year, with the month of October being characterized by equity market strength and dollar weakness. Nonetheless, markets are likely to remain volatile when considering the future path of interest rates and the economy. Historically jobs data has been viewed within the lens of how it impacts Fed thinking. However, without a decline in inflation, weakness for the jobs market would likely drive a risk-off move into the dollar and out of stocks.
What do other employment surveys tell us?
It is often useful to look out for clues within alternate employment readings. That can come from several sources, with the ADP, Conference board, Department of Labour, and ISM all providing data that can give us clues over the direction of travel for different aspects of the jobs report.

Conference board survey – The latest CB consumer confidence survey fell sharply this month, with the headline reading down to a three-month low of 102.5 from 107.8. Within that release, we have seen a decline in consumers finding jobs "plentiful," and a rise in those finding jobs "hard to get." Taking a ratio between the two, we can see that the employment market is becoming tighter over the course of 2022. The historical correlation between this ratio and the unemployment rate highlights the potential for an uptick in job losses.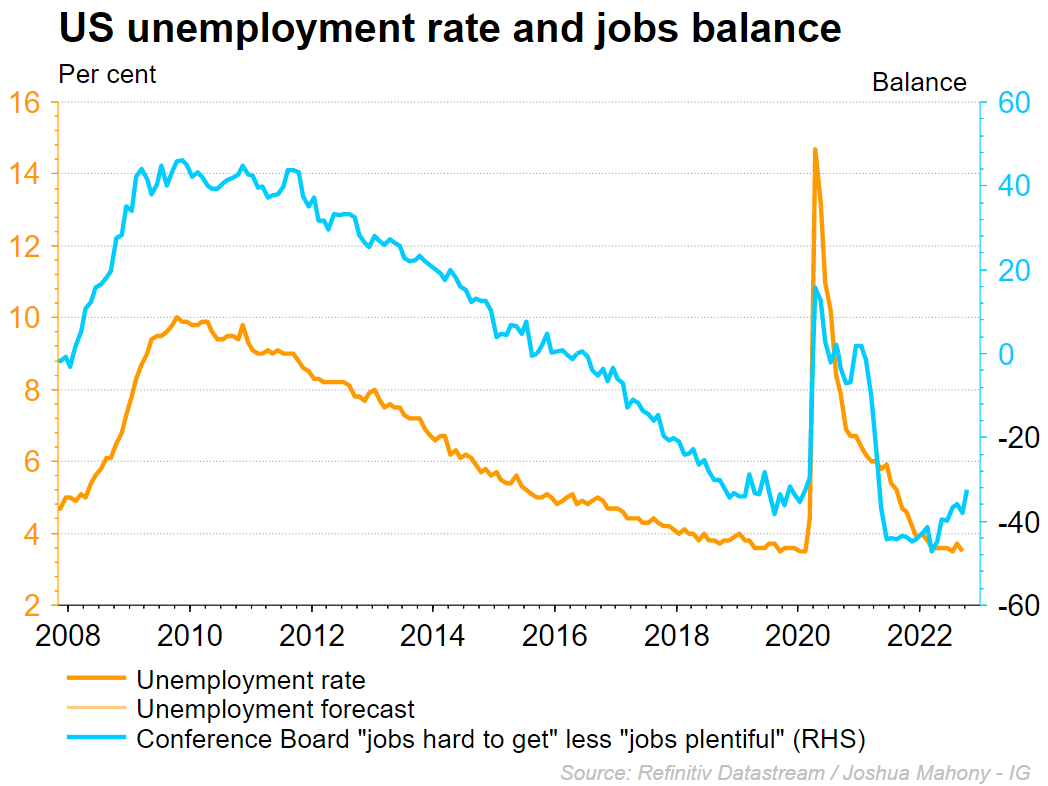 JOLTS job openings – The latest JOLTS job openings data (September) saw some improvement over the prior slump, although the path does seem to point towards further declines in the months ahead. The chart below highlights how such a decline in job openings could be indicative of an uptick in unemployment. However, the correlation with the Atlanta 3m wage growth figure does at least provide some hope that wage growth drifts lower to ease fears of an inflationary cycle caused by a surge in earnings.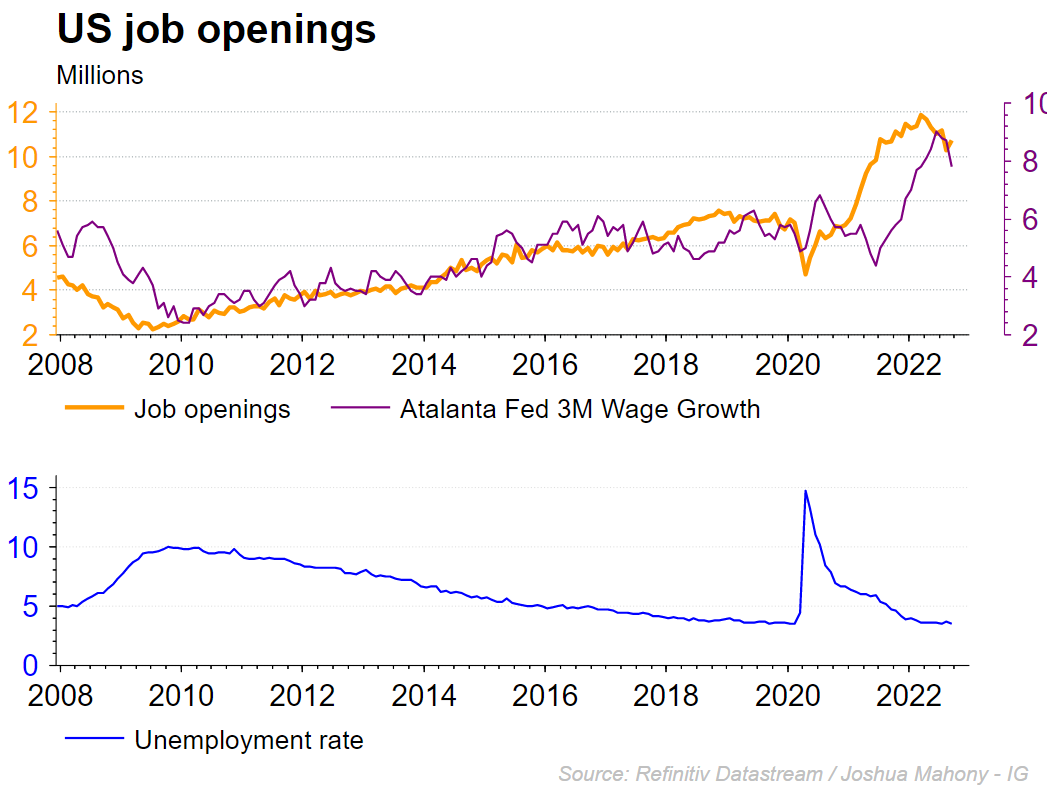 ADP payrolls – This month saw a welcome rise for the ADP employment survey, which rose for the second consecutive month (to 239k). With the survey having recently been reconfigured, the fact that there was just a 71k differential between the headline and ADP figure provides some hope that we may see this survey provide greater insight into what comes on Friday.
ISM PMI surveys – With the services PMI released on Thursday, we have only seen the manufacturing figure thus far. This has brought a push back into to 50 mark, taking the sector out of contraction and into balance. However, it is worth noting that the services figure will likely have a greater impact given that the sector generally accounts for the vast majority of jobs created or lost within the NFP number.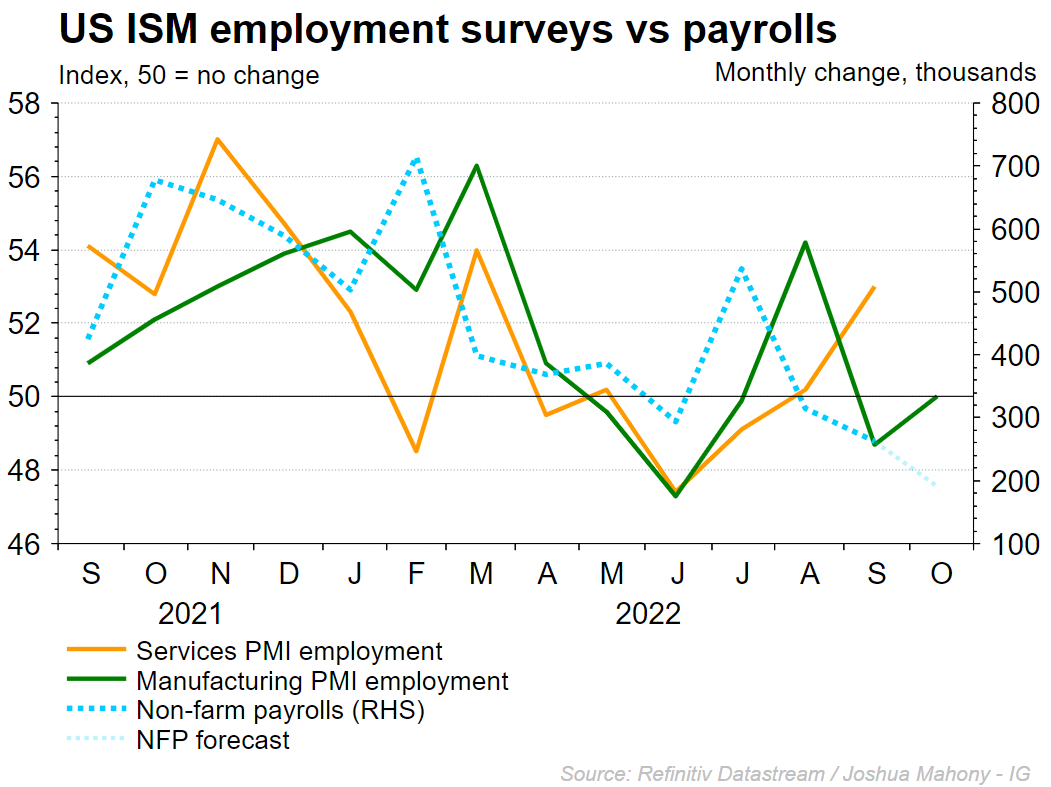 Non-farm Payrolls
Friday's headline non-farm payrolls figure is forecast to fall back to the 190k region this month, coming off the back of the September figure of 263k. That would represent the worst payrolls figure since the negative December 2020 reading of -115k. Should we see payrolls finally break the 200k threshold, this could provide a warning sign for markets that we are finally seeing the negative implications of higher rates and inflation take hold.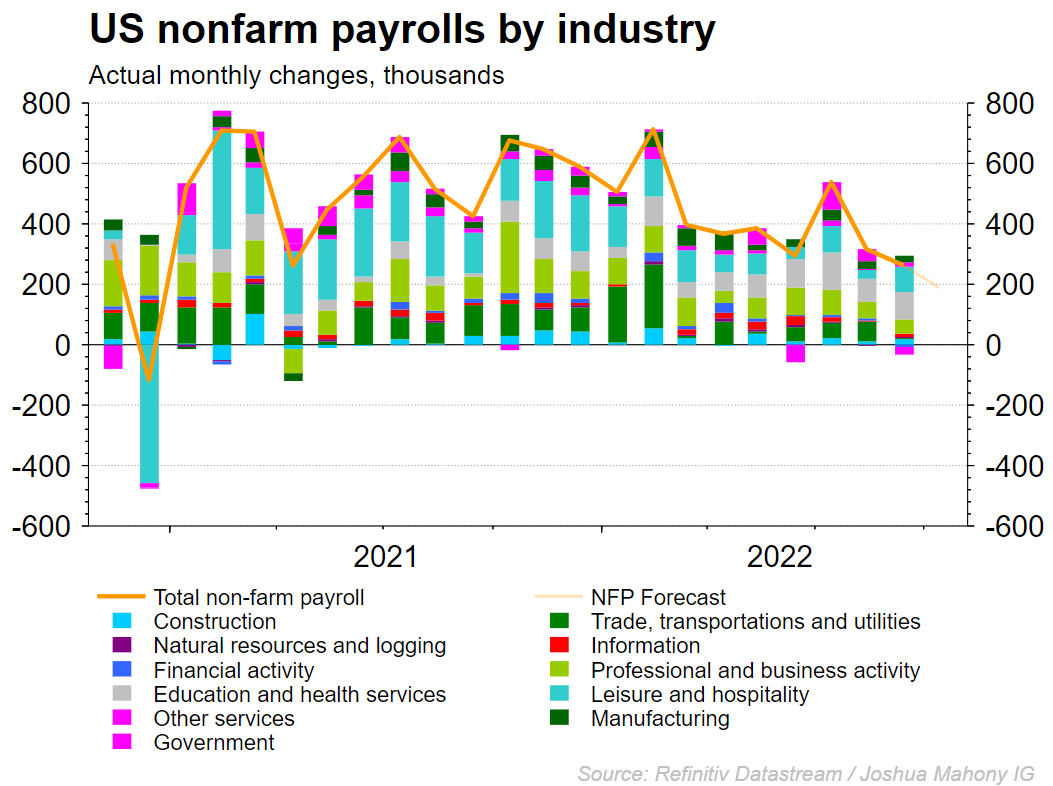 Unemployment
The unemployment rate provides perhaps the one headline worthy source of data that can reach the wider news sources, with a jump in unemployment bringing greater fear of an economic downturn. This month sees expectations of a rise into 3.6%. However, such a move would only partially reverse the decline from 3.7% to 3.5% seen in September. Some of the indicators such from the Conference Board and JOLTS surveys do provide the basis for an uptick in unemployment, but we are yet to see any major move in the headline figure quite yet. Nonetheless, keep a close eye out for any push higher as a sign that things are starting to turn for the US economy.
US average hourly earnings
US wage growth remains a key concern for markets, with a decline in average hourly earnings helping to allay fears of a wage-price spiral that leads to further inflationary pressures. This month is forecast to see earnings growth decline to 4.7%, which would be a notable drop-off from 5% seen in September. Unfortunately, this gap between earnings and inflation does highlight the ongoing decline in real wages, which reduces the spending power of individuals. However, while this could be troublesome for businesses, a decline in average earnings is crucial in helping to stifle inflationary pressures.
Dollar index technical analysis
The dollar has been attempting to regain ground after a decline into the confluence of the 109.02 and 76.4% Fibonacci levels. That Fibonacci level highlights the fact that we remain within an uptrend, where a break below the 107.45 swing-low would be required to negate the bullish pattern in play over the course of 2022. With this report potentially seeing an uptick in unemployment and declining payrolls, such a move would likely bring demand for the haven dollar.
Source: ProRealTime
Dow technical analysis
The Dow has been on a dramatic rise over the course of October, with price rising back up into the 76.4% Fibonacci resistance level at 32970. The wider bearish trend remains in play here, with a bearish turn looking likely in the event that the jobs market shows a worsening picture. A push up through the 34285 level would be required to negate this bearish outlook.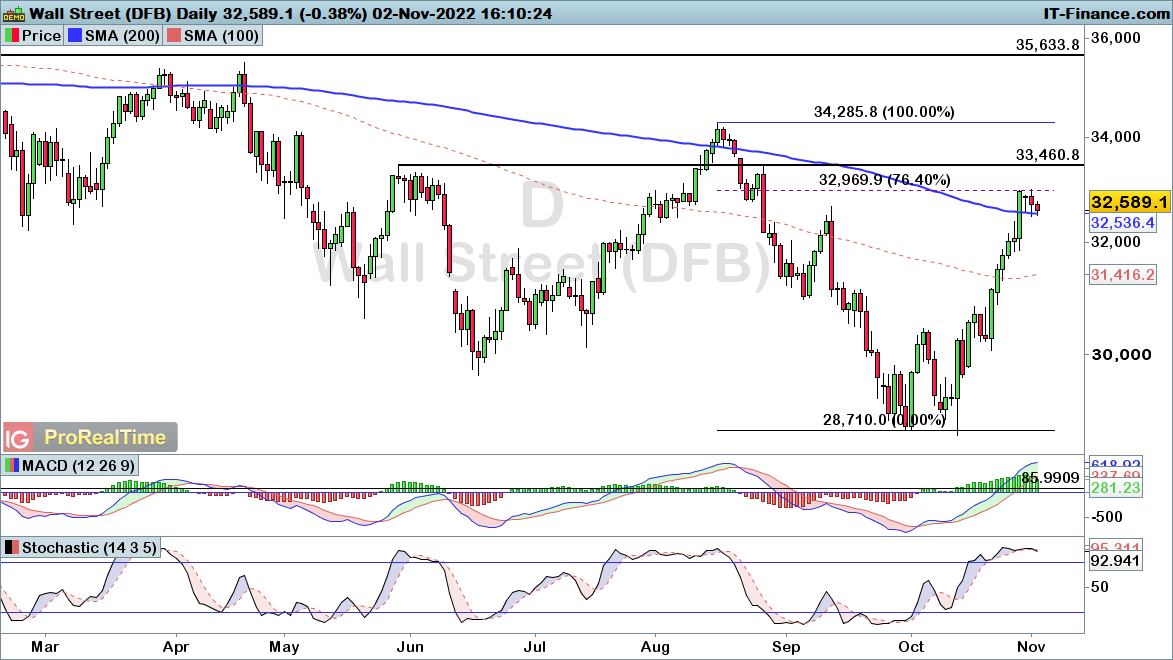 Source: ProRealTime