Hang Seng and NYSE tech giant Alibaba results preview
---
Alibaba results likely to show modest increase in revenue and earnings per share
Source: Bloomberg
When are the Alibaba results expected?
Alibaba Group Holdings is set to release results for the fiscal quarter ending September 2022 (Q2 2023) on the 17th of November 2022.
What is 'The Street's' expectations for the Q2 2023 results?
'The Street' expectations for the upcoming results are as follows:
Revenue of CNY208.616bn (+3.95% year on year)
Earnings per share CNY11.62 (+3.75% year on year)
Markets are expecting a return to single digit revenue and earnings growth for the e-commerce giant, against a backdrop of negative growth in FY22 and Q1 2023.
The company has been exposed to regulatory uncertainty in both China and the US which has been stifling growth and sentiment resulting in the share price continuing to trade at multi-year lows.
US authorities threatened to delist the stock (among other Chinese listed firms) on account of not being forthcoming in lieu of accounting regulatory requirements. US audits have however since commenced and concluded as of the 4th of November 2022. Outcomes thereto have not yet been disclosed.
Chinese regulators in antimonopoly probes have in the past impacted the company through fines and suspension of the Ant Group listing, the groups fintech affiliate. Alibaba has however since separated the Ant Group and stopped data sharing (in accordance with authorities) between the companies, although still retains a 33% holding in Ant. Regulatory risks remain although have partially diminished.
How to trade Alibaba into the results
Source: Refinitiv
Refinitive data shows a consensus of (47) analyst ratings at 'buy' for the Alibaba Group. A mean of estimates suggests a long-term price target of $140.28 (ADR) for the company. While the long-term price target has revised lower in recent months, so has the share price been in decline, suggesting a current discount to the assumed long term fair value (as of the 10th of November 2022)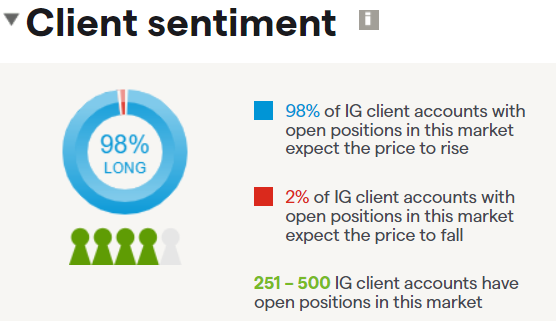 Source: IG
IG sentiment data shows that 98% of clients with open positions on the share (as of the 10th of November 2022) expect the price to rise over the near term, while 2% of these clients expect the price to fall.

Alibaba Group (US listed ADR) – Technical view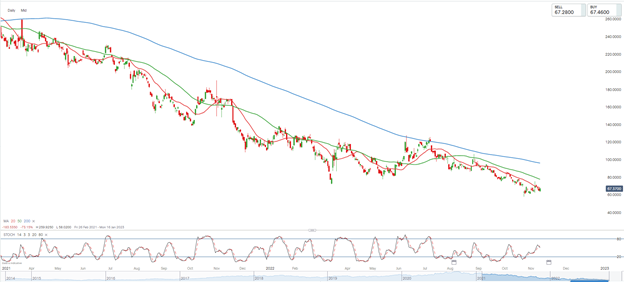 Source: IG
What looked like a bullish trend reversal forming in June 2022 to July 2022 was not to be as the share price of Alibaba has continued to fall.
The short-, medium- and long-term trends as noted by the 20 (red), 50 (green) and 200 (blue) day simple moving averages (MA's) remain down for the time being. While these trends are looking mature, they are still firmly in place.
Traders looking for a suggestion that the downtrends are reversing might prefer to see a change in the moving averages before committing to the long side (and aligning with bullish longer-term analyst rating suggestions). A reversal of trend over the short to medium term would be considered should the 20MA cross back above the 50MA.
In summary
Alibaba is set to release Q2 2023 results on the 17th of November 2022
Q2 2023 results are expected to show a modest year on year increase in both revenue and earnings per share
A long-term broker consensus suggests the share to currently be a 'buy', with a longer-term price target of $140.38 (US ADR)
IG clients with open positions on the share are predominantly long
The longer-term downtrend remains in place