Industry-wide rescue in US banking sector calms nerves: Nasdaq 100, ASX 200, EUR/USD
---
Following the recent global financial instabilities, an industry-wide rescue to shore up First Republic Bank's finances provided some much-needed reassurances to mitigate further banking jitters.
Source: Bloomberg
Market Recap
Following the recent global financial instabilities, First Republic Bank was expected to be the next domino to fall but an industry-wide rescue to shore up the bank's finances provided some much-needed reassurances to mitigate further banking jitters. A consortium of 11 US private banks, including Bank of America, Citigroup and JPMorgan Chase, announced that they would deposit US$30 billion into First Republic. That added another layer of support and provided testament to the resilience of the larger banks, which aided to calm some nerves in the extreme bearish risk environment. The VIX was down more than 12% overnight after hitting its four-month high this week.
Major US indices took on a risk-on mode (DJIA +1.17%; S&P 500 +1.76%; Nasdaq +2.48%), with greater outperformance seen in rate-sensitive growth sectors despite Treasury yields heading higher. Easing concerns of a wider meltdown is at play here, as gold prices stagnates following a 7% surge over the past week but the absence of a wider bearish move suggests that the risk environment is still treading on some cautious optimism while 'dovish' rate expectations also remain supportive of the yellow metal. On the other hand, brent crude prices reflected some dip-buying with the formation of a bullish hammer.
The Nasdaq 100 index has found support off its key 200-day moving average (MA) at the start of the week, with the MA line holding up on at least three occasions this year. The formation of a new near-term higher high provides hopes of further relief, but the absence of further banking woes will be key here. The 12,900 level may stand as resistance to overcome ahead, where a Fibonacci confluence zone resides. All eyes will be on the Federal Reserve (Fed) meeting next week to confirm recent adjustment to a less hawkish rate outlook, with wide consensus pricing for a 25 basis-point hike.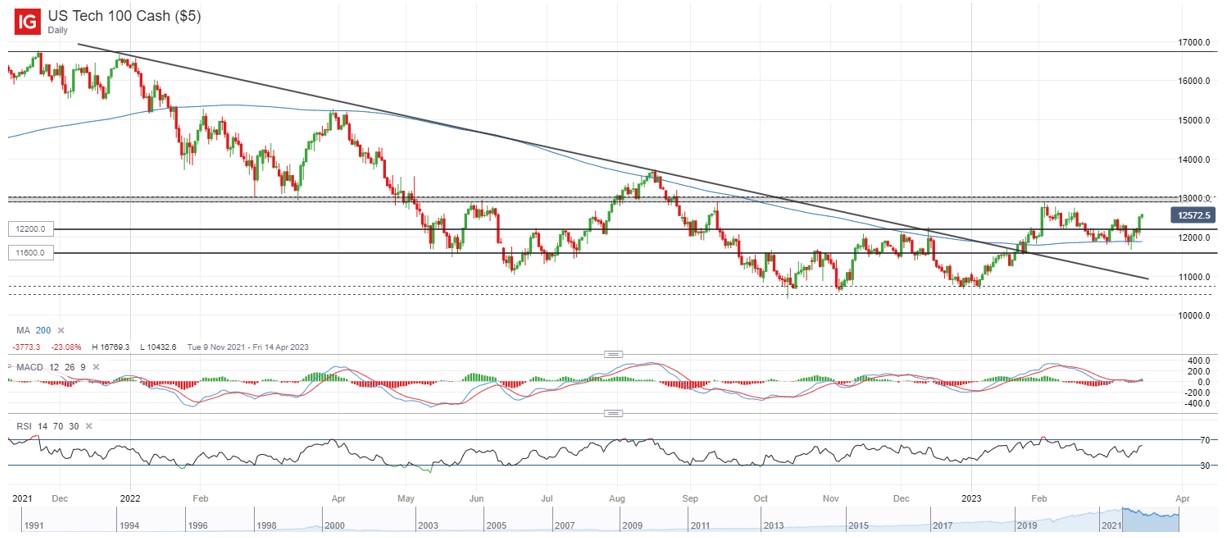 Source: IG charts
Asia Open
Asian stocks look set for a mixed open, with Nikkei +0.54%, ASX -0.04% and KOSPI +0.41% at the time of writing. The Nasdaq Golden Dragon China Index is up 2.5% overnight, which could point to some recovery in Chinese equities in today's session after yesterday's sell-off.
This morning, the release of Singapore's non-oil domestic exports (NODX) continues to reveal a difficult global demand outlook, with the February data contracting 15.6% from a year ago. While it came in slightly better than the expected contraction of 16%, month-on-month reading shows a steeper underperformance (-8% versus -0.5% forecast), led by falls in both electronic and non-electronic products. The fifth straight month of year-on-year decline paints a challenging growth outlook for Singapore and while China's recovery may continue to provide some cushion ahead, the demand conditions in other top markets such as EU 27 could have a limiting impact on overall growth.
The ASX 200 is back to retest its January bottom, where a key Fibonacci retracement level marked the formation of a bullish hammer. Technical conditions suggests some oversold levels, which may raise the odds for further relief but the 7,000 level will be a key resistance to overcome. Any further breakdown of the 6,870 level could leave the 6,700 level on watch next, where the next Fibonacci retracement level resides.
Source: IG charts
On the watchlist: EUR/USD back to trading in its range after ECB meeting
The European Central Bank (ECB) has hiked by 50 basis-point in yesterday's meeting despite the recent financial instabilities, and while this is more hawkish than the expected 25 basis-point, the dropping of its forward guidance has been significant in signalling that more measured rate hikes should follow. ECB staff projections have also been promising. Inflation is expected to fall at a faster pace, coming in at 5.3% in 2023, 2.9% in 2024 and 2.1% in 2025. Coupled with recent cracks in the banking space, market expectations have shifted to a less hawkish end, with pricing for at most two more 25 basis-points before the end of the rate hike cycle.
Having broken above a near-term double-bottom at the start of this week, the less hawkish takeaway from the ECB meeting has triggered a huge reversal to retest the 1.052 support. Subsequent moves will have to take its cue from the US dollar, which is struggling to overcome its 105.00 level and helps to support the pair. That said, in the event the 1.052 level failed to hold for the EUR/USD, it could pave the way to retest the 1.037 level next.
Source: IG charts
Thursday: DJIA +1.17%; S&P 500 +1.76%; Nasdaq +2.48%, DAX +1.57%, FTSE +0.89%