Further moderation in US inflation points to some relief: US dollar, USD/JPY, GBP/USD
---
Continued moderation in US inflation provided further conviction for a pause in the hiking cycle ahead, but some pricing persistence will likely leave the debate to be more on rate cuts moving forward.
Source: IG charts
Market Recap
Continued moderation in US inflation provided further conviction that the Federal Reserve (Fed) will be heading for a potential rate pause ahead, only for initial optimism to be dampened by headlines of a UAE investment firm being short positioned in billions of dollars in US stocks. Nevertheless, major US indices managed to recover by the close, with a V-shaped recovery presented mid-day suggesting that the bulls are still in control. The VIX is down 7% as well, with the rejection above the 20 level last week leaning towards a risk-on state.
Both US headline and core inflation came in as expected at 0.4% month-on-month, which may still reflect some pricing persistence for now, but that will likely leave the debate to be more on rate cuts moving forward. The bright spot is that services excluding housing inflation, which is a key inflation metric highlighted by Fed Chair Jerome Powell last December, have been reacting to tighter policies with a sharp moderation in April (5.2% versus 6% previous).
With that, the US Dollar (-0.2%) struggled to find a catalyst to move higher. The two-year Treasury yields heads back below the 4% level, while the ten-year fell 10 basis-points, allowing the rate-sensitive Nasdaq to pull ahead from the rest. Unresolved banking jitters continue to keep a lid on the financial sector (XLF -0.6%), putting a cap on the DJIA's upside.
The US dollar has been consolidating above its key 100.50 level of support over the past month but a moment of reckoning could be presented ahead as it edges closer towards a downward trendline resistance. That could prompt the dollar for a clearer direction ahead, with any break below the 100.50 level potentially paving the way towards the 99.00 level next.
Source: IG charts
Asia Open
Asian stocks look set for a mixed open, with Nikkei -0.23%, ASX -0.07% and KOSPI +0.56% at the time of writing. Chinese equities have been struggling to move higher lately, with the Nasdaq Golden Dragon China Index diverging from their US counterparts with a 2.2% close in the red overnight. China's recovery story has been challenged by recent economic data, with the China's economic surprise index heading lower since the start of the month, which points towards a lesser extent of outperformance.
China's inflation rate will be in focus today, with expectations for consumer prices to remain subdued at 0.4% year-on-year (versus previous 0.7%), which could point to still-downbeat demand conditions. Nevertheless, subdued growth in prices may also likely translate to more room for monetary policy easing from Chinese authorities to support growth. Producer prices are expected to contract further by 3.2%, from previous -2.5%.
For the USD/JPY, it continues to trade within an ascending triangle pattern, but recent rejection off the 137.60 level suggests that its 200-day moving average (MA) will be a key resistance to overcome. A bearish crossover was also presented on moving average convergence/divergence (MACD). The 133.20 level could be on watch for a retest next, with any failure to hold potentially paving the way towards the 130.80 level next.
Source: IG charts
On the watchlist: GBP/USD retesting one-year high ahead of Bank of England (BoE) meeting
Ahead of the BoE meeting, the GBP/USD is back to retest its one-year high at the 1.267 level, awaiting a fresh catalyst for a potential break. The BoE is expected to deliver its 12th straight interest rate hike at the upcoming meeting, with persistent price momentum leading market expectations to price for at least two more 25 basis-point hikes over subsequent meetings and rate cuts only in 2024.
Validation will therefore be sought from the central bank's guidance, with any hawkish hike on watch to drive GBP/USD higher. The UK economic surprise index at its highest level since 2021 may allow some conviction for the central bank to move ahead with further rate increases if needed. This also comes at a time when the US dollar has been struggling with the lack of any upside surprise in US inflation.
The upward trend for the pair remains intact on higher highs and higher lows. On the downside, the 1.244 level may serve as potential support, where a confluence of support resides.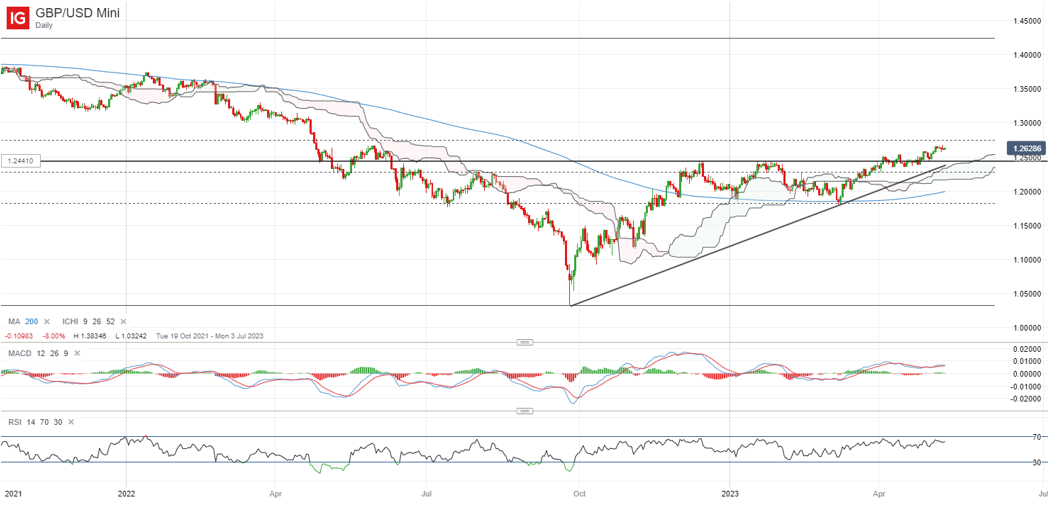 Source: IG charts
Wednesday: DJIA -0.09%; S&P 500 +0.45%; Nasdaq +1.04%, DAX -0.37%, FTSE -0.29%