What are the best Australian shares to watch in 2021?
---
Many investors are likely wondering about which ASX shares to watch in 2021. We've broken down some of the key themes and gathered analyst insights – plus we explain how you can trade these stocks.
ASX shares in 2021: Key themes to watch
Many of the key themes and trends of 2020 have persisted into the new year. These themes will likely continue to impact markets and individual companies, informing the ASX stocks that will be watched and potential heavily traded by investors in the year ahead.
Here's four key themes traders and investors should watch out for in 2021:


For the links please Click here
Australian shares to buy in 2021: our analyst's picks
We asked our market analysts for their top picks for 2021. Take a look at what they said below, from both a fundamental and technical (TA) perspective.
Where this article refers to the best Australian shares, these are stocks picked by our analysts by virtue of market cap, dividends, share price performance and other factors. Note that we do not give personal advice and the information does not have regard to specific investment objectives, financial situation or needs.
Remember, the best stocks for you will always be ones underpinned by your own thorough analysis of both the company and the market.
Zip | Ticker:
 

Z1P

 

| Buy now pay later
Zip

 

is potentially well positioned to benefit from the structural shift away from credit cards, as well as growing consumer engagement with buy now pay later as an emerging payment category.
Continued strength in US market could see Zip's stock positively re-rate. Currently the stock trades at significant price-to-sales discount to Afterpay (~13x to ~44.5x), despite exhibiting strong growth momentum in the US BNPL market.
Solid pattern of top-line (volume and revenue growth) growth. Group Q3 revenue +80% YoY, Q3 transaction volume up 110% YoY to $1.6 bn. US growth even better: Q3 Transaction volumes up 234% YoY and Q3 revenue up 188% YoY.
Further geographic expansion (most recently EU and UAE) potentially opens up new growth opportunities.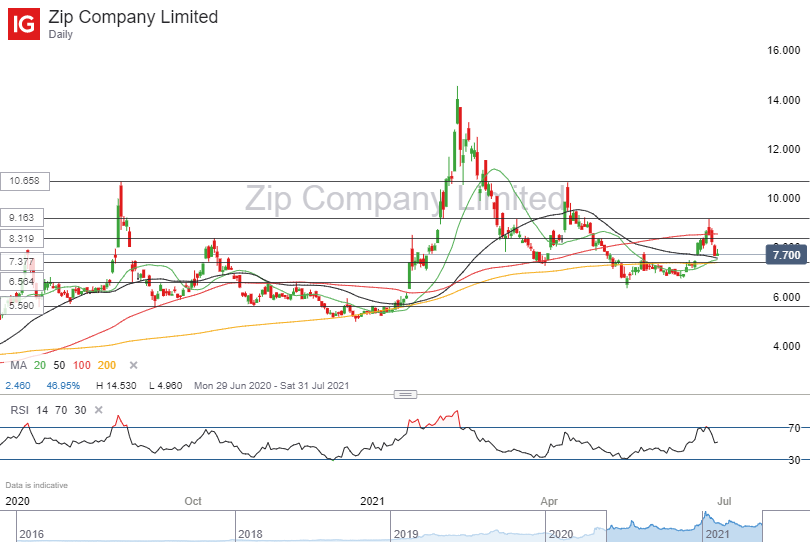 Source: IG
Price looks to be consolidating at several key MAs, with the primary trend still skewed to the upside.
Technical support sits at approximately -$7.40, which if broken would open up further downside to around $6.55, and threaten the prevailing trend
The major resistance levels sit at approximately $8.30, $9.15 and $10.65
Coles | Ticker:
 

COL

 

| Retail
Potentially well positioned to capitalise on shifting consumer trends, via Ocado and Witron automation projects. B2C e-comm growth at 57% in Q3 YoY, exhibiting only slight deceleration from the 1H FY21.
Disciplined management team may be deemed a plus, with the Coles Smarter Selling program on track to hit $550 million in savings by the close of FY21.
Recent share price weakness could represent a LT buying opportunity. Stock 8.6% off its 6-month highs.
Potentially attractive for income-focused investors, with the Coles Board aiming to achieve a payout ratio 80-90%. Most recent interim dividend of 33 CPS, up 10% YoY. The stock's yield hovers over 3.5%.
Source: IG
Price momentum has picked-up for the stock and has reverted to the 200-day MA, which has proven to be a level of price resistance recently.
A break through the 200-day MA suggests the potential of another leg higher for the stock, with price support/resistance ~$17.70 the key level to watch.
A failure to break through the 200-day MA, a drop in the daily RSI back below 50, and break of support at $16.70 would negate the burgeoning reversal in trend.
Redbubble | Ticker:
 

RBL

 

| E-commerce
Trades at a substantial earnings discount to US-listed Etsy (~23.9x to ~56x), despite a strong and growing North American presence. North America makes up 69% of RBL's total gross transaction values and is growing at the fastest pace than any other region: +84% YoY growth in 1HFY21.
Despite being valued on earnings, top-line growth is strong: up 105% on a constant currency basis to $354m in 1HFY21. Positive consumer engagement trends, with ~40% of revenue driven by repeat customers.
Company benefits from a robust flywheel effect, reporting a solid increases in both artist sellers and customers. Selling artists on the platform hit 572k in 1H while customers hit 6.2m, up 76% YoY and 69% YoY, respectively.
May be well placed to benefit the structural, global shift from bricks and mortar to e-commerce. RBL's addressable market is pegged at US$300 billion.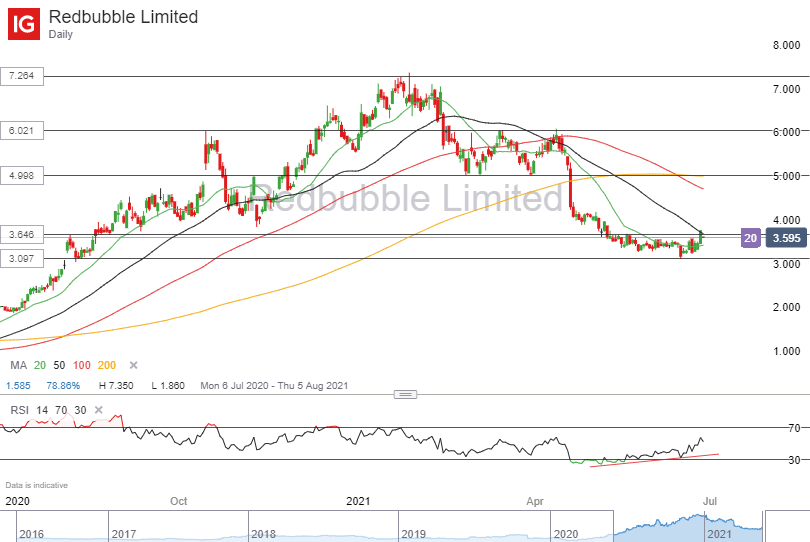 Source: IG
Price has broken to the topside after period of consolidation, with technicals still indicating the stock is in a primary downtrend.
The daily RSI has shown divergence from price, with the current reading above 50 suggesting momentum may be turning to the upside
Price has reverted to the 50-day moving average, which is posing technical resistance for the stock – a break above that level may open a move toward and above $4.00 per share.
How to buy the best ASX stocks
With IG's award winning trading platform, getting involved in the markets is a simple process.
Research & Learn: Decide which company you're interested in and/or learn more about trading with

 

IG Academy.
Choose to trade or invest:

 

Whether you're new to the markets or highly experienced, choosing to trade or invest with us is an important decision. Discover the differences between CFDs and Share Trading here.
Open an account

 

and place your first trade: Find out more about opening an account with us and placing your first trade here.
You'll pay from just $5 commissions on your Australian share trades, or 0.05% on all domestic shares if you've traded shares three or more times in the previous month.
Learn more about our fees here (as well as the key benefits of being an active trader with us).
Best ASX dividend stocks in 2021
Australian investors love dividends. It makes sense given that a significant portion of the market is made up of banks and miners, which have historically paid high dividends. In saying that, the pandemic changed things to some degree, and some of the stocks which dividend investors previously relied upon, became well, less reliable.
Even so, the ASX remains home to a number of 'high yield' dividend stocks. Below we take a deep dive into some of the highest yielding dividend stocks on the ASX:
Click here to see the full list of the top 10 ASX dividend stocks now.
Best ASX penny stocks in 2021
Despite being dominated by banks and miners, the ASX also boasts a number of interesting and innovative penny stocks (companies with market capitalisations below $1 billion), that traders and investors may want to keep an eye on in 2021.
Importantly, penny stocks are generally higher risk that blue-chip stocks: given that they often lack easy access capital, have negligible or no profits and have a short operational track record. Even so, the 'top' ASX-listed penny stocks, based on broker buy ratings, are:
Best ASX tech stocks in 2021
Australian tech stocks have risen to prominence in the last few years, with the likes of Wisetech, Altium, Afterpay, Appen and Xero charting a course towards global dominance in their respective fields. With that in mind, we look at the top AU tech stocks to watch in 2021, based on market capitalisation:
Best ASX BNPL (Buy Now Pay Later) stocks in 2021
An extension of the growth in tech stocks on the ASX, buy now pay later companies have flourished in Australia over the last few years, as the space attracts increasing levels of competition. Below we take a look at the top BNPL stocks listed in Australia, ranked in terms of market capitalisation:
Best ASX growth stocks in 2021
While often hard to categorise, one characteristic of a growth stock is strong top line growth – usually in the double and sometimes even, triple digits. With that in mind, the top ten ASX growth stocks to watch in 2021 include:
Best ASX mining & lithium stocks
Did you know that Australia actually has the largest deposits of hard rock lithium in the world? Even so, lithium stocks have proven volatile over the last few years, with lithium prices swing wildly between high and low points. Despite that volatility, here are the top companies with lithium exposure on the ASX, based on market capitalisation:
Best ASX oil stocks in 2021
How much longer can we rely on fossil fuels, such as oil? Is there a viable replacement for gold, which remains indispensable in a number of high profile technologies? Those long term questions, and more generalised uncertainty remain a key overhang in the commodities space. Oh, and the covid pandemic, which crippled oil supply and demand, didn't help matter.
All those issues aside, here are the top ASX oil stocks, based on market capitalisation:
Discover the rest of these tops stocks here, as part of our top oil stocks series.
Best Australian shares to watch in 2021 summed up
The themes and trends we have discussed today will likely continue to impact Australian and global markets in 2021 – both positively and negatively.
The performance of the red-hot BNPL sector, Covid-recovery stocks, Australia's big three miners and the dividend performance of the big banks – are all areas of the market worth watching in the coming year.
That's not all though, tracking the performance of AU dividend shares, ASX penny stocks, ASX tech stocks, as well as AU mining and lithium stocks, could yield some interesting results for active traders and investors.
To trade these sectors and the companies within them, you'll need a

 

Live IG Account. (Don't worry setting one up takes just a few short minutes.)
Share trading

 

lets you take direct ownership of the underlying shares, meaning you'll profit from any upward movements in a stock's share price.
The material above does not contain (and should not be construed as containing) personal financial or investment advice or other recommendations, or an offer of, or solicitation for, a transaction in any financial instrument. No representation or warranty is given as to the accuracy or completeness of the above information. Consequently any person acting on it does so entirely at his or her own risk. The information does not have regard to the specific investment objectives, financial situation and needs of any specific person who may receive it. IG accepts no responsibility for any use that may be made of these comments and for any consequences that result.

Shane Walton | Financial Writer, Australia
06 July 2021