Alphabet outlook solid ahead of upcoming earnings
---
Alphabet has made huge gains over the past year, and has found a new lease on life as money flows back into growth names. But will earnings meet already-high expectations?
Source: Bloomberg
When does Alphabet report earnings?
Alphabet publishes its most recent earnings on 27 July.
Alphabet earnings – what to expect
Revenue is expected to rise 46% to $56 billion, while earnings per share (EPS) are forecast to rise 90% to $19.26.
Advertising revenue continues to be the main slab of revenue for Apple, allowing it to fund loss-making expansion in areas such as cloud-computing, in which it competes with Amazon and Microsoft. For Alphabet, regulatory scrutiny continues to loom large, and will continue to be a major headache in coming quarters. But while fines may keep coming, they still amount to a drop in the ocean in terms of Alphabet's revenue, and if not accompanied with real regulatory action, will represent only a passing trouble in the longer term, an excuse for regular selloffs but not a fundamental change in direction.
Alphabet – valuation and broker ratings
Like others in the growth/tech space, Alphabet continues to trade on a relatively high price-to-earnings (P/E) ratio, at 32.11, with no dividend yield at present. Brokers rate Alphabet highly, with 16 'strong buys' and 28 'buys', and just two 'hold' recommendations.
Alphabet share price
Alphabet seems unstoppable, having enjoyed a tremendous rally since September. Dips have been bought repeatedly, and since May a steady and quiet rally has provided very little chance for dip buyers to get involved. The price sits close to a new record high, having bounced in early May from the 50-day simple moving average (SMA), currently $2470. It is unlikely that this quiet rally will go on forever, so some caution might be warranted now, but with a clear eye on the steady trend.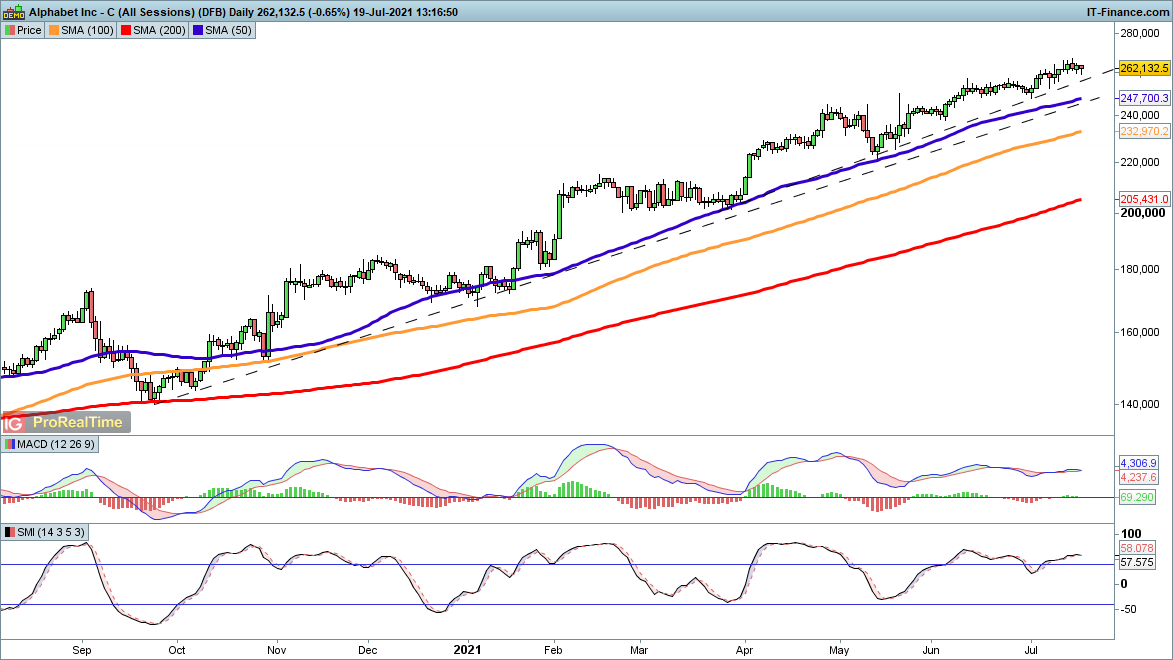 Source: ProRealTime
Alphabet strides ahead
Fundamentals and technicals continue to back Alphabet, with the ad business powering expansion elsewhere. Growth stocks are still in high demand, and the recent inflow back into tech stocks since May seems to suggest a return to growth stocks after the 'value' mania of the early part of 2021.