What's the outlook for UK bank share prices ahead of first-half earnings?
---
UK banks have seen their uptrends stall, with some caution regarding the outlook for the UK reflected in declines for Lloyds' and Barclays' share prices.
Source: Bloomberg
What's the outlook for UK banks?
The UK economic recovery appears to have slowed, and this is worrying news for UK bank stocks. Barclays, NatWest and Lloyds are all highly dependent on the British economy and consumer/business spending. A slowdown here would be reflected in earnings and would pose a risk to the ongoing rally in bank stocks that has held up fairly well since October last year.
UK banks have been bolstered by news that the Bank of England (BoE) has removed the rules around dividends and buybacks, but their shares have yet to respond in a positive fashion. Indeed, the sector has seen a pullback since its peak in early June, although the overall uptrend is still intact. Paradoxically, this may be a good thing as we prepare for first-half earnings from UK-listed banks, since it indicates that expectations around performance have been trimmed, allowing for the possibility that earnings will be well-received.
UK banks share price – technical analysis
Barclays share price
The Barclays share price peaked for the time being in April around 190p, and since then a steady decline has taken place.
However, the price appears to have found support around 160p, heading towards the 200-day simple moving average (SMA) at 156p and edging higher. The key now is a break above short-term trendline resistance from late June, which would suggest a rally above 170p, in order to establish a more bullish view.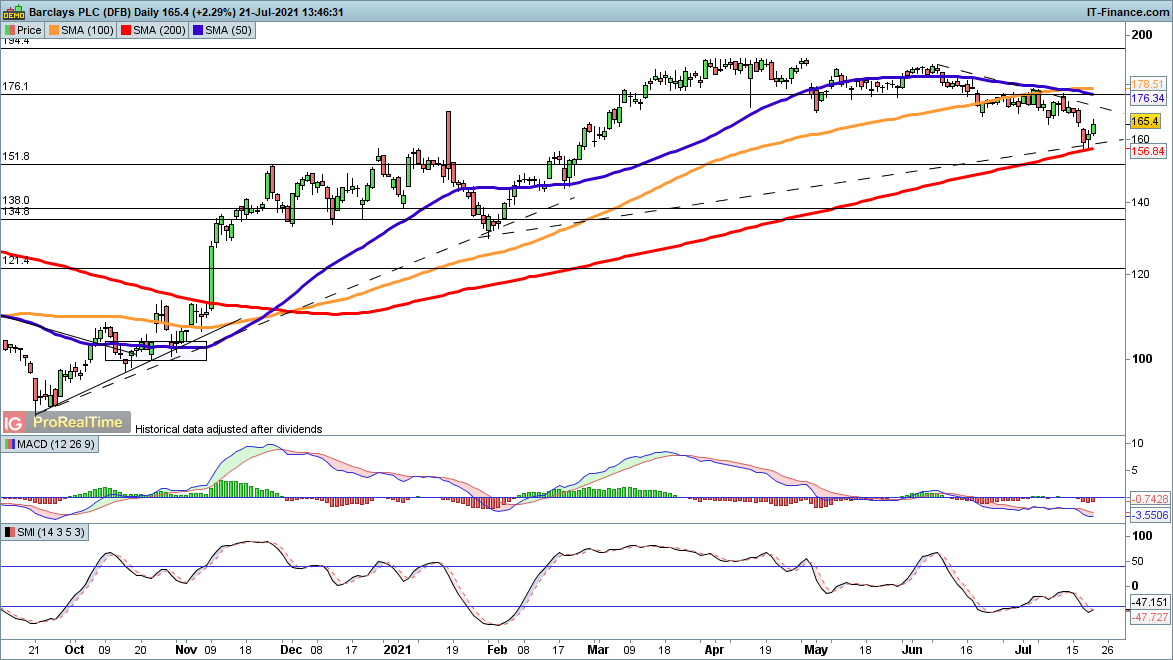 Source: ProRealTime
Lloyds share price
Lloyds' overall uptrend remains intact despite some weakness since the beginning of June.
The shares remain in a descending channel from the June high, with a move above 46.8p required to signal a breakout is in progress. This would also signal that the bounce from 43.3p has created a higher low, helping to revive the uptrend and negating the negative view created by the drop below the 100-day SMA (44.9p).
Source: ProRealTime
NatWest share price
For NatWest, the uptrend has paused, with gains stalling around 210p since the beginning of June.
Dips into the 190p zone have found support, so another bounce towards 210p seems likely, with a more long-term bullish view requiring a push above (and daily close above) 210p.
Source: ProRealTime