3 Stocks To Watch In The Coming Week: Tesla, Apple, Microsoft
---
With some of the largest U.S. companies reporting their quarterly earnings in the upcoming week, investor focus will likely be squarely on corporate America and the financial health of its most high profile corporations. 
During the five-day period ahead, about a third of S&P 500 companies are scheduled to release their most recent numbers along with their outlook forecasts for the remainder of this year, including such tech giants as Facebook (NASDAQ:FB) and Amazon (NASDAQ:AMZN) and industrial names, such as Boeing (NYSE:BA) and Caterpillar (NYSE:CAT).
About 87% of S&P 500 companies that reported results so far this season have beaten Wall Street estimates, according to data compiled by Bloomberg, with investors betting a robust economic recovery will continue fueling corporate America—notwithstanding the threat of higher inflation. 
During this crucial week for the Q2 earnings season, we will be focusing on three key tech mega caps whose earnings could help clarify whether they are still benefiting from the pandemic-driven demand surge that pushed their shares to record high prices in recent months:
1. Tesla
Electric vehicle maker Tesla (NASDAQ:TSLA) will report its second quarter earnings on Monday, July 26 after the market close. Analysts are expecting $0.94 a share profit on sales of $11.53 billion.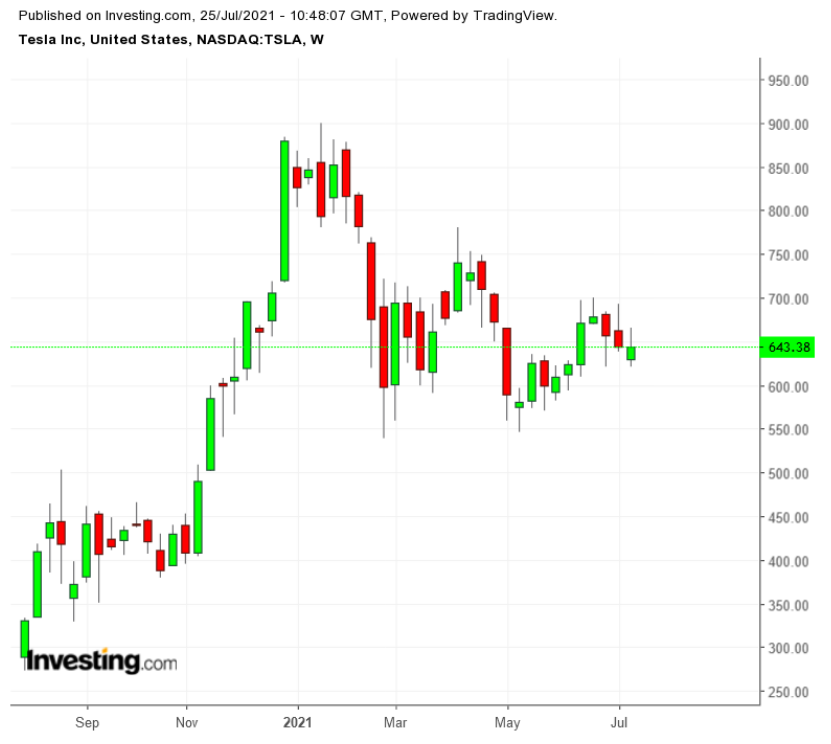 With its shares still in a bearish cycle thus far this year, the Palo Alto, California-based EV manufacturer is facing escalating competitive threats from traditional automakers, signs of a potential sales slowdown in China, and an ongoing semiconductor shortage. TSLA shares closed on Friday at $643.38, down about 8% for the year.
The short-term outlook for Tesla has brightened after the company reported last month that it produced more cars in Q2 than analysts expected. That shows the company has been succeeding at overcoming supply-chain issues which are hurting traditional automakers.
The company's sales forecast for the remainder of 2021, and the demand situation in China, will be important details that investors will be keen to be updated on. 
2. Apple
Apple (NASDAQ:AAPL), the maker of the popular and iconic iPhone, as well as computers and smart wearables, is scheduled to report its fiscal 2021, Q3 earnings on Tuesday, July 27 after the market close. Analysts, on average, project the company will post $1.01 a share profit on sales of $73.3 billion.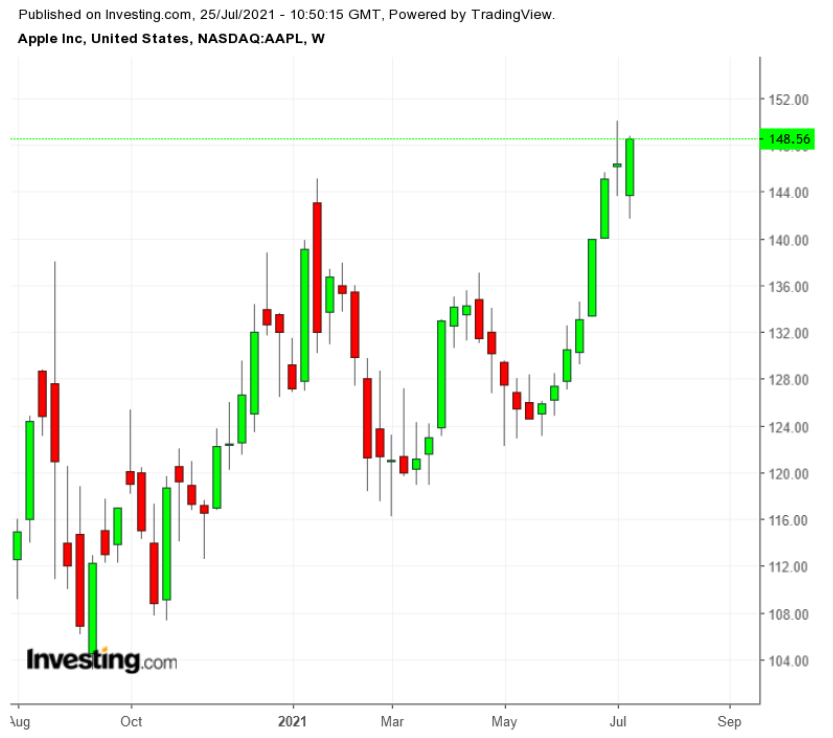 Shares of Apple have continued to move higher this year after the stock produced a stellar performance in 2020. Strong signs that the sales of its flagship iPhone will remain strong this year are helping propel AAPL higher in 2021. During its fiscal second quarter, iPhone sales surged 66%. It was the first full period for the company's model 12 which supports 5G technology.
Apple also rolled out new MacBook Pros, a Mac mini, MacBook Airs, new AirPods, new iPads, and updated Apple Watches this year to take advantage of the work-from-home environment which is boosting consumers' technology needs.
The stock gained more than 11% this year, following an 80% jump higher in 2020.  AAPL closed on Friday at $148.56.
3. Microsoft 
Another high-profile mega cap technology company, Microsoft (NASDAQ:MSFT), also reports its fiscal 2021 Q4 earnings after the market close on Tuesday. The software and cloud computing behemoth is expected to post EPS of $1.91 on sales of $44.13 billion, according to consensus forecasts.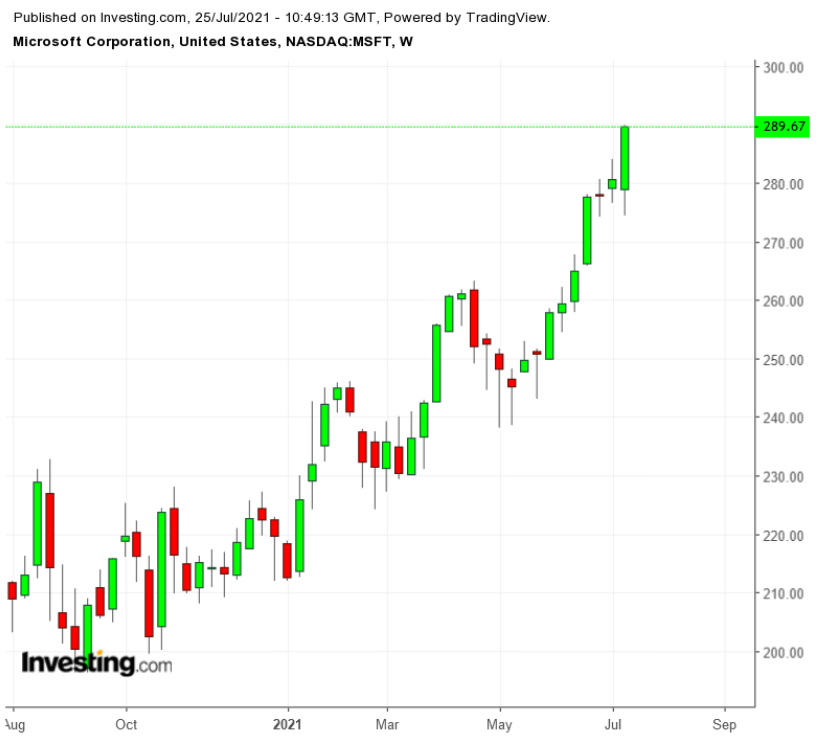 If the past provides any clues, Microsoft should show robust momentum fueled by a surge in technology investments and the strength of its cloud computing and core Office products lineup. The Redmond, Washington-based software and infrastructure company is benefiting from the increased demand for connectivity as people continue to work and interact socially from home.
As well, investors expect businesses and governments will continue to spend on their transition to cloud computing—which has been a key area of expansion for the corporation in recent years. 
Growth in that division jumped 50% in Q3 as corporate clients accelerated a shift to the cloud during the pandemic, where they can store data and run applications via the internet. MSFT shares closed on Friday at $289.67, after surging 30% this year.
By Investing.com (Haris Anwar/Investing.com) 25th July 2021.