Rolls Royce shares: what to expect from half year results?
---
As Rolls-Royce gets set to report H1 results, investors will be hoping that the worst is in the past after a torrid 2020 which led to a full-year loss of almost £4 billion. IG's Victoria Scholar looks at the chart.
Source: Bloomberg
Rolls-Royce set to report H1 - where next for the shares?
Rolls-Royce gets set to report 2021 half year (H1) results on Thursday 5 August. In March the aircraft-engine maker announced a full-year (FY) loss of almost £4 billion, swinging from a profit of £583 million in the previous year. Investors will be hoping that the worst is behind Rolls-Royce, which suffered a sharp drop in revenues during the Covid-19 pandemic.
Rolls-Royce undertook a massive restructuring plan, cutting 9000 jobs and raising cash from investors through a rights issue and extra borrowing. It also sold off parts of the business worth £2 billion.
According to UBS, it will 'likely be another difficult set of results'. Earnings before interest and tax (EBIT) are forecast to come in at a loss of £129 million, that's a major improvement from last years £1.67 billion loss but remains in the red.
Despite this, analysts at Citi are still optimistic on Rolls-Royce. In July the analyst team wrote the shares offer 'significant long-term value', providing a buy rating on the stock. Citi added, 'We do not know when the wide body market will recover, but we do believe it will. When it does, we expect Rolls-Royce to recover faster (as it has more new deliveries adding to the fleet and fewer old aircraft being retired).'
Find out more on how to buy, sell and short Rolls Royce shares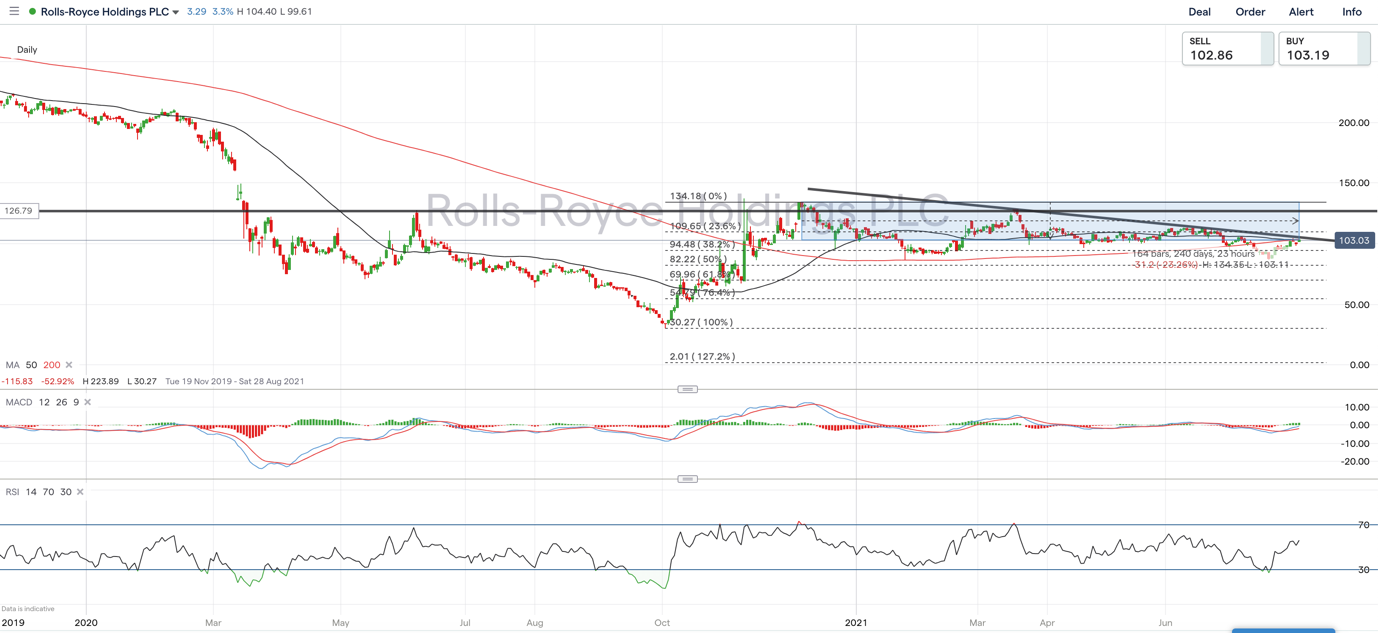 Source: IG charts
Rolls Royce share price technical analysis
After a multi-year period of declines for Rolls-Royce, October marked the start of a countermove with shares rallying more than 340% from the trough to the peak in December. However, since then, losses have come back into play with a descending trendline marked by lower lows and lower highs. Shares have given back nearly 25% since the 2020 highs, breaking below psychological round number support at 100p.
Since mid-July the stock has been attempting to regain ground once again pushing back above 100p with the next resistance level in sight at the 23.6% Fibonacci retracement level at 109.65p. A break above would penetrate the descending trendline of resistance and might point to the potential for further strength. On the flip side, a break back below 100p might indicate a resumption of the long-term downtrend.

 Victoria Scholar | Writer, London
03 August 2021