Moderna share price: H1 2021 earnings preview
---
Moderna's Q2 results are expected to show that sales of its Covid-19 vaccine have more than doubled from the first quarter to boost revenue.
Source: Bloomberg
When is Moderna earnings date?
Moderna, the messenger ribonucleic acid (mRNA) medicines based company, is expected to release quarter two (Q2) of 2021 results on 5 August 2021. The scheduled results will cover the groups second quarter and half-year earnings (H1).
Moderna results preview: what does the Street expect?
Moderna is expecting a strong first quarter (Q1) to be followed up with an even stronger Q2, boosted by commercial sales of its Covid-19 vaccine. 2021's Q1 saw $1.7 billion in revenue from the three month period as 102 million doses of the Covid-19 vaccine were sold. Moderna in its last results update forecast 200 to 250 million doses to be sold in 2021's Q1. As of the last quarter the group had already signed Advanced Purchase Agreements (APAs) for product sales amounting to $19.2 billion for the full year.
Consensus estimates as sourced from Refinitiv arrive at the following in terms of the groups upcoming results:
Revenue for H1 of 2021 of $21.779 million is expected (+74% year on year)
Earnings per share (EPS)

 

of $4.25 for H1 of 2021 expected (vs $2.01 in H1 2020)
How to trade the Moderna results
A Refinitiv poll of 18 analysts maintain a long-term average rating of 'hold' for Moderna (as of 2 August 2021), with two of these analysts recommending a strong buy, seven recommending a buy, six hold and three sell recommendations on the stock.

Source: Refinitiv Data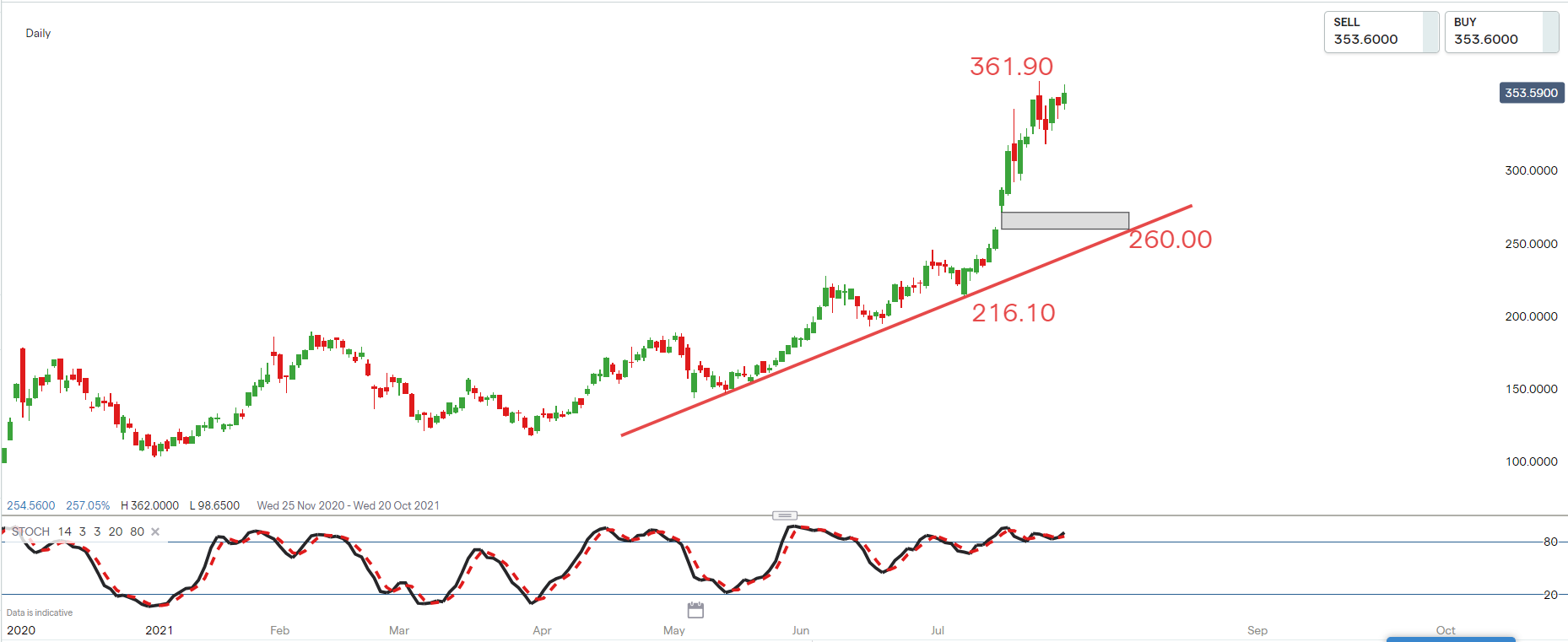 Source: IG charts
The share price of Moderna entered into a strong upward trend at the beginning of May 2021. The aggressive move higher has however moved the share price firmly into overbought territory.
Traders respecting the uptrend will look to keep a long bias to trades, although recognize that the overbought signal suggests that they may be afforded long entry at a better price.
Our preference is look for entry into a pullback towards a confluence of both trendline and gap support around the 260.00 level. Only on a move below the major low at 216.20, would we reassess the uptrend bias currently prevalent.
Summary
Moderna results are scheduled for release on 5 August 2021
Revenue for H1 2021 of $21.779 million is expected (+74% year on year)
EPS of $4.25 for H1 of 2021 are expected (vs $2.01 in H1 2020)
The long-term price target (mean) for Moderna is $205.07
The long-term trend for Moderna remains up, although the share price is overbought in the near term
Shaun Murison | Senior Market Analyst, Johannesburg 
03 August 2021