NIO share price rising ahead of Q2 earnings
---
NIO's share price has risen by close to 7% over the past week, ahead of its upcoming Q2 results next week. Can its Q2 results exceed expectations?
Source: Bloomberg
When does NIO report earnings?
NIO Limited is set to release its Q2 financial results on 11 August, after market closes.
NIO earnings – What to expect
Current expectations are for NIO's upcoming Q2 revenue to come in at RMB 8.3 billion, a 123% increase year-on-year and a 4% increase quarter-on-quarter. Net loss per ADS is also expected to shrink to RMB 0.50 from RMB 3.14 in the previous quarter.
NIO's vehicle deliveries have been increasing at 96.3% CAGR over the past two years with tailwind from China's ongoing shift towards clean mobility. With the launch of its new model EC6 in September 2020, demand for its previous models (ES6 and ES8) remain resilient and continue to grow, signalling some broad-based strength in its line of products.
Source: NIO
In its NIO day event early this year, the company has revealed its first autonomous driving model, NIO ET7. While any positive impact may only be reflected in Q1 2022, it remains a growth catalyst to underpin longer-term growth and to cope with competition in the EV space. That said, any delay in the timeline for launch may be a risk for share price near-term, considering that tight supply constraints may potentially result in production bottleneck.
The risk of a global chip shortage may still be present, with a decline in deliveries in July from previous month. While its overall vehicle deliveries in the second quarter still mark a slight 9% increase from the previous quarter, it is relatively lower compared to its growth over the past one year. Recent car deliveries for July also marks the first time in which its competitors, XPeng Inc and Li Auto, overtook its deliveries number.
With that in mind, markets will be looking out for its guidance ahead and expectations are for some slight turnaround in the supply constraints situation into 2H 2021. The absence of an optimistic outlook for the shortage situation may be a risk for share price, especially in the highly competitive EV space and its competitors are breathing down its neck. The August's delivery numbers will be closely watched to see if NIO can reclaim its leadership position among the trio.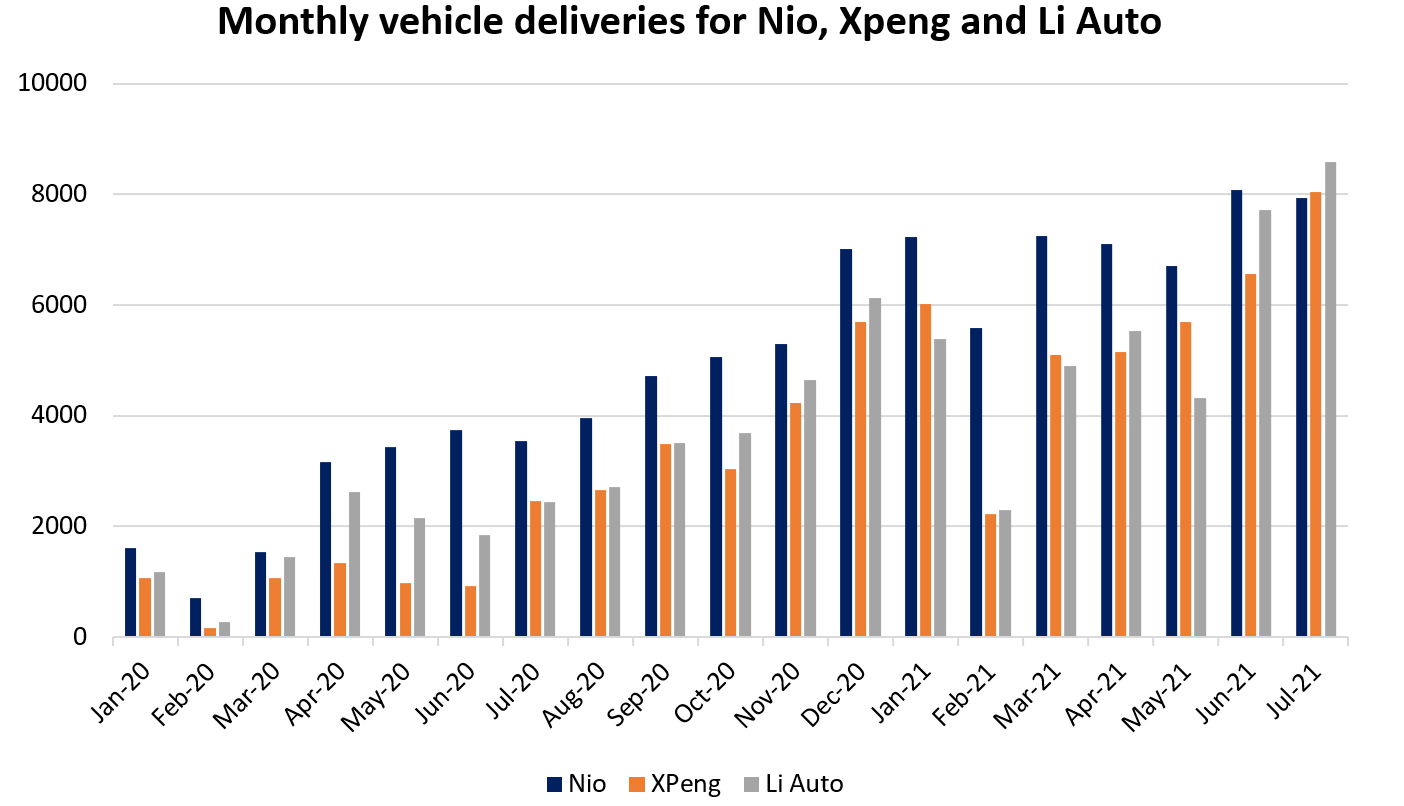 Source: NIO, Xpeng, Li Auto
Other developments on watch include its overseas expansion plans into Norway, with its first overseas 'NIO House' outside China to officially open in the third quarter. Its recent filing for secondary listing in Hong Kong has also been delayed and the management may have to address these questions next week.
Currently, the stock has 23 'buy' recommendations, five 'holds' and one 'sells'. The Bloomberg 12-month consensus target price of US$64.73 suggests a potential 43.6% upside from the price at the time of writing.
NIO shares – technical analysis
From its technicals, a retracement from its four-month peak in July marks a near-term downtrend with a series of lower price highs and lower lows. Recent price action is seeking to overcome the near-term weakness, with the US$47.50 level potentially serving as resistance to overcome. Near-term support may be at US$38.50, where prices were supported on previous three occasions.
Source: IG Charts