JD.com share price: Q2 earnings preview
---
With JD.com's share price having fallen by close to 25% year-to-date, can its upcoming Q2 results lift sentiments?
Source: Bloomberg
When does JD.com report earnings?
JD.com (NASDAQ: JD) is set to release its Q2 financial results on 23 August, before market opens.
JD.com earnings – What to expect
The ongoing uncertainty surrounding Chinese equities continues to be the increased regulatory risks, with the e-commerce industry also being in the crosshair for tougher regulatory measures. Since December last year, there have been numerous antitrust fines of around CNY 1.3 million imposed on JD.com. While JD.com's operating income suggests some resilience in weathering these financial penalties, the greater concern lies in longer-lasting reforms which directly put a cap on profitability. This includes the potential barring of data usage or algorithms to hijack traffic and influence user choice, along with the clampdown on fake reviews.
For its upcoming results, JD.com may still deliver based on the stellar 618 shopping event in June, where JD saw a 33.6% increase in transaction volume from a year ago. That said, a look at China's retail sales over the past months suggests a slowdown in consumer spending over the past months as ongoing floods and rising Covid-19 cases put a dent on consumer confidence. With that, markets may potentially put less focus on the upcoming results and turn their attention to the uneven economic outlook ahead along with the regulatory risks involved. This can be seen in Alibaba Group Holding Ltd (All Sessions) and Tencent's earnings releases, which saw weakness in share price despite earnings outperformance.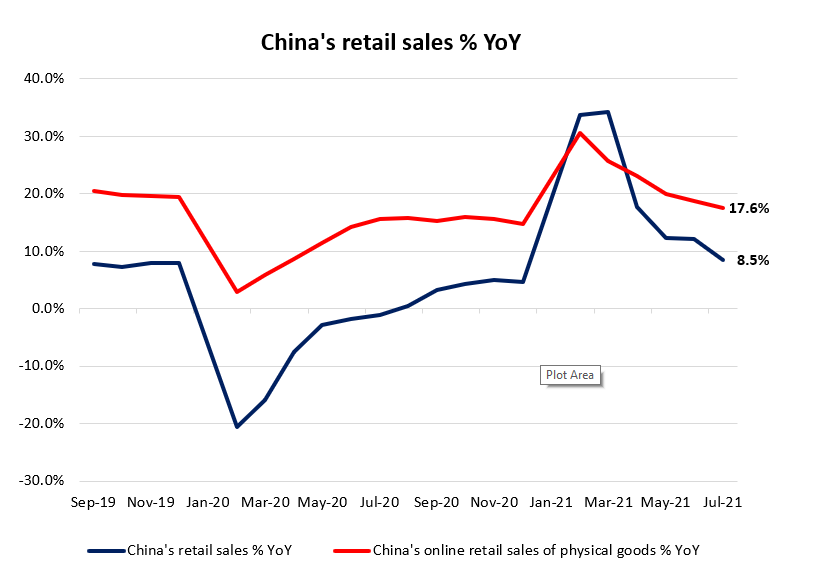 Source: National Bureau of Statistics of China
JD.com shares – Valuation
JD.com's forward P/E currently stands at 37.8, commanding a significant premium over the consumer cyclicals sector median of 14.7 and the diversified retail industry of 17.3. Its current valuation may have factored in the increased regulatory risks to some extent, considering that its projected earnings per share has been revised sharply lower since May this year.
Since July this year, there have been 29 'buy' recommendations issued, no 'hold' and one 'sell'. The average target price from these recent recommendations came in at US$111.33, suggesting a 73% upside from the time of writing.
JD.com shares – Technical analysis
JD.com's share price continues to trade in a near-term downtrend with a series of lower highs and lower lows since February this year. That said, the MACD is currently displaying higher lows, potentially suggesting that downside momentum for share prices may be weakening. This may increase the chances of a short-term rebound. Near-term support may potentially be at US$61.70, where prices were supported on previous two occasions, in coincidence with the Fibonacci 61.8% retracement level. Resistance may be found at the US$70.60 level, where a recent period of consolidation around this level was met with a bearish gap down.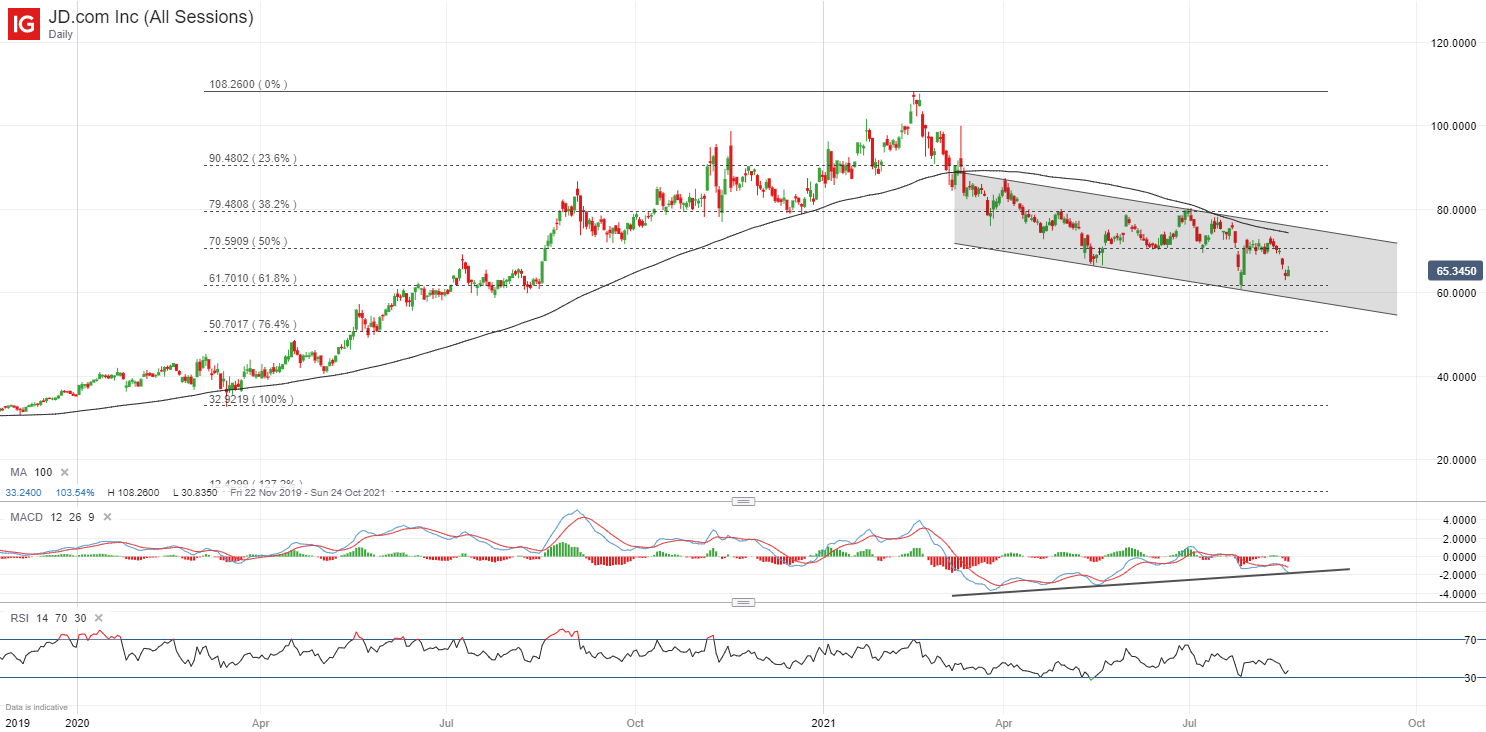 Source: IG Charts