Chinas A50 and Hang Seng Indices forming bullish price reversals
---
In this article we take a technical analysis view of how events are currently shaping movements in major Asian indices, the Hang Seng and China A50.
Source: Bloomberg
A Chinese regulatory clampdown across multiple sectors, ongoing trade disputes, energy shortages and fears of contagion into the financial system from a heavily indebted Evergrande, have been among the factors weighing on Asian markets, the Hang Seng Index and China A50, as of late. However from a charting standpoint we are starting to see some signs of a bullish trend reversal, at least in the very near term.
The Hang Seng Index (Hong Kong 50)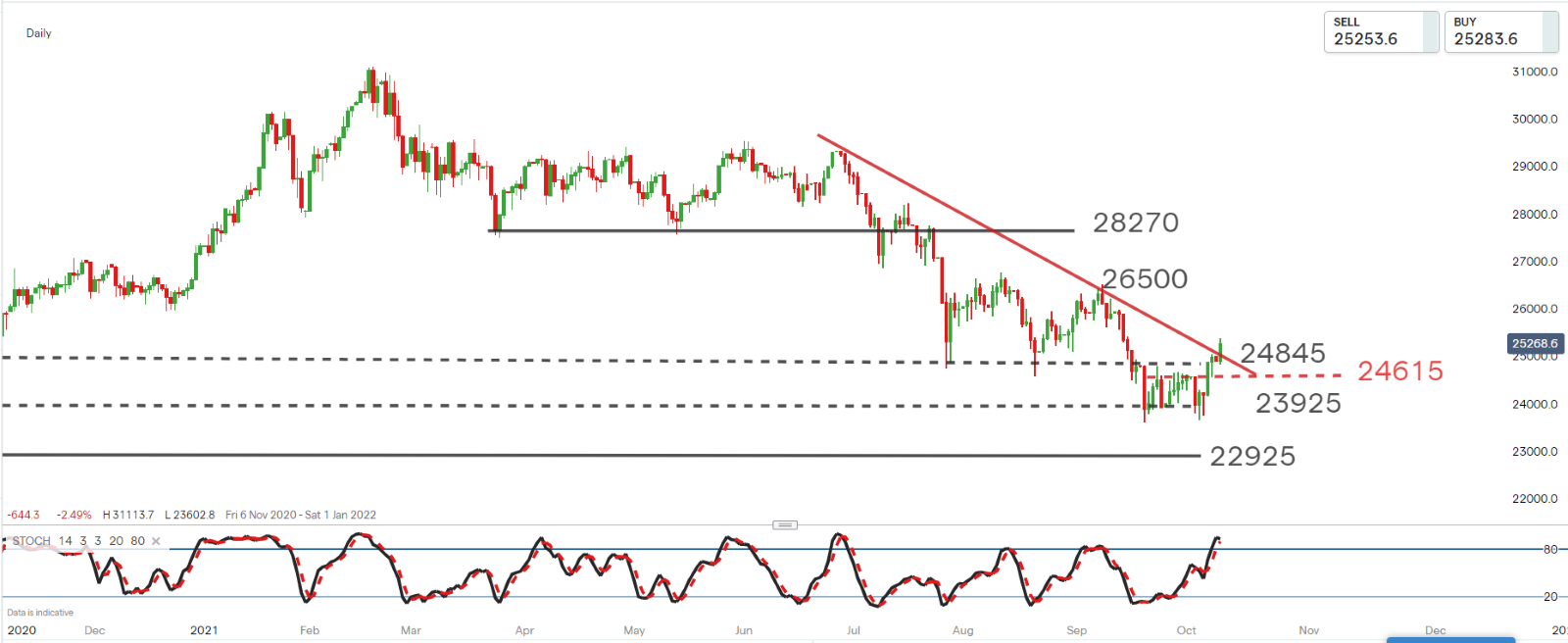 Source: IG Charts
The Hang Seng Index is currently breaking above the downward trend line which has been in place since July this year. The move higher follows a short term consolidation between levels 23925 and 24845.
The upside breakout suggests a short term trend reversal from down to up. 26500 becomes the initial upside target from the move. A close below the 24615 might suggest the short term reversal to have failed.
China A50
Source: IG Charts
The China A50 index also looks to be breaking above the long term downward trend line on the chart above after a more prolonged consolidation between levels 14560 (support) and 15680 ( resistance).
The upside breakout now sees 16795 as the next upside resistance target from the move. A close below the midpoint of the range at 15120 would instead suggest the failure of the short term bullish trend reversal.
In summary:
Power shortages, regulatory uncertainty, Evergrande and trade disputes have been negative catalysts for Asian financial markets
In the near term we are seeing signs of bullish trend reversals on the Hang Seng Index and Chinas A50 index
These indices are breaking up out of short term consolidations and above trend line resistance
16795 provides the next upside resistance target for the China A50 index, while a close below 15120 would suggest the bullish reversal to have failed
26500 provides the next upside resistance target for the Hang Seng Index, while a close below 24615 could suggest the bullish reversal to have failed