Palantir share price on hold ahead of Q3 earnings
---
Palantir's share price is up close to 7% year-to-date. Can its upcoming results lift sentiments?
Source: Bloomberg
When does Palantir report earnings?
Palantir is set to release its third quarter (Q3) financial results on 9 November 2021, before market opens.
Palantir earnings – What to expect
With government contracts accounting for 61.8% of Palantir's overall revenue, market participants are looking out for progress regarding some diversification of its businesses towards commercial contracts. As of quarter two (Q2) 2021, its government segment is still growing at a faster pace than commercial, with a 11.4% sequential growth versus 8.1% for the latter. This continues to highlight Palantir's dependence on government contracts to underpin its growth for the upcoming result. Any securing of commercial contracts may lift sentiments for share price, looking at previous instances with IBM and Fujitsu.
For growth ahead, the company has recently won a $823 million contract from the United States Army and a $90 million contract with the US Veterans Affairs, although it may not be reflected in these upcoming results. For its Q3 revenue guidance, the company expects revenue of $385 million, translating to a year-on-year growth of 33.0%, in line with its long-term revenue guidance of more than 30% over the next four years.
While revenue has been delivering consistent growth, increased marketing and research & development (R&D) spends are still weighing down on the timeline to achieve profitability. As the company continues to focus on building its brand and product development, losses are expected to remain.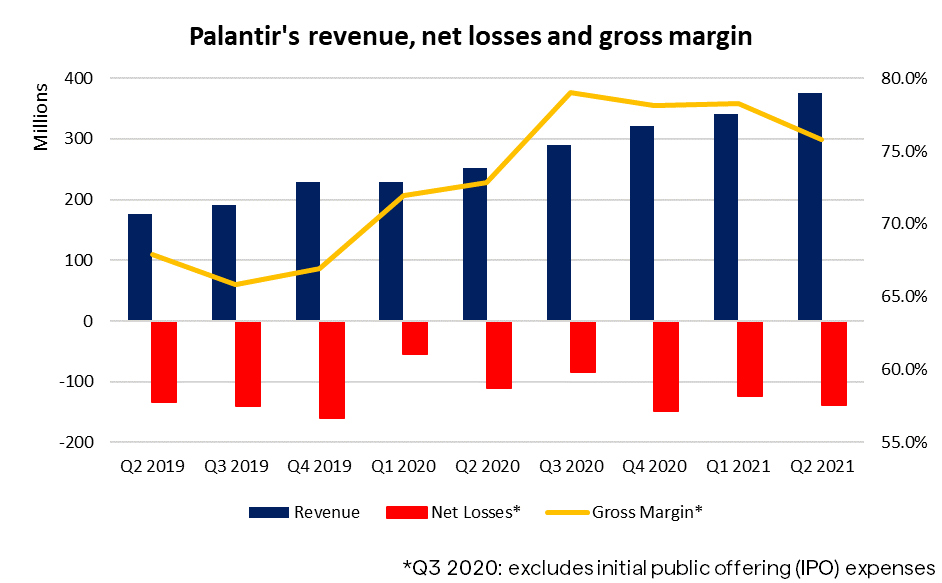 Source: Palantir
Valuation
In terms of valuation, Palantir's forward price-to-sales stands at 26.5, compared to the technology sector of 6.79. The pricier valuation may come as there is optimism over its future growth ahead, with its projected revenue growth of 33.0% being higher than the industry's growth of 17.2%.
At the time of writing, the stock has two 'buy' recommendations, three 'holds' and three 'sells'. The Bloomberg 12-month consensus target price of $24.83 comes near to its previous closing price of $25.06.
Palantir shares – technical analysis
From its technicals, Palantir's share price seems to be trading within an ascending triangle pattern, with a series of higher lows since May this year. That said, the flat-lined moving average convergence/divergence (MACD) suggests a largely ranging market and one may have to watch for a break above the $27.00 level to bring about further shift in momentum to the upside. That level has weighed on prices on previous two occasions, where the Fibonacci 50% retracement level lies. Near-term support may remain at the upward trendline, putting the $24.50 level on watch.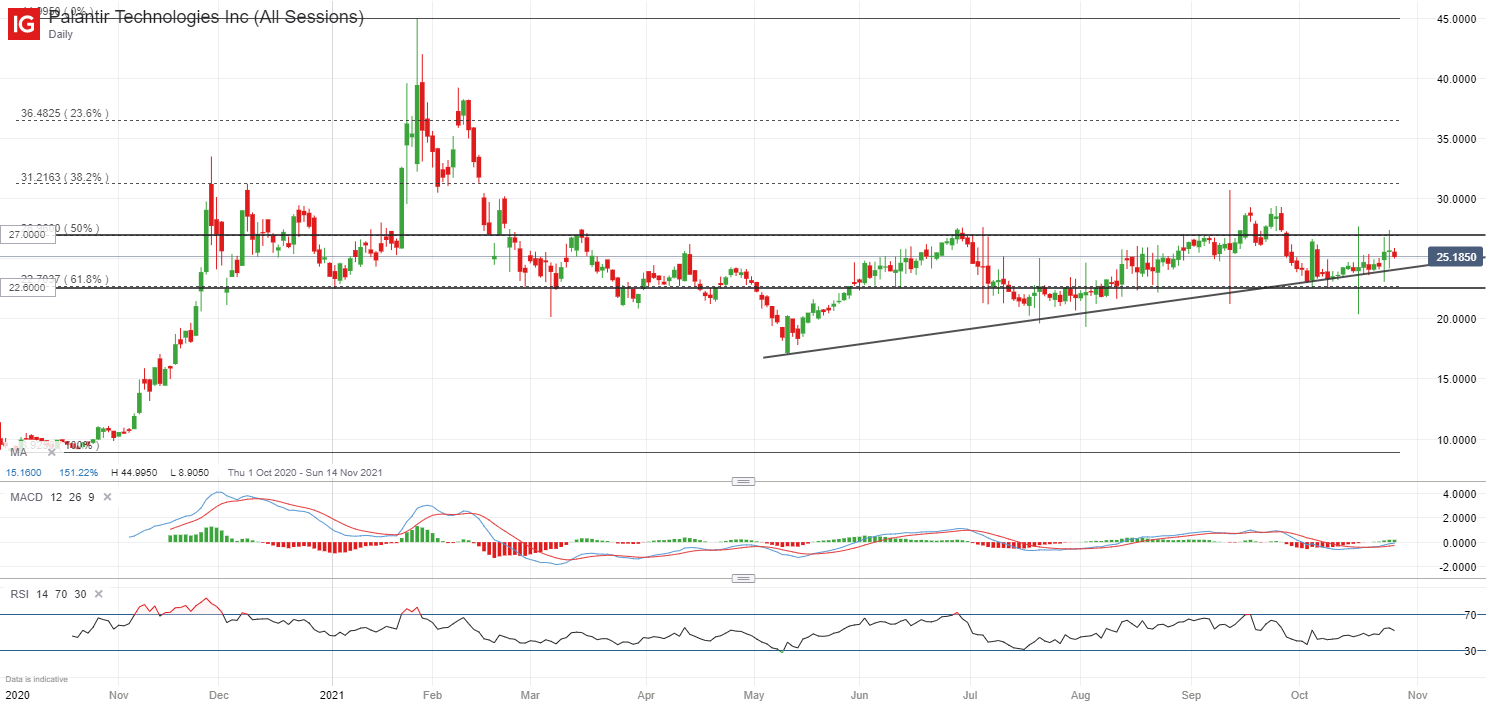 Source: IG Charts