Lockdown fears hit IAG shares
---
IAG has given up much of its post-lockdown share price gain, and with the prospect of tighter restrictions worrying investors the shares continue to struggle.
Source: Bloomberg
The news that Austria is re-implementing a lockdown, along with tighter restrictions in Germany and rising cases across Europe, has resulted in further losses for airlines, and IAG is one of those hard-hit.
The shares certainly fell into the 'reopening winner' category, rising an impressive 150% from the end of October 2020 until early March, when they hit a peak of 222p. This proved to be the high water mark for the year, and since then a sense of disappointment has crept in. 
It would not be the only stock in this category. The FTSE 100, and the global stock market generally, is full of companies that rallied too far, too fast into the first quarter (Q1) of 2021, and then have struggled to meet these heightened expectations. For IAG the situation in Europe and the (only-recently lifted) bans on travel to the US have been the major worry.
Rising oil costs and higher interest rates have not helped either; while the surge in oil did come from the extreme lows of a year ago, and prices have cooled in October and November, we are still a long way from a complete turnaround in this rally.
While central banks are still some way off from actually hiking rates, some front-running in the market has put pressure on companies with high debt levels, and IAG's €12.4 billion in net debt is one thing to watch.
IAG shares – technical analysis
Lower highs in October and November do not bode well for the share price, while a drop below rising trendline support from the September low added to the bearish view.
Investors will now be watching whether the price will go back to the key 135p support area, which provided a buying area in December 2020 and January 2021.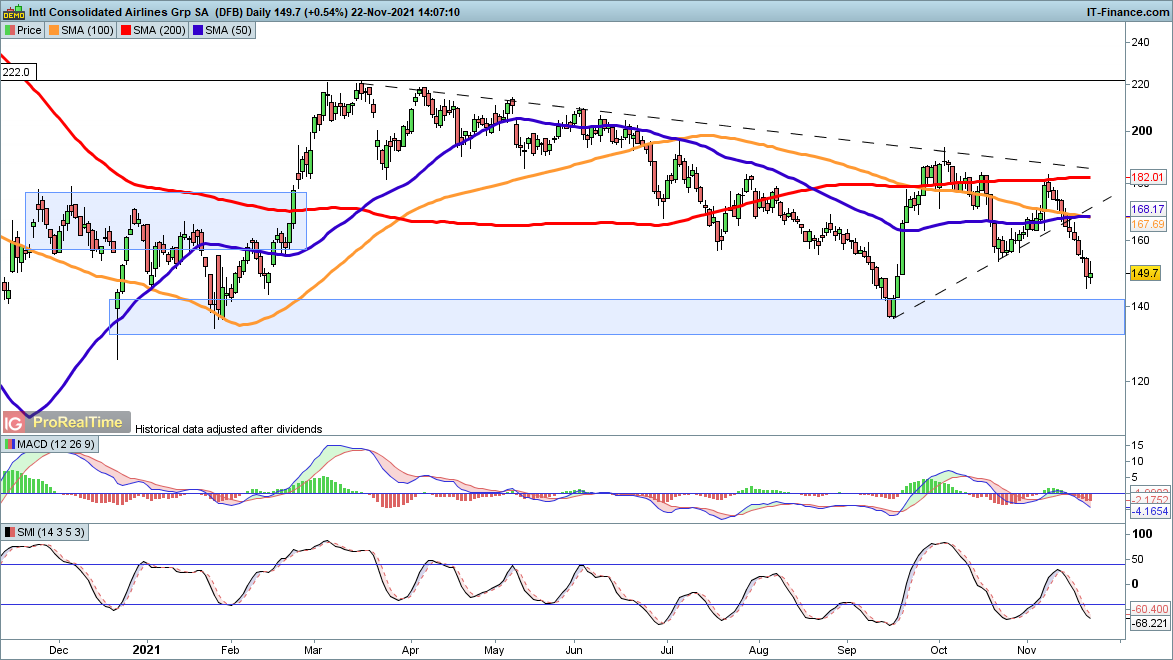 Source: ProRealTime