Boeing: Ready for Takeoff or Turbulence Ahead?
---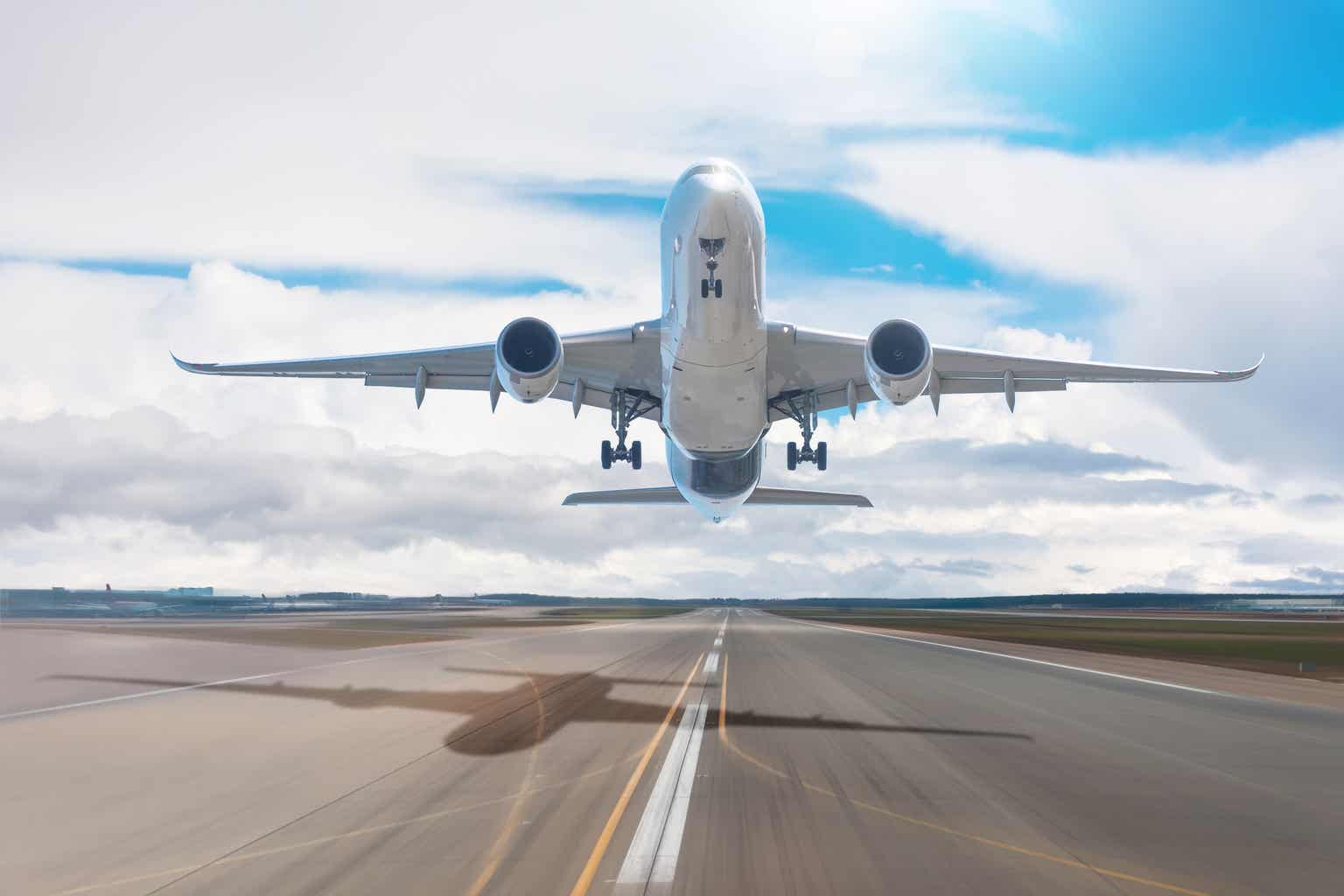 Boeing: Ready for Takeoff or Turbulence Ahead?
Jan 5, 2022 |  By:James Blakeway. Tastytrade
The first two trading days of 2022 were kind to both the airlines and Boeing (BA). This New Year rally comes after an understandably difficult two years in the commercial aviation sector. While Boeing and the U.S. Global Jets ETF (JETS) are far off their 2020 lows, they have a long road of recovery still ahead. Since the start of 2020, Boeing and JETS are facing negative returns in excess of 30%. For comparison, the S&P 500 is up over 40% in the same time frame.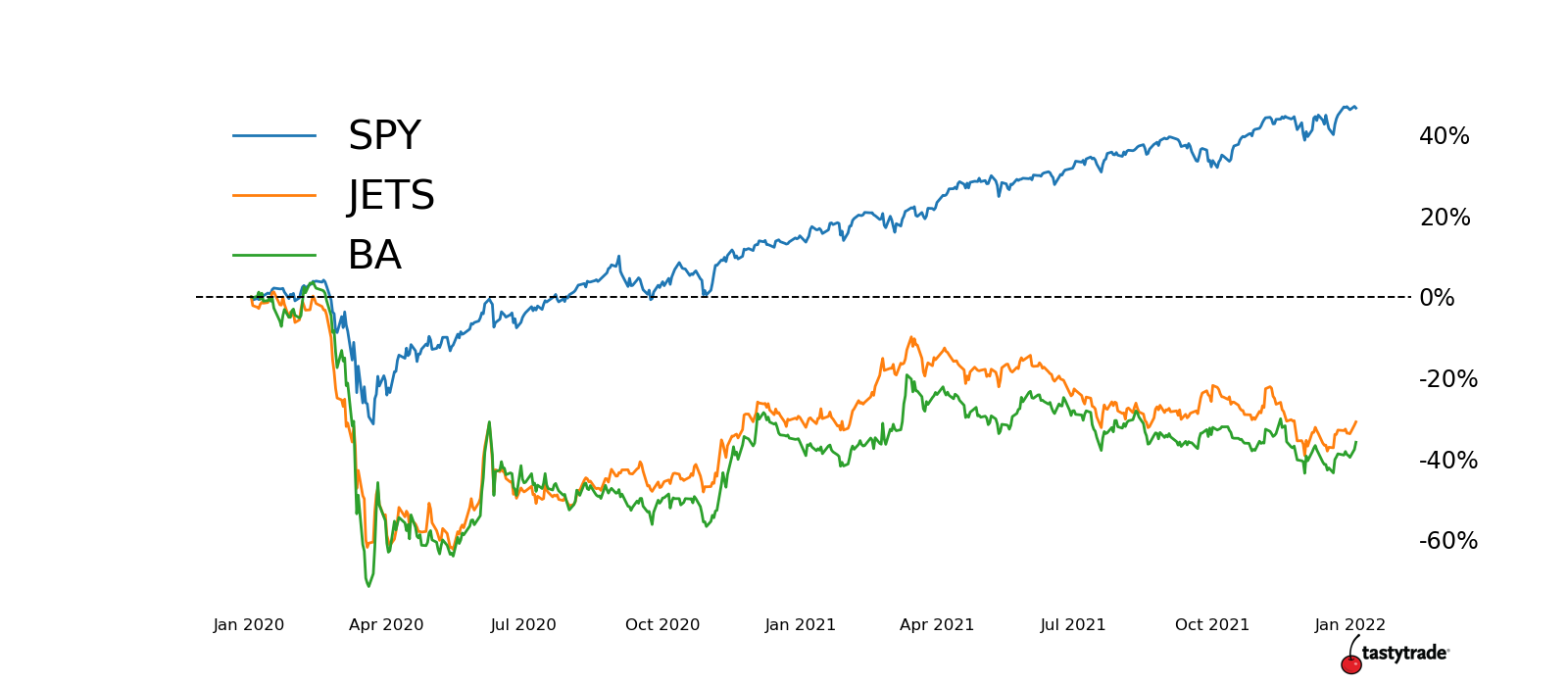 Airline Stocks vs. Boeing & JETS 
So why might investors, or traders, favor Boeing or JETS as opposed to the individual airlines? As with most trading and investing concepts, it all comes down to risk. There is no hiding the fact that individual airlines like American (AAL), Delta (DAL) , and United (UAL) are still struggling.
Most recently, the Omicron surge over the holidays led to day after day with thousands of global flight cancellations due to staff shortages. It's continued woes like these that may push investors to Boeing or JETS, betting on the industry as a whole, not gambling on individual airlines.
First consider Boeing, which was naturally hit by a global aviation slowdown as airlines cut back on purchases of new planes, likely aiming to extend the life of their current fleet. Boeing saw revenues from its commercial airplane sales fall from $32 Billion in 2019 to $16 Billion in 2020.
However, revenues from Boeing's Defense, Space, and Security business held firm, increasing slightly from $26 billion to $26.2 billion. The loss of revenue is, obviously, alarming but Boeing is poised to recover as it is commercial aerospace business sells planes to all four major US airlines as well as those globally, its risk is spread across the industry.
Stocks vs. ETFs
JETS provides a more direct diversification opportunity, holding 50 different stocks in the travel industry, with a primary focus on airlines. Roughly 40% of the portfolio represents the top four US airlines.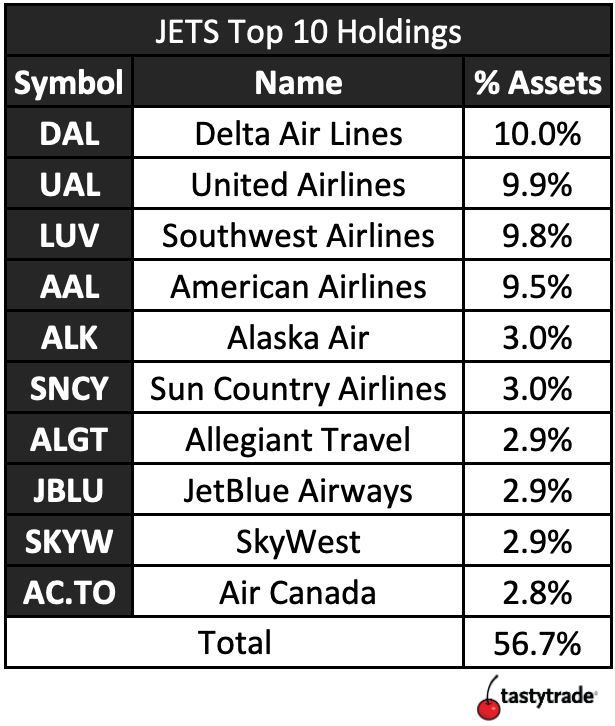 Other holdings include international airlines, travel companies like TripAdvisor and Booking.com, as well as a small percentage in Boeing. Investing in JETS is a bet that overall, the commercial aviation and travel industry will recover, even if some individual players continue to struggle. Learn more about differences in stocks vs. ETFs.
Boeing Trade Idea 
Boeing is expected to report earnings on January 26th, but traders might be interested in a quick, pre-earnings calendar trade if they think Boeing will stay around this price level for the next two weeks. This trade was found by Quiet Foundation's Alpha Boost trade system.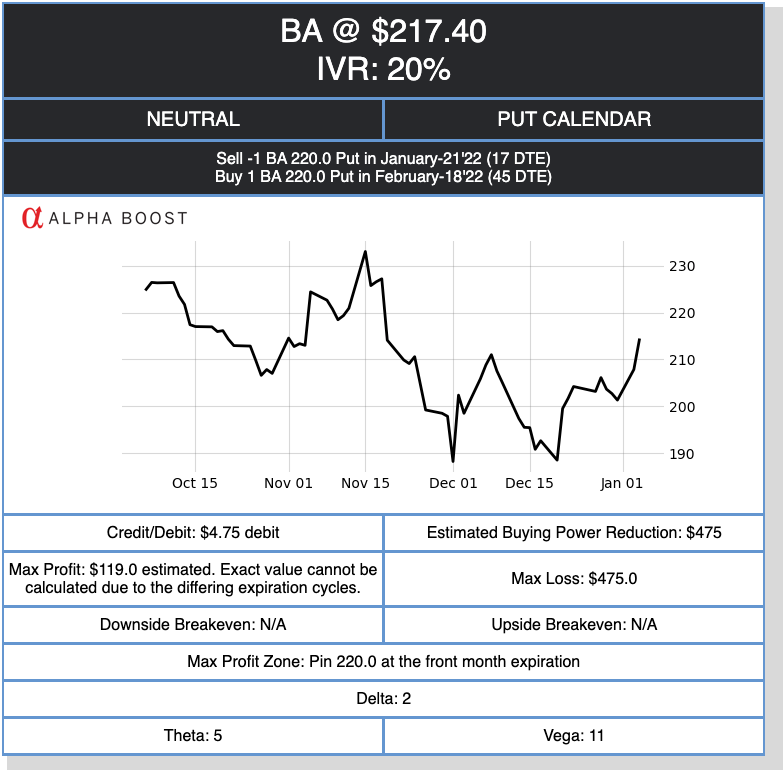 This trade combines the sale of the January 215 put with the purchase of the February 215 put for a $4.75 net debit. The trade will make money if the front option decays while the back option retains its value. This will occur if Boeing stays around these prices for the next 17 days. Keep in mind there is additional risk of loss if the entire trade is not managed before January expiration.