Coinbase Q4 earnings: why its share price undervalued?
---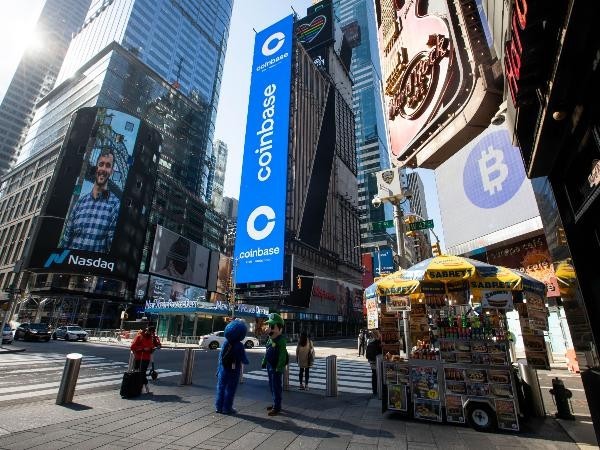 Source: bloomberg
When will be the report date?
Coinbase Global Inc. is estimated to report earnings on 8 February 2022.
What to expect?
The consensus EPS forecast for the quarter is $1.94, 19% up from Q3's reading.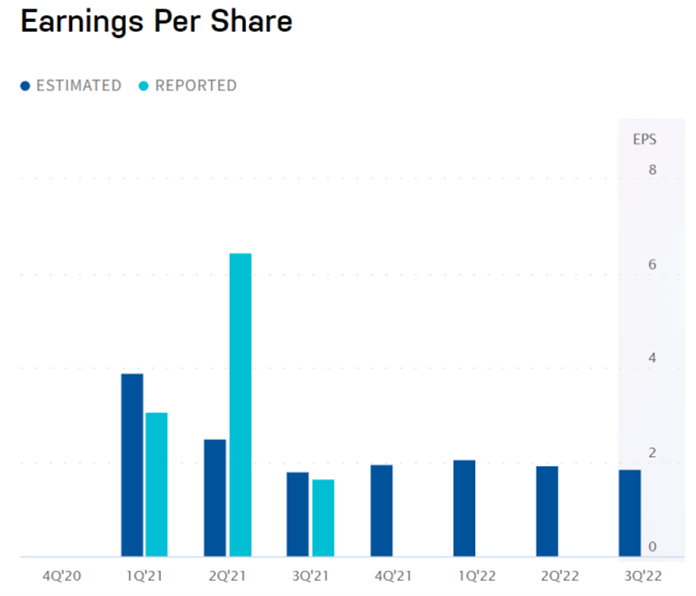 Source: Nasdaq
Coinbase share price review
Coinbase Global Inc is a crypto currency technology company. Investor can buy and sell crypto through its exchange platform. The primary revenue of Coinbase comes from the transaction fees for trading over 50 different cryptocurrencies. Among them, Bitcoin and Ethereum are the two largest, contributing 21% and 22% of transaction revenue, respectively.
Because of this, Coinbase's price is highly correlated with movement of Bitcoin and Ethereum. Bitcoin reached its all-time-high last November, but since then its price has evaporated almost 60% and landed on the six-month-low in January. As a result, Coinbase Global is facing a similar struggle: nearly half-priced from $367 in November to $197 by the time of writing.
Correlation between Coinbase and Bitcoin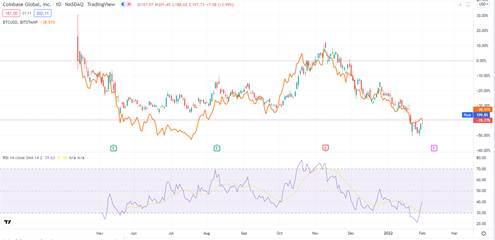 Source: Trading View
The fundamental outlook for Coinbase
Although the price journey of Coinbase has been mirroring the ups and downs in the crypto world, fundamentally, they are two completely different forms of investments.
Coinbase is a very profitable business that has turned 25% of its revenue into free cash flow in the 2021 third quarter and enjoyed a net profit margin of approximately 33%. The company offers its investors to share the profit from the business operation. While assets like Bitcoin and Ethereum are digital currencies purely driven by supply and demand.
Despite its tumbling share price, the company is still growing steadily. After months of drop, Coinbase's price-to-earnings (P/E) ratio is just under 15 now, an extremely undervaluation considering its expected earnings per share (EPS) for 2021 was $13.06, almost ten-fold from $1.4 in 2020.
From a long-term perspective, even though the wild volatility from the past two months may hold back some crypto investors, few people would argue that the cryptocurrency industry is still at its very early stage and the potential will be massive. As the world's largest cryptocurrency exchange, Coinbase offers investors exposure to the crypto space without identifying intricate details of each crypto asset class, and most importantly, enjoy the growth with the industry.
Technical Analysis
The primary trend from the daily chart has been clearly moving downwards since July 2021, and the most recent rebound against this trend dates back to September.
For a near-term picture, if buyers are able to move the price back above $211 then a more short-term bullish view will be on the cards; an upward moving RSI departing from its oversold territory would bolster this.
However, further declines to its previous low at $173 cannot be ruled out if the price fails to break the upper boundary of the trajectory.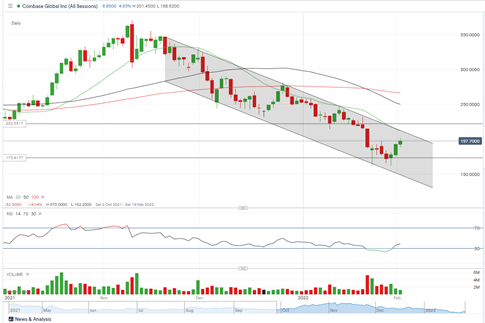 Source: IG
Take your position on over 13,000 local and international shares via CFDs or share trading – and trade it all seamlessly from the one account. Learn more about share CFDs or shares trading with us, or open an account to get started today.