Australian earnings this week: the top stocks to watch
---
We look at three of the big companies reporting this week on the ASX, as the reporting period enters its second week.
Sources: Bloomberg
Commonwealth Bank of Australia (CBA)
What are the markets expecting from CBA?
Investors approach the CBA's with a level of caution following a quarterly trading update last year the saw the share plunge from record highs. According to data published by CommSec, analysts are estimating Net Profit After TAX (NPAT) of 4.5B, and a dividend per share (DPS) of $1.81. Following bumper profits after a housing boom in Australia, tighter margins from a low interest rate environment are expected to be a headwind for revenues going forward.
Analysts are also bearish on the stock. Out of 14 surveyed brokers by Reuters, the average rating is a sell, with 9 recommending a sell, 1 recommending a strong sell, 2 a hold, 1 a buy, and 1 a strong buy.

Technical analysis of CBA shares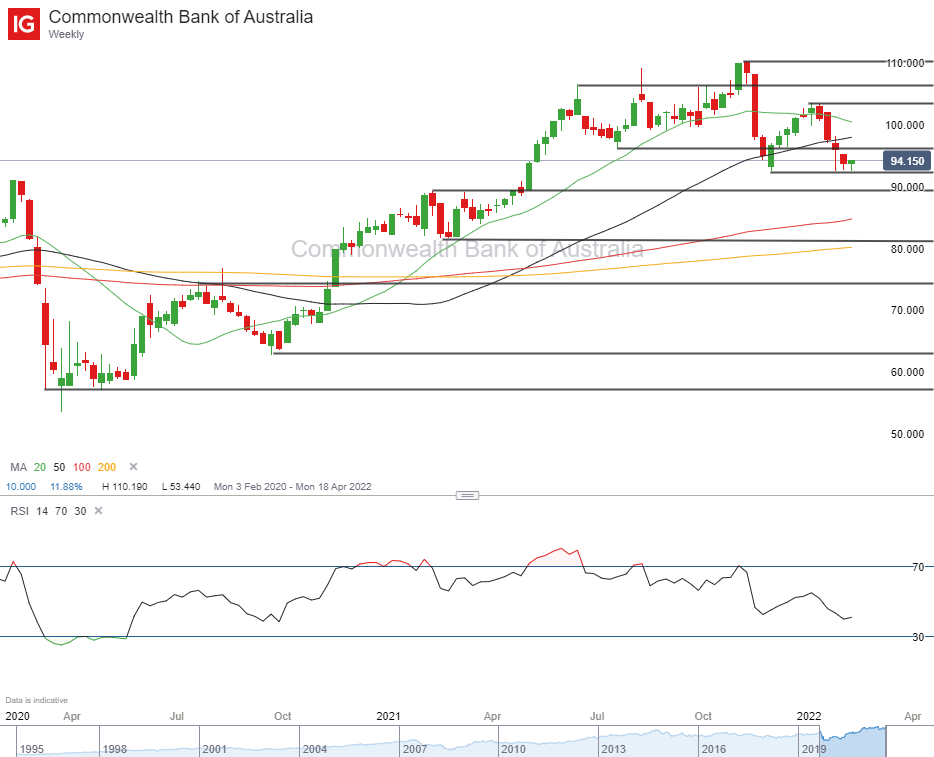 Momentum is skewed to the downside for CBA shares currently, with the weekly RSI below 50 and trending lower. After hitting a record high at the back end of 2021, the stock's uptrend has broken down, with the bears increasingly in control of the price. Going into earnings, key support for the stock sits around $92.20, which if broken, may open up a drop towards $US89.30. On the upside, the first major level of resistance is around $96.10.
AGL Energy (AGL)
What are the markets expecting from AGL?
AGL is expected to post a steep loss when it posts half-year profits this week, with analysts estimating a $-70.7m bottom-line result. Despite this, the company is still tipped to pay out a dividend of $0.126 for the half. The weak financials are underpinned by a drop in wholesale power prices during the half, as lockdowns across Australia and the warmer weather reduced demand for energy.
Currently, across surveyed brokers, analysts have an average hold rating on the stock, with 6 recommending to hold, 4 to buy, and 1 to sell. The average price target is implying the stock is trading at a discount however, with the consensus 12-month target at $9.93.

Technical analysis of AGL shares
AGL shares are showing signs of long-term reversal right now. After breaking-out of its downtrend, the share price is putting in a rounded bottom, with RSI showing positive momentum as it holds above 50. The stock is meeting resistance at its 50-week moving average right now, which if broken, could see it push towards $8.00. While on the downside, key technical supports exists at around $6.30.
AMP (AMP)
What are the markets expecting from AMP?
Another loss for the financial year 2021 is expected from AMP, as the company continues to try and mend the damages inflicted by the Banking and Financial Services Royal Commission. Analysts are tipping a $-266.5m for the year, and no dividend to be paid out by the company, as net cash outflows from Australian Wealth and AMP Capital continues to impact the company's performance.
At present, broker analysts have an average hold rating on the company (2 buys, 7 holds, 3 sells) and consensus price target of $1.17.

Technical analysis of AMP shares
The trend for AMP shares remains lower, as investors stay largely bearish on the stock. Despite this, there are signs that downside momentum is slowing, with the weekly RSI showing a bullish divergence, and price carving out a descending wedge. Key technical resistance sits around 1.03 right now for AMP stock, while support sits around the most recent lower-low at $0.85.
Take your position on over 13,000 local and international shares via CFDs or share trading – and trade it all seamlessly from the one account. Learn more about share CFDs or shares trading with us, or open an account to get started today.

Kyle Rodda | Market Analyst, Australia
08 February 2022