Moderna's share price trending lower ahead of Q4 earnings
---
Moderna's share price has fallen close to 35% year-to-date, as the Omicron wave subsides in US. Can its upcoming Q4 results lift sentiments?
Source: Bloomberg
When does Moderna report earnings?
Moderna is set to release its fourth quarter (Q4) financial results on 24 February 2022, before market open. At the time of writing, expectations for its Q4 earnings per share (EPS) are coming in at $9.90, a reversion into profitability from a year ago and up 28.6% from the previous quarter.
Moderna earnings – what to expect
For the upcoming Q4 earnings, revenue is expected to be underpinned by Covid-19 vaccine sales at $6.8 billion, a 37.3% increase from the previous quarter. Through 2022, Moderna has signed approximately $17 billion worth of advance purchase agreements (APAs) for delivery. This is not inclusive of any exercise of options under the 2022 APAs, which amount up to an additional $3 billion. With that, Covid-19 vaccine sales may continue to provide tailwind for its sales and profitability through the rest of the year, as inoculation against Covid-19 continues and governments front-load vaccine supplies to ensure sufficiency for its people.
Can Covid-19 tailwind last?
Almost all of Moderna's source of revenue comes from Covid-19 vaccines, with 96.8% in product sales, while the remaining lies in funding grants (2.8%) and collaboration revenue in potential messenger RNA (mRNA) medicines (0.4%). With the heavy reliance on Covid-19 vaccines, a key question then is whether the business can sustain its earnings momentum over the longer term if new variants become less severe and virus risks eventually abate. This may be the reason why the surge in its share price in late November on Omicron discovery proved to be relatively short-lived as markets may be expecting Covid-19 risks to eventually take a backseat. Beyond Q4 2021, current expectations are for revenue to trend lower in quarter one (Q1) 2022 to $5.8 billion, which may spur concerns that growth may be nearing its peak and kept some investors shunning.
Thus far, 62% of the world's population has been vaccinated against Covid-19, with the North America region currently standing at 70%. This may be a potential headwind for its Covid-19 vaccine sales beyond 2022, considering that most of the people that are willing to be vaccinated would have taken the vaccines and countries' adoption for a second booster shot (or fourth dose of a Covid-19 vaccine) is not broad-based for now.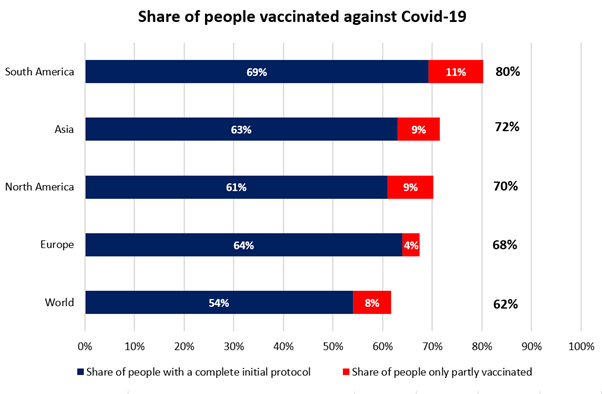 Source: Our World in Data
Moving beyond Covid-19 with mRNA vaccine technology
With its success on the mRNA vaccine technology against Covid-19, a natural growth path will be expanding the technology for uses against other diseases. Moderna has been using its windfall from the Covid-19 situation to expand geographically into the UK and Asia. Apart from manufacturing the usual Covid-19 vaccines, these overseas operations will also revolve around research in developing preventative vaccines for other infectious diseases, cancer and rare diseases. This will seem to be putting its huge cash position of around $15.3 billion to good use.
While one may argue that its initial success in Covid-19 may draw a high likelihood of success for future vaccine developments, but as with all other biotechnology firms, market participants may want to see some reasonable evidence of success before choosing to take on the risks. Till that materialises, near-term outlook may continue to see more cash-burning in operations expansion, research and development, while the prospects for growth outlook remains cloudy beyond 2022.
Moderna shares – technical analysis
Moderna's share price has been trading in a clear downtrend with the series of lower highs and lower lows since its peak in August 2021. A recent attempt to rebound off its $150.00 support in end-January proved to be short-lived, suggesting that sellers may remain in control. The 20-day moving average (MA) seems to be putting a cap on upside thus far, with prices failing to close above the MA over the past two months. Near-term resistance may be at $178.00, a level which weighed on prices on three previous occasions. One may potentially watch for a formation of higher highs to indicate any longer-term shift in sentiments to the upside, which does not seem to be playing out yet.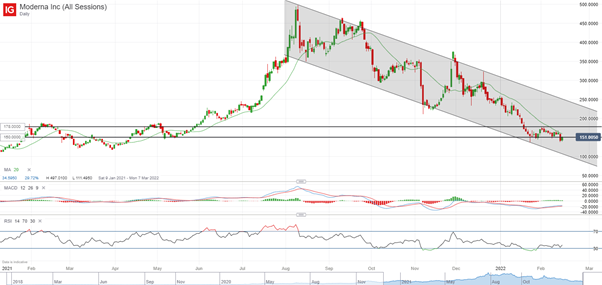 Source: IG charts